11 Friars renew commitment to Recollect way of life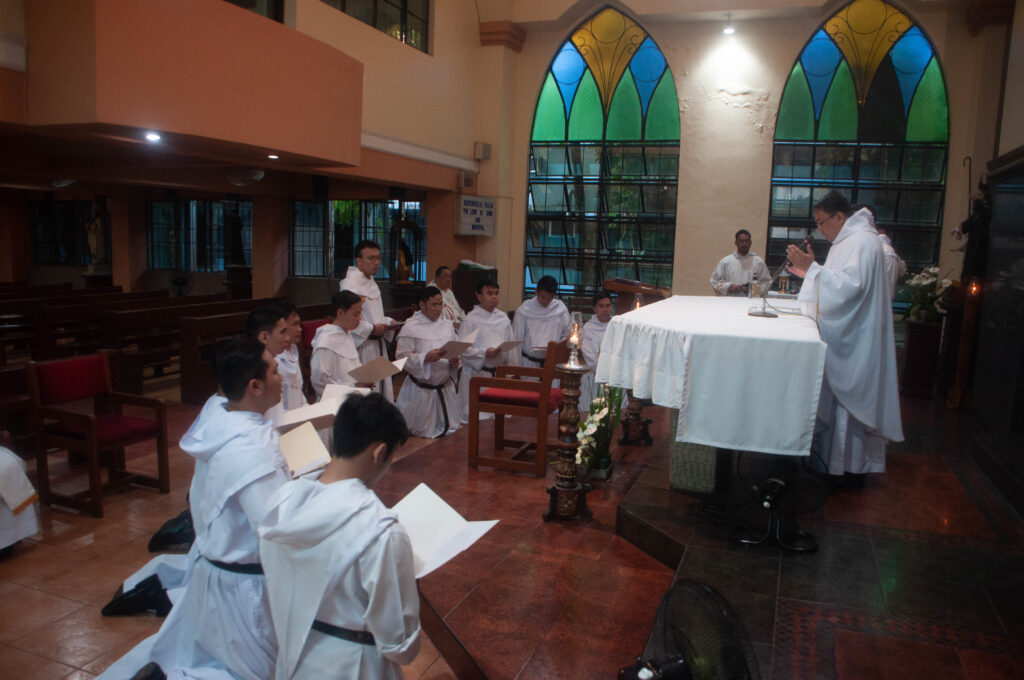 MIRA NILA HOMES, Quezon City – Eleven simply-professed friars renewed their religious vows of chastity, poverty and obedience to God in the Order of Augustinian Recollects on June 17, 2023 at the St. Thomas de Villanueva Chapel of the Recoletos Formation Center.
Their renewal was received by Fray Ian Anthony R. Espartero, OAR, Local Prior and Delegated Religious on behalf of the Major superior of the Order. Fray James C. Castelo, OAR, Master of the Professed and Fray Mark Rochelle F. Renacia, OAR, Rector of the Recoletos School of Theology, served as witnesses to the renewal alongside other Recollect priests present.
In his homily, Fray Espartero reminded the brothers of their faithfulness to their calling as Augustinian Recollect religious, asking them of the kind of "business" they are into. This was in echo of the words the young Jesus used in the Gospel reading of the day when the he told his parents in the scene at the temple, "Didn't you know I had to be about my Father's business?", thus emphasizing to the friars that their lives ought to be in witnessing of the "Father's business."
The friars who renewed their vows are the following:
Fray Jhyryx Vincent F. Gamulo, OAR from Bayawan City, Negros Oriental;
Fray Helfrid D. Palmis, OAR from Ayungon, Negros Oriental;
Fray Rey Jay Y. Quevedo, OAR from San Agustin, Surigao del Sur.
Fray Neil Robert M. Alilain, OAR from Talisay City, Negros Occidental;
Fray Joseph Neil E. Baygan, OAR from Jagna, Bohol;
Fray Mc Airel S. Capinpin, OAR from Brooke's Point, Palawan;
Fray Judd C. Galinato, OAR from Guindulman, Bohol;
Fray John Arnold P. Lozada, OAR from Zamboanga City;
Fray Roldan T. Benemerito, OAR from Badian, Cebu;
Fray Lloyd Jorem E. Terania, OAR from Bayawan City, Negros Oriental;
Fray James Francis M. Bago, OAR from Banga, South Cotabato.
Fray Chrislean Rey R. Pamilaga of Rizal, Palawan, on the other hand, had his renewal of vows earlier this year last January 2, 2023, making a total of 12 simply-professed friars in current formation at the Recoletos Formation Center.