13th SARF National Biennial Convention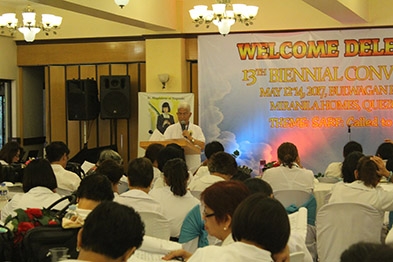 The Secular Augustinian Recollect Fraternity (SARF) Philis. held its 13th Biennial National Convention recently (May 12-14, 2017) at the Bulwagan Recoleto, Miranila Subd., Quezon City. Two hundred eleven (211) delegates and accompanying persons from 10 chapters in Luzon and 6 chapters from the Visayas attended the event. Out-of-towners were billeted at the San Nicolas de Tolentino Parish dormitories in Quezon City and at the Bahay Sta. Monica in Miranila Subd.
Each day of the convention was started with the Holy Mass. Main celebrants were Rev. Fr. Emmanuel A. Bolilia, OAR (Provincial Councilor, In-charge of Spirituality), Rev. Fr. Emilio L. Larlar, OAR (National Spiritual Director of SARF, Phils) and Rev. Fr. Dionisio Q. Selma, OAR (Prior Provincial). Lauds, Mid-day prayers and vespers were properly incorporated in the activities.
The following talks were delivered:
The OAR Year of Holiness 2017 Rev. Fr. Lauro V. Larlar, OAR
"Called to be Saints"
The SARF PHils. LAMP 2017-2020 Rev. Fr. Emilio L. Larlar, OAR
Ways of Expressing Holiness Rev. Fr. Ian D. Espartero, OAR
Stewardship: A Way of Life, A Spirituality Rev. Fr. Emmanuel A. Bolilia, OAR
Election of the new officers of the National Council was also held. The 2017-2020 National Council Officers include the following:
| | | |
| --- | --- | --- |
| Position | Name | Chapter Affiliated |
| National President | Edwin T. Ruiz | SEMNOV – Antipolo |
| Vice President –Luzon | Zenaida Lapuz | Recoletos Provincialate |
| Vice President – Visayas | Carmenda Leonoras | UNO-Bacolod City |
| 1st Councilor – Luzon | Ceres C. Alcantara | SSBP –Quiapo, Manila |
| 2nd Councilor – Luzon | Yolanda V. Zaragoza | SEMNOV – Antipolo |
| Councilor – Negros | Fe Violeta B. Taring | OLAP- Valencia |
| Councilor – Cebu | Evangeline E. Gubatao | OLMCP – Cebu |
| National Secretary | Ma. Windle M. Oane | SEMNOV – Antipolo |
| National Treasurer | Corazon A. Padua | RFC – Miranila, Q. C. |
Spiritual Directors
Name
Chapter Affiliated
National SD
Rev. Fr. Emilio Larlar, OAR
Regional SD – Palawan
Rev. Fr. Rex Bangcaya, OAR
OLMCP – P. Princesa

SHJHS- Brooke's Point

Regional SD – Negros
Rev. Fr. William Villaflor, OAR
UNO-Bacolod City
Regional SD – Cebu
Rev. Fr. Vicente Ramon, Jr. OAR
OLMCP – Cebu
The fellowships were happy and memorable (if not a bit roaring on the second night!) The Himig Consolacion, RFC Seminarians and OLCP Dance Troupe provided formal entertainment. But, the excitable presentations of Cavite, Carmel, Cebu, San Carlos Chapters and the impromptu community singing and zumba goaded by naturally fun-loving delegates delicious peppered the concoction.
Since the 13th was the Centenary of the Apparitions of Our Lady of Fatima a rosary procession and flower offering to our Lady was celebrated by the non-voting delegates. Also, since the 14th was Mothers Day, remembrance of mothers was paid in songs and speeches, particularly the "Sulat ni Nanay sa Atin" read by Prior Provincial Selma. Surely, some delegates were teary-eyed singing "Mama".
SARF RFC, the host chapter, thanked the Triune God for moving our hearts and minds to make the convention a success, and everyone: the OAR, the National Council, the delegates and RAYs for their generous help and participation. The event was formally closed with the song "People".