17th SUNDAY in ORDINARY TIME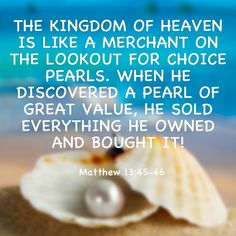 Gospel Bullet Points (Matthew 13:44-46)
Today's readings invite us to ask ourselves these very vital questions:
a) Among all the things I desire in life, which is for me the most important?
b) What is the one desire of my life that once found will bring all my other legitimate desires behind?
The Gospel calls this ULTIMATE DESIRE of the human heart "the kingdom of God" or "the kingdom of heaven." SEEK FIRST THE KINGDOM OF GOD AND HIS RIGHTEOUSNESS AND ALL THESE THINGS SHALL BE ADDED TO YOU" (Mt 6:33).
The one who finds the kingdom of God finds everything. That is why, it is compared to a hidden treasure in a field which a man finds, then goes and sells all that he has and buys the field. Or the kingdom is a precious pearl a merchant finds, then goes and sells everything he has and buys this one pearl.
These parables invite us not only to SEEK FIRST the kingdom of God before anything else. …. Because with the kingdom of God comes every other good thing that we desire and long for.
Solomon, in the first reading, is a good illustration of a man who went for the BEST. As a young king, Solomon needed wealth, military might and power, fame, security, prosperity, long life, and happiness. But when God asked him to ask for ONE THING, Solomon asked for the SUPREME GOOD – he asked for WISDOM FROM ABOVE. He knew that with WISDOM comes every other good thing he needed and desired in life. And God offered him what he asked for.
If God comes to you and asks you for one thing and one thing only, what would you ask for? Would you ask for wealth or success in business, love life, and professional life? Or like Solomon, will you be ready to ask for the REIGN of God in your personal life? Is the kingdom of God so important to you that you are prepared to sell and part with all you must have the kingdom of God? Remember, if you have the kingdom of God, you will achieve total fulfillment in life, but if you don't have the kingdom of God, you have practically nothing.