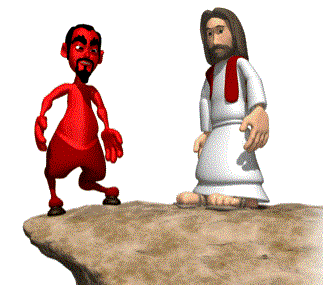 *****
Nobody is exempted from temptations. Even Christ himself was tempted. Temptations will always be around— at any moment and anywhere you go. Temptations will only cease when we are already six feet below the ground. But to be tempted is not a sin. In the Gospel, we see Christ himself being tempted but He did not sin. Temptation is not in itself sinful. Temptation becomes a sin when we give in and allow the temptation to become action. May pagkakaiba ang TINUTUKSO sa NAGPAPATUKSO. Ang tinutuko ay hindi nagkakasala, samantalang ang nagpapatukso ay siyang nagkakasala.
*****
Two attitudes towards temptations:
We can run away from temptations, or, 
We can run after temptations – meaning that we are the ones looking and running after temptations. In that way, we are making Satan jobless.
The three temptations of Jesus in the desert are our temptations:
Bread, after forty days of fasting, could have been very enticing to the Lord. While we may not hunger for bread, how often are we tempted by the LURES of wealth, power, and comfort?
We are not tempted to throw ourselves into the rocks. But how often are we tempted to throw ourselves onto the rocks of self-pity, worry, anger, resentment, jealousy, or self-righteousness, pride? These are temptations that can easily ruin us.
Finally, most of us would drawback at the thought of bowing to Satan. But how easy it is for us to bow before the gods of career, prestige, material possessions, power, influence and the like believing that all these will give us total fulfillment.
*****
Be alert because Satan is so astute… he will always present evil as something good, as something harmless… but in reality, they are deadly. He says. "Your God wants you to be miserable, but I want you to be happy!" In reality, what you enjoy 20 minutes of pleasure would be equal to suffering in hell for eternity. The temptations offered by the devil were an easy way out. But Jesus followed the HARD WAY. He could have done something sensational by simply performing a miracle (turning stones into bread) and the people would have followed Him easily. But He chose the WAY of the CROSS.
*****
So be watchful and pray for "the devil is like a roaring lion looking for someone to devour." Remember that the devil is weak when we are strong, but the devil is strong when we are weak! The devil will always look for our weakness and put his force where we are weak. If the devil is astute, then we should be wiser.
*****