SOLEMNITY OF THE EPIPHANY OF THE LORD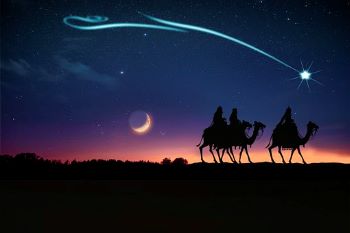 Gospel Bullet Points (Mathew 2:1-12)
Today Jesus is made known, by the astrologers or kings who came from a distant place to find Him. Why would such important people leave the comfort of their homes and palaces to venture out and follow a star? They were seeking something more profound and better, that is for sure. They saw the star rising and began to follow it. They were not afraid to take a risk!
Herod, another kind of leader, was threatened by the appearance of Jesus. His actions were motivated by self-interest. He wanted to preserve his position and authority. Unlike the astrologers, he was not looking for something better and deeper meaning in life. He was content with his position of wealth and power.
Today, we come to the manger as well. We are called to leave our homes to make known what happened on Christmas day. Like the magi, we are invited to make known the love of a God who sent his only Son to be Emmanuel—God with us.
Epiphany, the manifestation of the Lord (formerly called the feast of three kings), is not only celebrated today but just like Christmas, it should be celebrated throughout our lives. Christ must be manifested and revealed to men and His message be shared constantly.
Fray Onz Antonio, OAR
Priest/Religious of the Order of Augustinian Recollects in the Province of St. Ezekiel Moreno.
S
M
Tu
W
Th
F
S
1

FEAST OF JESUS CHRIST, ETERNAL HIGH PRIEST

MOVING UP CEREMONIES – USJ-R (JHS) BIRTHDAY

Fray Raul Buhay
Fray Russell Lapidez
Sis. Susana Batin, SAR (Manila Chapter)
Sis. Felina Chiong, SAR (Cebu Chapter)
Sis. Lourdes Dawag, SAR (Cebu Chapter)

DEATH ANNIVERSARY

+Sis. Estrella Buelo, SAR (Manila Chapter)

2

RST: COMMENCEMENT EXERCISES
Holy Mass: 8:00 a.m. / Mass Presider: Prior Provincial
Solemn Investiture: 9:30 a.m.

BIRTHDAY

Fray Constantino Real
Carl Veloso (RAY-Cavite)

3

BIRTHDAY

Fray Roy Baluarte
Fray Ramon Bitancor III
Br. Roque James Sabas (postulant)
Sis. Clothie Canoy, SAR (Cebu Chapter)
Sis. Olivia Alicante, SAR (Cebu Chapter)
Sis. Corazon Ranoa, SAR (Miranila Chapter)

DEATH ANNIVERSARY

+Bro. Edgar Bond Jr., SAR (Baguio Chapter)

4

HOLY TRINITY SUNDAY

PRAYER INTENTION: FOR VOCATIONS

BIRTHDAY

Sis. Milagros Lagan, SAR (Brooke's Point Chapter)

5

COMMENCEMENT EXERCISES – SPA-R (CAIDIOCAN)

BIRTHDAY

Sis. Purita Crom, SAR (Tondo Chapter)
Sis. Herminigilda Claver, SAR (Talisay Chapter)

ANNIVERSARY OF SIMPLE PROFESSION

(1985-2023)
Fray Francisco Antonio
Fray Amadeo Lucero

6

BIRTHDAY

Sis. Ma. Asuncion Zorilla, SAR (Antipolo Chapter)
Sis. Jennifer Sibayan, SAR (Urbiztondo Chapter)
Christine Joy Euraba (RAY-Talisay)

ANNIVERSARY OF PRESBYTERAL ORDINATION

Most Rev. Agustinus Agus (Archdiocese of Pontianak, Indonesia)

7

BIRTHDAY

Sis. Roberta Legaspi, SAR (Cebu Chapter)

ANNIVERSARY OF PRESBYTERAL & EPISCOPAL ORDINATIONS

Most Rev. Raul Dael, D.D.  (Diocese of Tandag)

DEATH ANNIVERSARY

+Bro. Alejandro Leongas, SAR (Antipolo Chapter)

8

61ST FOUNDING ANNIVERSARY (1962-2023) OF RECOLETOS DE BACOLOD COMMUNITY

BIRTHDAY

Sr. Mary Joy Dula, AR
Sis. Cristina Crosland, SAR (Provincialate Chapter)
Sis. Yolanda Apacible, SAR (Manila Chapter)

ANNIVERSARY OF PRESBYTERAL ORDINATION

Most Rev. Ryan Jimenez, D.D. (Diocese of Chalan Kanoa, CNMI)

DEATH ANNIVERSARY

+Sr. Amparo del Sgdo. Corazon de Jesus, AR
+Sis. Rosita Climaco, SAR (Cebu Chapter)

9

BIRTHDAY

Sr. Purificacion Glimada, AR
Sr. Ma. Lea Eseo, AR
Sr. Evangeline Pejano, AR

DEATH ANNIVERSARY

+Sis. Porferia Georpe, SAR (Cebu Chapter)

10

PRIOR GENERAL'S FRATERNAL VISIT TO THE DOMINICAN REPUBLIC
(June 10-17, 2023)

MOVING UP CEREMONIES – CST-R (JHS)

BIRTHDAY

Fray Joel Villaruel
Bro. Arturo Catindig, SAR (Antipolo Chapter)
Bro. John Kamara, SAR (Kamalo Chapter / Trial)
Sis. Violeta Villamin, SAR (Manila Chapter)
Sis. Cossete Villanueva, SAR (Talisay Chapter)

ANNIVERSARY OF SIMPLE PROFESSION

(1984-2023)
Fray Raul Buhay
Fray Domingo Saladaga
Fray William Emilito Villaflor

DEATH ANNIVERSARY

+Sr. Carmela Garcia, AR
+Sr. Soledad Cañete, AR
+Sis. Estela Taburada, SAR (Manila Chapter)
+Sis. Daisy Soguilon, SAR (Antipolo Chapter)
+Bro. Rodolfo Mijares, SAR (Talisay Chapter)

11

SOLEMNITY OF CORPUS CHRISTI

COMMENCEMENT EXERCISES – CST-R (SHS)

BIRTHDAY

Most Rev. Francisco de Leon, D.D. (Diocese of Antipolo)
Fray Bernabe Dosdos
Br. Kenneth Quitaleg (postulant)
Sr. Ma. Divina Caabay, AR
Sis. Rosalinda Rios, SAR (Talisay Chapter)

ANNIVERSARY OF SIMPLE PROFESSION

(1983-2023 / 40TH Anniversary)
Fray Bernard Amparado
Fray Joseph Granada
Fray Cristituto Palomar
Fray Jorge Peligro

DEATH ANNIVERSARY

+Bro. Abraham Caballes, SAR (Cebu Chapter)

12

[Philippine's 125th Independence Day]
Theme: "Freedom, Future, History"

BIRTHDAY

Sis. Lucita Anareta, SAR (Antipolo Chapter)
Sis. Adelaida Tanchico, SAR (Miranila Chapter)

DEATH ANNIVERSARY

+Sr. Micaela de la Virgen del Carmen, AR
+Sis. Felicidad Delalamon, SAR (Cebu Chapter)

13

COMMENCEMENT EXERCISES – SSC-R MANILA (SHS)
Time: 10:00 a.m.

BIRTHDAY

Br. Mark Anthony Zion Madrona (aspirant)
Mo. Lucena Antipala, AR (General Superior of the CARS)
Sr. Antonia Pono, AR
Sis. Herminia Ishii, SAR (Baguio Chapter)
Sis. Antonieta Lorna Cepe, SAR (Valencia Chapter)
Sis. Antonia Lauron, SAR (Cebu Chapter)

ANNIVERSARY OF SOLEMN PROFESSION (Religious Brother)

(1998-2023 / 25th)
Fray Jaazeal Jakosalem

DEATH ANNIVERSARY

+Sr. Fe de la Sgda. Familia, AR
+Sr. Ma. Amparo Serra, AR
+Sis. Victoria Caturay, SAR (San Carlos Chapter)

14

COMMENCEMENT EXERCISES – SHC-R, ALFONSO, CAVITE
Time: 3:30 p.m.

BIRTHDAY

Sis. Natividad Remitera, SAR (Cebu Chapter)

ANNIVERSARY OF SIMPLE PROFESSION

(1972-2023)
Fray Federico Gregorio
Fray Lauro Larlar
Fray Ceferino Añez

DEATH ANNIVERSARY

+Sr. Michaela de la Virgen del Carmen, AR
+Mo. Maria Josefa Borces, AR
+Sis. Angelina Yap, SAR (San Carlos Chapter)

15

PRIESTLY ORDINATION- FRAY DANILO DE SOUZA SANTOS
(Province of Sto. Tomas de Villanueva)

BIRTHDAY

Fray Nelson Plohimon
Sr. Adoracion Pagsisihan, AR
Sr. Isis Vita Villagonzalo, AR
Sis. Hilda Socrates, SAR (Inagawan Chapter)
Sis. Rosario Mamon, SAR (Talisay Chapter)
Bro. Leo Calimutan, SAR (Tondo Chapter)
Bro. Leonardo Erojo (Cebu Chapter)

DEATH ANNIVERSARY

+Sr. Manuela de San Agustin, AR
+Sis. Amalia Gatuslao, SAR (San Carlos Chapter)

16

SOLEMNITY OF THE MOST SACRED HEART OF JESUS

DAY OF PRAYER FOR THE SANCTIFICATION OF PRIESTS

MOVING  UP  CEREMONIES  –  SSC-R  CAVITE (KINDERGARTEN)
Time: 9:30 a.m.

COMMENCEMENT EXERCISES – SSC-R CAVITE (GRADE SCHOOL)
Time: 3:30 p.m.

BIRTHDAY

Sr. Aurelia Pastidio, AR
Sis. Miriam Ruiz, SAR (Antipolo Chapter)
Sis. Rosalina Mangaoil, SAR (Tondo Chapter)
Sis. Mary Jane Eranista, SAR (Bacolod Chapter)
Sis. Salvacion Rubia, SAR (Laray Chapter)
Sis. Roselyn Ubag, SAR (Valencia Chapter)

ANNIVERSARY OF SIMPLE PROFESSION

(1974-2023)
Fray Enrico Peter Silab

DEATH ANNIVERSARY

+Sr. Encarnacion Hynson, AR

17

IMMACULATE HEART OF THE BLESSED VIRGIN MARY


PRIOR GENERAL'S FRATERNAL VISIT TO COSTA RICA
(June 17-30, 2023)

RAY REGIONAL SUMMIT (LUZON)
Inclusive Dates: June 17-18, 2023
Venue: SSC-R Manila

MOVING UP CEREMONIES – SSC-R CAVITE (JHS)
Time: 10:00 a.m.

COMMENCEMENT EXERCISES – UNO-R (COLLEGE)


18

11TH SUNDAY IN ORDINARY TIME

BIRTHDAY

Sr. Ma. Corazon Barroca, AR
Sis. Lourdes Florendo, SAR (Manila Chapter)
Sis. Aida Tambis, SAR (San Carlos Chapter)

ANNIVERSARY OF SIMPLE PROFESSION

(1978-2023 / 45th Anniversary)
Fray Joseph Philip Trayvilla

ANNIVERSARY OF EPISCOPAL ORDINATION

Most Rev. Honesto Ongtioco, D.D. (Diocese of Cubao)

DEATH ANNIVERSARY

+Fray Victor Jose Lluch (2004-2023)
+Sis. Erlinda Dacalos, SAR (Cebu Chapter)
+Sis. Ma. Celia Setias, SAR (Brooke's Point Chapter)

19

PRAYER INTENTION: FOR THE SICK

COMMENCEMENT EXERCISES – SSC-R CAVITE (SHS)
Time: 9:30 a.m.

BIRTHDAY

Sis. Teresita Panares, SAR (Cebu Chapter)

ANNIVERSARY OF SIMPLE PROFESSION

(1977-2023)
Fray René Paglinawan
Fray Leonardo Pauligue
Fray Samson Silloriquez

ANNIVERSARY OF PRESBYTERAL ORDINATION

Most Rev. Reynaldo Evangelista, D.D. (Diocese of Imus)

(2010-2023)
Fray Leo Alaras
Fray Michael Catama
Fray Kenneth Joseph Onda
Fray James Dexter Tanquis

ANNIVERSARY OF EPISCOPAL ORDINATION

Most Rev. Buenaventura Famadico, DD (Diocese of San Pablo)

DEATH ANNIVERSARY

+Sr. Rosa de Padua, AR

20

4TH CENTENARY (1623-2023) OF THE ARRIVAL IN JAPAN
(of Bld. Vicente de San Antonio and Francisco de Jesus)

COMMENCEMENT EXERCISES – SSC-R CAVITE (COLLEGE)
Time: 9:00 a.m.

175TH ANNIVERSARY OF THE RECOLETOS' SPIRITUAL ADMINISTRATION OF NEGROS
(granted by Bishop Romualdo Jimeno of Cebu and the Spanish government)

BIRTHDAY

Fray Renier Alviola
Fray Enrico Nacorda
Sis. Fe Enilog, SAR (Cavite Chapter)
Sis. Macaria Salgado, SAR (Cebu Chapter)
Reyson Valerio (RAY-Urbiztondo)

DEATH ANNIVERSARY

+Sis. Leilani Alejandro, SAR (Bacolod Chapter)
+Sis. Carina Juan, SAR (Manila Chapter)

21

MOVING UP CEREMONIES – SSC-R MANILA (KINDERGARTEN)
Time: 10:15 a.m.

BIRTHDAY

Sr. Ma. Luisa Borces, AR
Sis. Angelita de Guzman, SAR (Miranila Chapter)

DEATH ANNIVERSARY

(2005-2023)
+Jaime Cardinal Sin (Brother General of the Order)

22

BIRTHDAY

Fray Paulino Dacanay

23

MOVING UP CEREMONIES – SSC-R MANILA (JHS)
Time: 10:00 a.m.

BIRTHDAY

Sr. Joan Marie Ubag, AR
Sis. Elenora Tubiona, SAR (Valencia Chapter)
Sis. Remegia Lopez, SAR (Cebu Chapter)
Sis. Marilyn Semense, SAR (Cebu Chapter)
Sis. Rosalinda Pablico, SAR (Puerto Princesa Chapter / Trial)

24

NATIVITY OF ST. JOHN THE BAPTIST

START OF THE 5-DAY SPIRITUAL RETREAT OF THE CANDIDATES FOR NOVITIATE
(cf. Add. Code 222)

BIRTHDAY

Sr. Jesusa Pedrez, AR Sr. Juanita Payawal, AR
Sis. Juanita Payawal, SAR (Tondo Chapter)
Sis. Lourdes Calderon, SAR (San Carlos Chapter)
Baby Rich Pajares (RAY-Caidiocan)

DEATH ANNIVERSARY

+Sr. Ma. Presentacion Ramirez, AR

25

12TH SUNDAY IN ORINDARY TIME

BIRTHDAY

Fray William Emilito Villaflor
Sis. Asuncion Magalona, SAR (Manila Chapter)
Sis. Prosfera Jabagat, SAR (Laray Chapter)
Sis. Vivien Oquindo, SAR (Bacolod Chapter)
Sean Feauna Narvasa (RAY-Balamban)

DEATH ANNIVERSARY

+Sr. Ma. Luisa Padilla, AR

26

COMMENCEMENT EXERCISES – SSC-R MANILA (GRADE SCHOOL)
Time: 3:00 p.m.

BIRTHDAY

Fray Julius Marcos
Fray Virgilio Calalang, Jr.
Fray Mark Joseph Quirante (simply prof.)
Sis. Melinda Camero, SAR (Baguio Chapter)
Sis. Whagie Saronillo, SAR (Bacolod Chapter)
Sis. Winifreda Pahilanga, SAR (Talisay Chapter)
Jamaicha Lapinid (RAY-Miranila)

27

MEETING – COMMISSION ON SOCIAL APOSTOLATE
(Rome)

BIRTHDAY

Sr. Elvira Vergara, AR
Bro. Manuel Martinez, SAR (Antipolo Chapter)
Bro. David de la Torre, SAR (Puerto Princesa Chapter)
Sis. Lucita Dimaano, SAR (Antipolo Chapter)

ANNIVERSARY OF SIMPLE PROFESSION

(2020-2023)
Fray Joseph Neil Baygan
Fray James Esplanada
Fray Judd Galinato
Fray Mc Ariel Capinpin
Fray Mark Joseph Quirante

DEATH ANNIVERSARY

+Sr. Ma. Catalina del Amor Misericordioso, AR
+Sr. Crisanta Lerio, AR

28

PRAYER INTENTION: FOR THE MISSION

COMMENCEMENT EXERCISES – SSC-R MANILA (COLLEGE)
Time: 2:30 p.m.

ARCORES GENERAL ASSEMBLY (June 28-29, 2023 / Rome)

BIRTHDAY

Fray Enrico Peter Silab
Fray Samson Silloriquez
Sis. Sonia Ramos, SAR (Antipolo Chapter)

ANNIVERSARY OF SIMPLE PROFESSION

(1990-2023)
Fray Bernabe Dosdos

ANNIVERSARY OF EPISCOPAL ORDINATION

Most Rev. Francisco de Leon, D.D.  (Diocese of Antipolo)

DEATH ANNIVERSARY

+Sr. Margarita de Lumbania, AR

29

SOLEMNITY OF STS. PETER & PAUL, APOSTLES


BIRTHDAY

Sis. Pablicita Palatino, SAR (Inagawan Chapter)
Bro. Peter Sesay, SAR (Kamalo Chapter / Trial)

ANNIVERSARY OF SIMPLE PROFESSION

(1967-2023)
Most Rev. Patricio Buzon, SDB, D.D. (Diocese of Bacolod)

(2019-2023)
Fray Neil Robert Alilain

(2018-2023)
Fray Helfrid Palmis
Fray Rey Jay Quevedo
Fray Jhoben Rodriguez

DEATH ANNIVERSARY

+Sis. Neriza Hernandez, SAR (Provincialate Chapter)
+Sis. Aleja Abellar, SAR (Cavite Chapter)
+Sis. Remedios Vitangcol, SAR (Cavite Chapter)


30

COMMENCEMENT EXERCISES – SSC-R CANLUBANG (ALL LEVELS)
Time: 10:00 a.m.

BIRTHDAY

Bro. Aquilino Cariño Jr., SAR (Puerto Princesa Chapter)
Sis. Leticia Tayao, SAR (Miranila Chapter)
Sis. Ma. Teresa Bilbao, SAR (Manila Chapter)
Sis. Liberty Batayola, SAR (San Carlos Chapter)

DEATH ANNIVERSARY

+Sis. Adelina Sacapano, SAR (Brooke's Point Chapter)
+Sis. Laureana Quijano, SAR (Talisay Chapter)
+Sis. Amancia Gagui, SAR (Miranila Chapter)