7th SUNDAY in ORDINARY TIME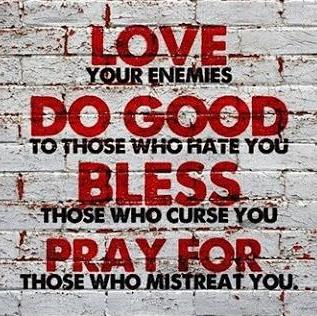 GOSPEL BULLET POINTS
(Gospel: Matthew 5:38-48)
Today's gospel reading continues to focus on Jesus' new teachings about the law. He again reminds His hearers and us that more is expected of His disciples than what was laid down in the Old Testament. He mentions what the Law says: "You have heard that it was said, 'An eye for an eye and a tooth for a tooth… Just as he injured the other person, the same must be inflicted on him' " (Lev 24:20).
But Jesus proposes a quite different approach. Jesus says, "Love your enemies, do good to those who hate you, bless those who curse you, pray for those who abuse you. If anyone strikes you on the cheek, offer the other also; and from anyone who takes away your coat do not withhold even your shirt. Give to everyone who asks you; and if anyone takes away your goods, do not ask for them again."
Isn't this an impractical formula, an unrealistic recipe? How could a person, in a culture that prizes machismo highly, follow such a piece of impish advice? As normal beings are we to react this way to hostility and violence? How can we possibly love people who harm, and insult us, whom we know to be evil, wicked, and corrupt? At the natural and normal levels, this doesn't make sense.
Our natural human reaction is to easily take revenge on an enemy: to fight back— "an eye for an eye and a tooth for a tooth." What He challenges us is to do the unnatural ("If anyone strikes you on the right cheek, turn the other also"), in other words, to exercise love towards our enemies. This is what Jesus exactly asks us if we want to be his disciples—to die to our natural feelings, and our natural reactions, and take on the magnanimous and forgiving heart of Jesus. He forgave his enemies on the cross.
Let us surrender our feelings of anger and hatred and replace them with true love in response to the Lord's invitation to love our enemies.