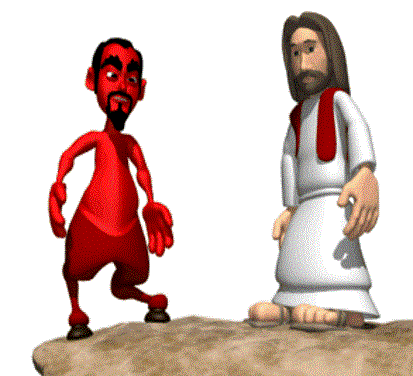 Gospel Bullet Points (Gospel: Matthew 4: 1-11)
Nobody is exempted from temptations. Even Christ himself was tempted. The young and the old, priests are even tempted. It is part of being human. Temptations will always be around…. Anywhere you…anytime. Temptations will only cease when you are already six feet below the ground.
To be tempted is not a sin. Christ himself was tempted but he did not commit a sin. It is when you give in to temptation when you commit a sin. May kaibahan ang TINUTUKSO sa NAGPAPATUKSO. Ang TINUTUKSO ay hindi nagkakasala…. samantalang ang NAGPAPATUKSO ay nagkakasala.
Ang sinasabi ni Imelda Papin sa kanyang awitin na: "TUKSO LAYUAN MO AKO" ay may pagkukulang. Ang wasto, buo at, ganap na gawin natin ay: "AKO ANG LALAYO SA TUKSO!"
We can have two attitudes toward temptations:
1). We can run away from temptations, or,
2). We can run after temptations – meaning to say, we are the ones looking and running after temptations. In that way, we are making Satan jobless.
The three temptations of Jesus in the desert are our temptations, too:
After forty days of fasting, bread could have been very enticing to the Lord. While we may not hunger for bread, how often are we tempted by the LURES of wealth, power, and comfort?
We are not tempted to throw ourselves into the rocks. But how often are we tempted to throw ourselves onto the stones of self-pity, worry, anger, resentment, and jealousy? These are temptations that can easily crush our spirits.
Finally, most of us would withdraw at the thought of bowing to Satan. Yet how easy it is for us to bow before the gods of CAREER, PRESTIGE, SEX, MONEY, and the like believing that all these will give us total joy and fulfillment.
So, be watchful and pray for the devil is like a ROARING LION LOOKING FOR SOMEONE TO DEVOUR…. And remember that the DEVIL is WEAK when we are STRONG. But the DEVIL is STRONG when we are WEAK!