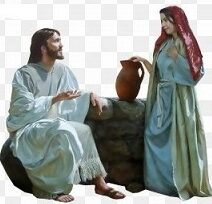 Gospel Bullet Points (John 4:5-42)
Jesus came to the Samaritan town called Sychar. Jacob's Well was there. It was hot midday when Jesus and his disciples reached the well. Jesus was weary and thirsty from traveling. He sat down by the well. He then sent his disciples to buy some food in the Samaritan town. It was at this point that a Samaritan woman came to the well to draw water. It was this woman whom Jesus asked for water. This came as a surprise for the Samaritan woman because the stranger asking for water was a Jew, and there was animosity between the Jews and the Samaritans. The Jews regard Samaritans as unclean outcasts and betrayers of Judaism. But Jesus disregarded this traditional animosity between Jews and Samaritans.
Why did the woman go to fetch water at midday when it was hot? She was avoiding people and wanted just to be alone. She was considered by the other women, especially the Marites ng bayan, as a moral outcast. This Samaritan woman seemed unwanted by her people since she had had five husbands and was living with a sixth lover (palipat-lipat ng partner/lover). She seemed to have been driven from the common well of the town by the decent women.
During their conversation, Jesus guided the Samaritan woman gradually from ignorance to enlightenment. When Jesus started asking embarrassing questions about her five husbands, she cleverly tried to change the subject and talk about religion. She didn't want Jesus to get personal but Jesus wanted to free her, forgive her, shape her life in a new direction, and change her. He wanted to offer this woman Living Water. At the end of their long heart-to-heart conversation, Jesus revealed himself to the woman as the Messiah which in turn led her to faith in him.
Jesus' meeting the Samaritan woman at the well demonstrates how Jesus wants to reconcile all men and women to the Father. Jesus saw in this social outcast, whom apparently no one else wanted, a person who mattered to God—a sinner yet loved by God. The Samaritan woman had found in this stranger Jew, Jesus, love and kindness instead of an air of critical superiority. She was thirsting for love, that kind of love that would last forever, that would fill her full and give purpose to her life. And Jesus gave her that kind of love. Pay attention to curious detail in the account of John: The Samaritan woman leaves her water jug behind; she doesn't need it any longer. She has discovered another kind of water –Jesus, the source of true happiness. She runs to announce to others her discovery and happiness.
We can be like the Samaritan woman. We have our dark spots in our lives. In one way or another, we have made a mess of our lives and often hide them. God knows about them. But like the Samaritan woman, we are invited to journey from sinfulness to conversion. Lent is a time for soul-searching. IF TODAY YOU HEAR HIS VOICE, HARDEN NOT YOUR HEARTS. Be humble, make a general confession, and renew your commitment to God, the family, your neighbors, and yourself.