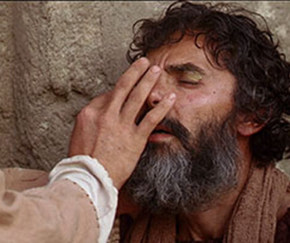 Gospel Bullet Points (Gospel: John 9:1-41)
In the gospel, many were blind and could have been healed by the Lord. But only one was cured. He was the man born blind. The others believed that they could see perfectly but in reality, are living in spiritual blindness. Here we see a distinction between physical and spiritual blindness.
In reality, it was the blind man who had a BETTER VISION – for his blindness was mere physical blindness. The blindness of the Scribes and the Pharisees was much deeper – affecting the mind and the soul. Theirs was a BLINDNESS OF THE HEART.
Two kinds of people that we encounter in the gospel passage:
One who wants to see.
The people who refused to see:

the self-righteous leaders who could not see because of their pride. They heaped insults on the blind man and tells him: "You were born blind and brought up in sin and you are trying to lecture on us!" It was an ancient belief that illness is a result of sin.

The parents and the neighbors were blinded by fear and would not stand up for the healed blind man. They were aware that the blind man was healed but was afraid that by affirming the healing, they would befriend Jesus and would be expelled from the temple.

In some ways, we are like the religious leaders in the gospel and the people who refused to see. We, too, are blinded by our sins, by our own faults, by our own self-righteousness and pride… we are blinded by the glitter of gold, money, material possessions, positions, prestige, popularity, titles, and power. We are blind and refuse to see people in need. We are blind to the injustices committed. We are blind and refuse to see the young and the old whose homes and families are broken.
The Gospel lesson is exemplified by the humble blind man in the gospel:
SELF-ACCEPTANCE – to be healed, we must first acknowledge the blindness of our hearts and that we need the healing touch of the master.
HUMILITY – humility to cooperate with God's grace. Take note that the blind man received his sight only after he humbly fulfilled the command of the Lord to go to the river and wash his face.
We are more than halfway through the Lenten season. Today, the Lord invites us to approach him and ask for healing. Realize that we too, like the blind man, need the healing touch of the Master. Let us admit our spiritual blindness and pray in the spirit of the Gospel: LORD, GIVE US LIGHT AND SPIRITUAL INSIGHT THAT WE MAY SEE.