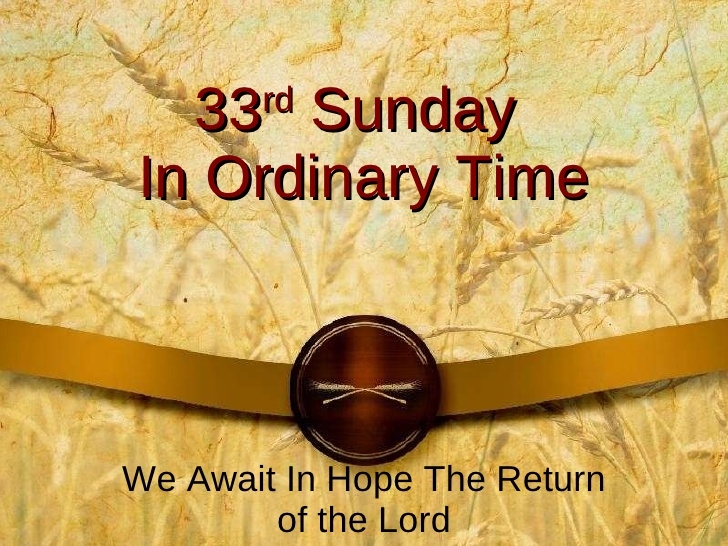 33rd Sunday (Ordinary Time)
Today is the last Sunday of our Liturgical year. Next Sunday will be the feast of Christ the King and that will officially end our liturgical year. Then comes the season of advent- a season of preparation for Christmas.
As the liturgical season comes to a close, the readings deal with the last things: end of the world, judgement, reward and punishment.
The readings for this Sunday are important because they talk about the preparation we have to make for the final encounter with the Lord.
Let us look at the significant details:
*****
People were talking about the temple. They admired so much the beauty of the temple—how the temple was adorned with precious stones and votive offerings. Believe na believe sila sa templo. Syempre, sila ang gumawa, sila and nag-donate and who could be prouder than they themselves. Gaya rin ang isang parishioner na nag donate ng upoan sa simbahan—believe na believe sa na-idonate nyang upoan not because she gave it to the Lord, but because her name is printed on the side of the pew.
*****
          Most often ipinagmamalaki natin ang mga bagay na ating ginagawa o nagawa: chapels, decorations, altars, etc…but they can be erased in a matter of minutes…like what happens after strong quakes or storms . . .  buildings disappear so suddenly.
******
          Behind man's efforts and man's works, we should see God and not only the material things that we can stare at. The things that you see will pass. Di ba sinabi ng Panginoon:" Heaven and earth will pass away but the WORDS of the Lord will last forever."
          In today's gospel, Jesus tells his listeners: these things you are contemplating—the day will come when not one stone will be left on another?
*****
          Na intriga ang mga tao, and so they asked: "when will this happen, Teacher? And what will be the sign it is going to happen?" Yan naman talaga ang usual concern of people ever since. Some would go to manghuhula and they would consult the crystal balls to know when the end of the world would be.
*****
          But Jesus before giving them a sign warns them against being misled by false prophets. Nobody knows when will the time be. Wala tayong pakialam d'yan. It's only the Father who knows when. Our concern is to prepare for that coming—to make a choice between good and evil.
*****
          And then he gives not a sign but several signs, but many people do not see the signs.
AND THIS SIGNS WILL NOT COME FROM GOD, BUT WILL COME FROM MAN HIMSELF.
          What are the signs?
          1. Wars—which man himself is the author. Sawang-sawa na tayo sa isa't -isa kaya nagpapatayan. Nuclear weapons, lately North Korea has tested their nuclear bombs, not only North Korea but some other powerful countries just in case magkainitan. Aba parang ayaw na natin sa mundo.
          2. Great earthquakes/floods,etc . WHY? because man has destroyed mother nature. Ang ating mga bundok ay kalbo na- the result flash floods ; mines resulting into quakes. Di ba galing din ito sa atin?
          3. Famine- this does not come from God. Tayo rin ang may kagagawan at kasalanan nito. There is famine because of man's greed (katakawan). If we can just share food equally, siguradong walang magugutom.
*****
          Of course we must not all be discouraged. The Lord in the gospel tells us of something positive: by patient endurance you will save your lives. You see, not even a hair of your head will be harmed.
*****
It must be pointed out clearly that we can never be sure when the end will be. Jesus himself says: "as to the day and the hour, no one knows, not even the angels in heaven, but only my Father (Mt 24:36).
I believe that the more important question to ask is not WHEN but HOW are we using the time which we have now and what do we hope to accomplish in the years that lie ahead.
*****
Could we await the end with confidence, knowing that we have done all we could? Or would we rather feel that there were so much we have left undone, so many faults to atone for, so many omissions to make up for and we could crave for a little more time to put things right? We want to make a HIRIT…we make a lot of bargaining. And yet when we are given more time, do we make the best use of it?
*****
My dear friends our whole eternity depends on our decision to prepare for eternity. We cannot afford to gamble our eternal happiness by ignoring the word of Jesus as he admonishes us today – here and now – to prepare for the day of RECKONING!
*****