A tree growing inside the church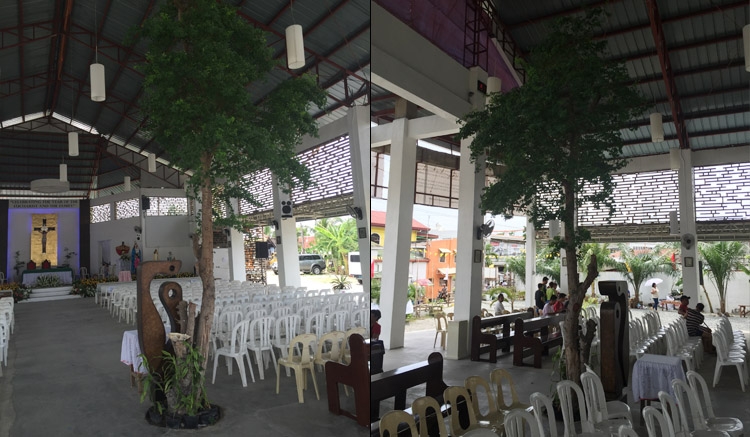 "A tree inside the church? I thought it was made of plastic material bought from a mall," a first-timer in this chapel-turned-quasi-parish said with surprise upon learning that it was real.
In an age when "sustainable architecture'" is fast becoming a vogue, some creative minds have found ways to blend architecture and nature. And so today, we can see houses and buildings incorporating trees in their interiors, instead of getting rid of them. No wonder, the tree standing solo inside St. Augustine of Hippo Quasi-Parish-Recoletos has spontaneously provoked amazement.
At this newly-created quasi-parish at Sitio Tunob Lapok in Inayawan, Cebu City, a "kamansili" (Pithecolobium dulce) continues to grow inside the structure. Strategically standing at the main aisle near the entrance of the church, the 20-foot tall, well-trimmed tree gives a unique ambiance to this house of prayer.
"It's guarding the blessed sacrament 24/7," pointed out one mass-goer.
In an informal conversation after the fiesta mass last August 28, 2016, a staunch supporter of the pro-parish group of this once "lowly" chapel and who wanted to remain anonymous said that the tree's fate was decidedly purposive. "Not just for aesthetic reason, but also as a statement of the signs of the times," he pointed out, referring to its alignment to the challenge of Pope Francis' encyclical, Laudato Si'.
Located within the 2,000 sq. m. area previously teeming with bushes and plants, the three-year-old building was constructed through the bayanihan spirit of the people in the area. But the invasion, so to speak, of architectural science spared this single tree from elimination (or annihilation?) and granted it a special role in the over-all design of what used to be a chapel eponymously named after the older one, reportedly more than a century old and privately-owned, along F. Jaca Street.
"If that tree would spark curiosity and people begin to stream towards this church, that would be far better off a reason than when they would rather go to this church just to catch Pokémon species," another churchgoer remarked with a bit of scoff against the negative (or dark?) side of this latest gaming craze that tends to desecrate sacred places.
While Google provides instant data about trees growing inside church ruins, somebody has yet to know of other churches with this ecological feature. For now, seeing the tree inside the church as one enters and prays, he is reminded of a poem, "Isang Punong Kahoy", by a Filipino poet, Jose Corazon de Jesus (1896-1932).
Kung tatanawin mo sa malayong pook
Ako'y tila isang nakadipang krus;
Sa napakatagal na pagkakaluhod
Parang hinahagkan ang paa ng Diyos