Augustinian Recollect Family "concludes" Year of Holiness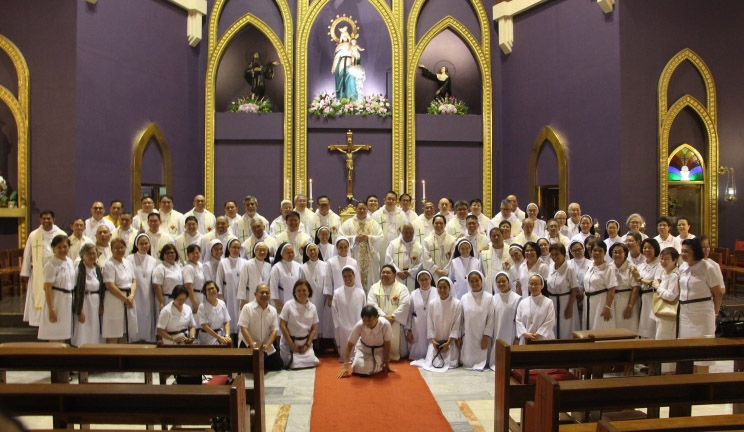 Augustinian Recollect Family "concludes" Year of Holiness
Activities for the closing of the Year of Holiness began Sunday, November 12, with a concelebrated mass at the Our Lady of Consolation Parish church. The main celebrant, Fr. Lauro V. Larlar, OAR, Prior of Recoletos Formation Center, gave a brilliant homily using the notion of Pope emeritus Benedict XVI as the springboard for his sharing: "Holiness does not consist in not making mistakes or never sinning. Holiness grows with the capacity for conversion, repentance, willingness to begin again, and above all with the capacity for reconciliation and forgiveness." Moreover, in consonance with the Prior General's intent, the main celebrant exhorted all the religious and the faithful "to aspire for holiness and offer them the example of those brothers of ours who are recognized by the Church as saints or venerable for martyrdom or for their virtue in the surrender of their lives." The Apostolic Penitentiary granted the plenary indulgence for this feast.
On Monday, November 13, Feast of the Saints of the Order, the Augustinian Recollect Family once again gathered at the Bulwagang Rekoleto for the talks given by Fray Manny Bolilia, OAR, (Year of Holiness and Beyond: An Assessment) and Fray Hubert Decena, OAR (A Witness to the Life of Fray Mariano Gazpio on the Road to Holiness). A compilation of devotional prayer materials was also presented to the audience by Fray Leander Barrot, OAR, Director of the RST Research Department. The program ended with a message from Fray Dionisio Q. Selma, OAR, prior provincial.
.
This was followed by a Eucharistic celebration presided by Fray Dionision Q. Selma, OAR, Prior Provincial. In his homily, he reiterated the intent of the celebration of The Year of Holiness: "to revive the call to holiness and to open ourselves to the action of the Spirit, who renews our hearts without ceasing . . ." A plenary indulgence was granted by the Apostolic Penitentiary for this feast.
The day's activities ended with a dinner. While partaking of the common meal, participants had the opportunity to share concerns and ideas on a) discipline needed for growth in the Life of Prayer of the Augustinian Recollects, b) on the theme: "Let us be One Heart in Solidarity with and for the Poor." Shared ideas will be presented as "ponencias" for the 7th Provincial Chapter.
While there were talks and activities throughout the closing of the Year of Holiness, those who attended would agree that the highlight was the opportunity to renew our commitment to "reaffirm our charismatic identity, spirituality, and service to the Church."