Better than Yesterday: A Lesson from Bishop Dinualdo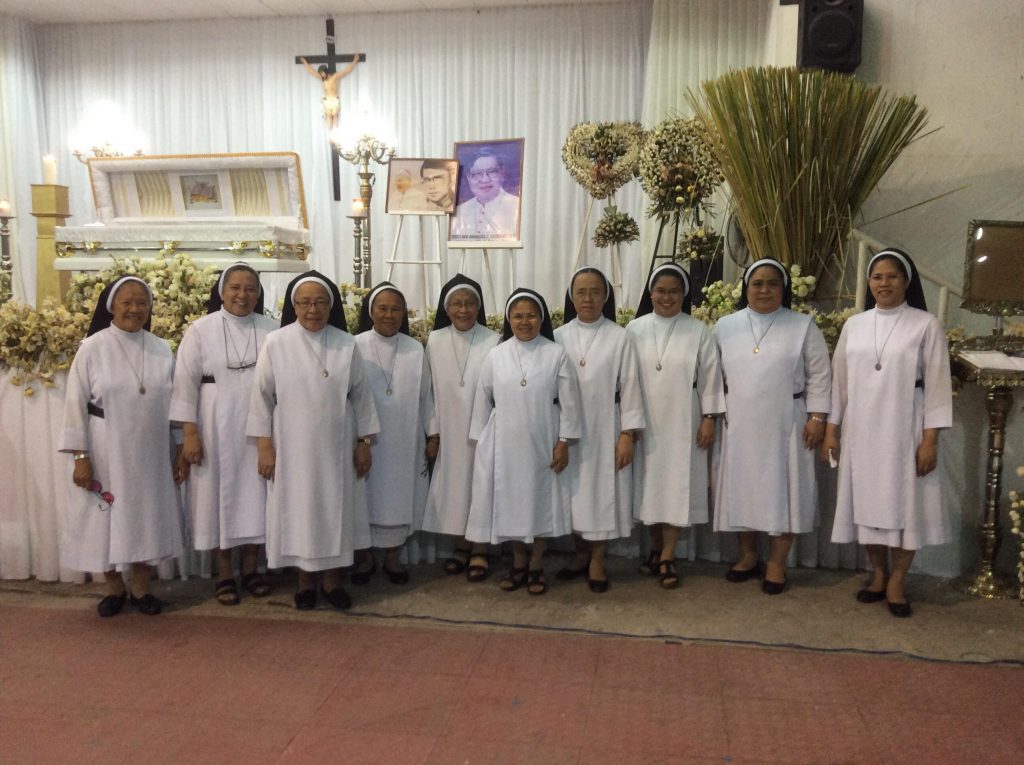 MANILA—The AR Sisters have been the recipients of the good shepherding of His Excellency Most Rev. Dinualdo Gutierrez, D.D. the Bishop Emeritus of the Diocese of Marbel. He was the monthly Recollection Facilitator of the AR Sisters of Notre Dame of Banga and Notre Dame of Lamba South Cotabato since 1981 until December 2018. During the annual Christmas lunch with him and His Excellency Most Rev. Cirilo Casicas, the new Bishop of Marbel on Dec. 23, 2018, he already scheduled the Recollection on January 13, 2019. However, he was rushed to the hospital on January 9 with a lot of subsequent medications which eventually led to his heavenly journey on February 10, 2019.
Bishop Dinualdo knew the names of the AR Sisters assigned in Banga and Lamba. They also received "pasalubong" every time he travelled abroad. The AR Sisters were so blessed to have a good shepherd in the Southern part of the Philippines which is very far from the AR Motherhouse.
My interactions with him was "short but substantial"… I may not be the right person to write something about Bishop Dinualdo since I was not assigned in the Diocese of Marbel. During the school year 2018-2019 as given the task to supervise the AR Communities in the Division of Our Lady where Notre Dame of Banga and Lamba belong, I had the privilege of visiting him five times, the last of which was his burial on February 20, 2019 (his birthday as well) with Mo. Lucena Antipala, our Superior General… In June 2018, we had a courtesy call with him at the Bishop's office when I was tasked to travel to South Cotabato for the installation of Sr. Yolanda Navea, the new AR Superior of Notre Dame of Lamba. It was followed by the Golden Jubilee Celebration of Notre Dame of Lamba in December 2018. Mo. Lucena Antipala, our Superior General led us in visiting him at his Retirement Home on December 19, 2018. After enjoying the delicious snacks, he gave a special soap as a gift to our Superior General. He was so happy about the fifty years of existence of the school. He also shared his stories about the journey of the school since he assumed Bishop in 1981. Then on December 23, 2018 few hours before our flight back to Manila, Sr. Mary Ann Lumactao and I were privileged to join the AR annual Christmas lunch at Casa Gemma in Marbel. It was my first time to have two bishops in a meal with the two AR Communities in the far place of South Cotabato. We enjoyed the food and the lively interactions with Bishop Dinualdo Gutierrez and Bishop Cirilo Casicas. Fr. Romeo Buenaobra, the Vicar General of the Diocese of Marbel was also there enjoying the Christmas spirit with the AR Sisters. During the Fraternal Visitation of the AR Communities in Notre Dame of Banga and Notre Dame of Lamba on January 20-27, 2019, I flew again to General Santos City. I was sad when I learned the news that Bishop Dinualdo was confined in Davao City. We planned to visit him there during the weekend after the Fraternal Visitation. However, during that week, he was back to his retirement home. Hence the weekend visit happened in Marbel. When we shared about our plan to visit him in Davao, he jokingly encouraged us to travel there. He told us that he was "better than yesterday" and that his health was improving. Listening to my senses, I was entertaining thoughts that he was not well. I asked permission for photo op with the Sisters which he responded favorably. I was surprised that he readily agreed when he was seen in the hospital bed as compared during the Christmas lunch when he made sure that he would not be seen using the oxygen. Our visit and photo op on January 26, 2019 around his bed in his retirement room was my last encounter with Bishop Dinualdo. He asked me about the Fraternal Visitation and I shared that the Sisters were very good which he gladly agreed. The Sisters of Notre Dame of Banga were able to see him again on January 28 during his Anniversary celebration as Bishop which was held at the Retirement Home. Back to the Motherhouse, I shared to the Sisters about the condition of Bishop Dinualdo offering more prayers for his recovery. However, fifteen days after our last meeting, God called him for heaven! I was sad and started to re-read his text messages starting December 23, 2018 sharing his last Christmas message "We celebrate the birth of Jesus Christ, God's gift to us and the light of the world, who dispelled the darkness of sin and ignorance through his teachings, miracles, passion, death and resurrection. Merry Christmas and joyful new year. BP. D.D.G." His last text to me was the word "Better" when I inquired about his health condition. Perhaps, he wanted to imprint into my heart a "better" way of sharing Christ to others; that in every challenging circumstance, I ought to make it "better"… better than yesterday…
This news article was originally published in www.augustinianrecollect.org.ph with the title "Better than Yesterday" written by Sr. Cleofe Maria Agua, A.R.