Bishop Alminaza Celebrates Mass of the Holy Spirit with Thomasians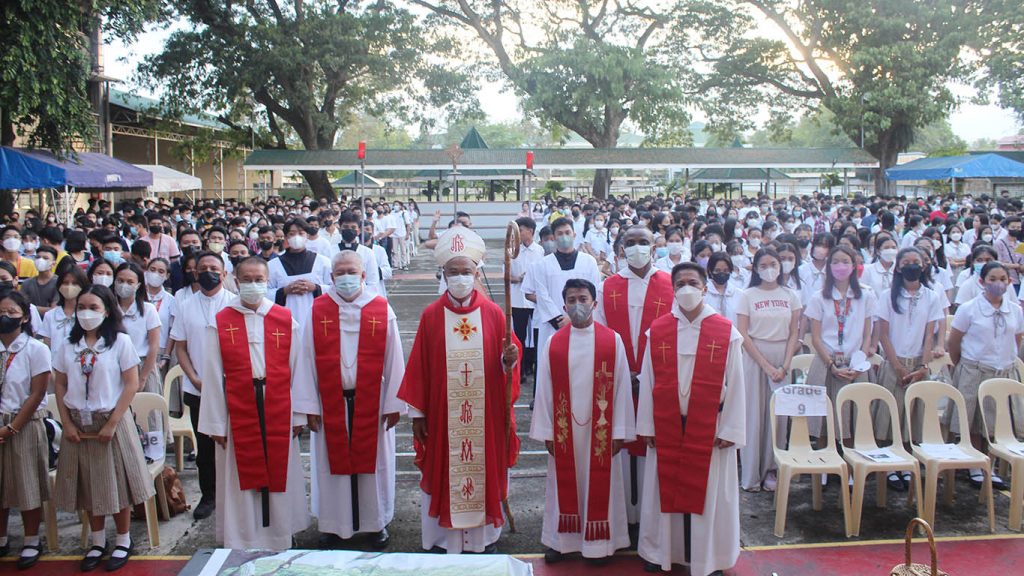 "It is always a joy to be with Thomasians."
 SAN CARLOS CITY, Negros Occidentdal – Most Rev. Gerardo Alminaza, D.D., Bishop of the Diocese of San Carlos proclaimed during his homily for the entire Thomasian community. The bishop was the main celebrant of the Mass of the Holy Spirit at the quadrangle of Colegio de Sto. Tomas-Recoletos, September 14, 2022.
As he is an Augustinian Recollect alumnus himself, Bishop Alminaza expressed his happiness that he had the opportunity to personally welcome the new members of the Order of Augustinian Recollects community in San Carlos City.
Rev. Fr. Cristopher Maspara, OAR, the prior of Recoletos de San Carlos and CST-R president, presented the OAR community beginning with Rev. Fr. Monday Benjamine Edobor, OAR, the Vice-president for Identity, Formation and Mission; Rev. Fr. Enrico Peter Silab, OAR, resident priest and former CST-R Director; Rev. Fr. Excel Saycon, OAR, resident priest.
Meanwhile, Rev. Fr. Marjun Almario, diocesan chancellor, joined the bishop.
Tips to Thrive during this School Year
Bishop Alminaza, while he recognized the challenges of another shift in the delivery of education from distance to blended learning, inspired the Thomasians with his tips and thoughts that can be remembered during the trials of student life.
"The secret is to develop this personal rapport with the Holy Spirit," he clinched his sharing.
Thomasians from the seventh grade to the two college programs all learned a simple and short prayer to the Holy Spirit from Bishop Alminaza, who is widely known for his campaigns for the Care of the Common Home.
Teacher's Pledge
            Before the Mass of the Holy Spirit ended, Thomasian faculty members recited their Teachers Pledge in front of the bishop and the OAR community. Ms. Marinell Ocampo, the new principal of the Basic Education Department led the teachers.