Bishop David Arias, a great leader of the Hispanic people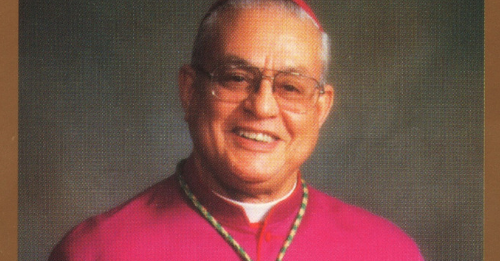 Augustinian Recollect Bishop David Arias died on May 9 at the age of 89 in New Jersey (United States). He was recognized by many people as a good bishop and a good religious, mainly concerned with the Hispanic community. This article was written by Fray Eliseo González, OAR, in memory of Bishop David.
I first met Bishop David Arias in November 1997 at Tagaste Monastery, Suffern, New York. I was a seminarian at the time. He came to eat with the Augustinian Recollect community to celebrate Thanksgiving Day. For the next six years Archbishop Arias would not miss that feast day at Tagaste.
I also remember when, along with other Recollect friars, we were present at the blessing of the Guadalupe Center in Union City, New Jersey. Arias was largely responsible for the Diocese of Newark opening this formation center for the Hispanic community. From his time with the Cursillo Movement in New York, Arias was always concerned that the laity be well-formed.
On May 31, 2003 I had the joy of being ordained a priest by the laying on of his hands at Mary Star of the Sea Church, Oxnard, California. He was also present the next day, June 1, for my first Mass. Arias was always ready for the ordinations of deacons and Augustinian Recollect priests.
In 2009 I was assigned to West Orange, New Jersey, where the provincial house of St. Augustine Province was located, with the mission of working for the cause of the venerable Bishop Alfonso Gallegos. Arias a few times a year, always in Augustinian Recollect community meetings.
In March 2010, while I was in New Jersey, I went to visit Bishop David to ask him for a favor: he needed to lend me a mitre of his to wear to the venerable Bishop Gallegos after his exhumation on March 24, 2010. When I arrived at Bishop Arias' residence, I was impressed by how simple and organized everything was. He received me with great affection. He was very attentive. He showed me the house and the church. It looked like a residence within another residence. It had its own chapel, kitchen, dining room and bedroom, all apart from the rectory of the diocesan fathers. He took me to his room and placed three mitres on his bed and said, "Take whatever you want. I took the most beautiful one to put it on the venerable Bishop Gallegos.
In the summer of 2013 I was assigned to Santa Ana, California, at Our Lady of the Pillar Church. During that time, Monsignor Arias stayed in this community on two occasions. From there, Bishop Arias took the opportunity to visit his brother, Father José Antonio Arias, and his nephews and nieces in Los Angeles.
In June 2016, he stayed at the Pilar Church for a meeting of U.S. bishops in the Southern California area near Santa Ana. By the way, from the Diocese of Orange I was invited to confess to the bishops. I went to confession and I saw Bishop Arias there, living with his brother bishops, very happy. He approached me and greeted me with great affection.
The last time I saw Bishop David Arias was in November 2016 when he traveled to the Cathedral of Sacramento, California, to participate in the Thanksgiving Mass of Bishop Alfonso Gallegos on the occasion of his proclamation as venerable. The trip was made by bus with a group of pilgrims from the church of Pilar, Santa Ana, and lasted seven hours. In that ceremony Bishop Arias had to unveil the photo of Bishop Gallegos that was lit in the choir of the cathedral. Then I asked the parishioners how a long trip had turned out for Bishop Arias. They told me that he was very happy, 'quiet', praying and sharing with the faithful.
On these two occasions when he stayed in Santa Ana, in the church of Pilar, we spoke alone about some topics: his ministry, his love for history and his books on the contribution of Hispanics to U.S. society, his autobiography he was writing and why he thought that St. John Paul II elected him bishop, which was a great surprise to him. His theory was that in his curriculum vitae it appeared that in his studies in Rome he had made the final thesis on the spirituality of St. John of the Cross. Smiling, he told me that that is why he believed he had been appointed bishop by St. John Paul II, because the Pope also had an interest in St. John of the Cross.
For me, Bishop David Arias was a simple, loving and attentive man. Upon learning of his death, I offered the Holy Eucharist for his eternal rest and I could not help but feel again affection and spiritual union with him, since he had ordained me a priest and again Jesus Christ, the Eternal High Priest, united us.
Cardinal Joseph W. Tobin, C.Ss.R., Archbishop of Newark, after learning of the death of Bishop Arias said: "Today, this local Church of Newark is in mourning for a remarkable and reliable pastor who guided the faithful wisely, well and with great pastoral care. David Arias, an Augustinian Recollect, was a great leader who has left a profound imprint on the church in the USA, particularly in the pastoral care of the Hispanic community, which continues to grow.