Bishop of the Military Ordinariate ordains 2 Augustinian Recollect Priests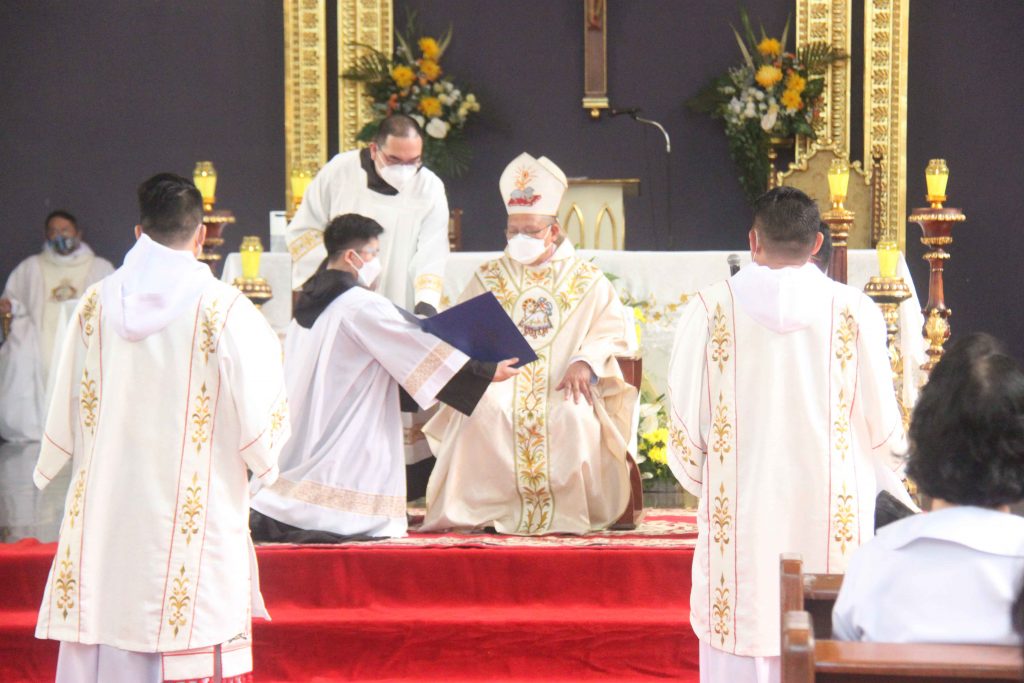 Mira Nila Homes, QUEZON CITY–Two Augustinian Recollect deacons were ordained to the Sacred Order of the Presbyterate on Saturday, August 28, 2021, on the Solemnity of our father St. Augustine, held at Our Lady of Consolation Parish.
Most Rev. Oscar Jaime L. Florencio, DD, Bishop of the Military Ordinariate of the Philippines, officiated the Presbyteral Ordination together with Fray Dionisio Q. Selma, OAR, Prior Provincial of St. Ezekiel Moreno Province of the Order of Augustinian Recollects, members of the Formation Team of Recoletos Formation Center, and other concelebrating priests.
After the period of long seminary years of formation, the two Augustinian Recollect friars were solemnly consecrated to the presbyteral rank. They were Fray Robin Ross S. Plata, OAR, 32 years of age and a native of Candelaria, Quezon Province; and Fray Virgilio C. Calalang, OAR, 37 years of age, from Balagtas, Bulacan.
As the COVID-19 Pandemic still feared the public, the celebration was only attended in person by some of the parents and relatives of the ordinandi and some Augustinian Recollect friars and sisters from different communities maintaining the minimum health protocol from the government. While other relatives, friends, benefactors, and other members of the Order who were not able to attend physically were still able to catch up live on Facebook streamed by the Province of St. Ezekiel Moreno.
The ordaining prelate, Bishop Oscar, addressed the ordinandi as he pointed, "Fray Virgilio and Fray Robin, you will be configured in Christ by virtue of this ordination. By the laying of hands you will be sent as Christ in the midst of His flock. Hence, you will share the priesthood of Christ, the Good shepherd. I want to challenge you my dear ordinandi to be the good shepherds… maging mabuti kayong pastol, maging huwaran at modelo kayo sa lahat ng mga mananampalataya upang sila ay maging banal katulad ng Diyos."
The holy bishop also emphasized that they must have the qualities of the Good Shepherd, who knows the sheep, who leads the sheep to safety, and who lays down his life for his sheep. These characteristics are found in Christ for He is the Good Shepherd. Lastly, the good bishop invited them (the ordinandi) to pray without ceasing, especially the prayers of the Church (the Liturgy of the Hours) which sanctified the hours of the day.
After the ordination, Fray Robin Ross Plata, OAR, one of the newly ordained priests, delivered his message of gratitude as he extended his deepest gratitude to God, to their parents, relatives, benefactors, friends, formation team, the brothers, and the Order as he firmly said, "It is a grace and it is God who grant us this grace for He is the center of this ordination."
Before the final blessing, Fray Jose Ernil Almayo,OAR, Provincial Secretary, presented to the parents the Plaque of Appreciation and the Apostolic Blessing, and announced to the public the assignments of the newly ordained priests. Fray Virgilio Calalang, OAR, will be sent to work and live with the brothers in San Pedro Academy–Recoletos, Cadiocan, Valencia, Negros Oriental; and Fray Robin Ross Plata, OAR, will live with the brothers at St. Ezekiel Moreno Provincial Center, Quezon City, with the mandate from Pope Francis to "be shepherds, with the 'smell of the sheep'… and to be "creators of communion."