Book About Padre Mauricio Ferrero, OAR, Launched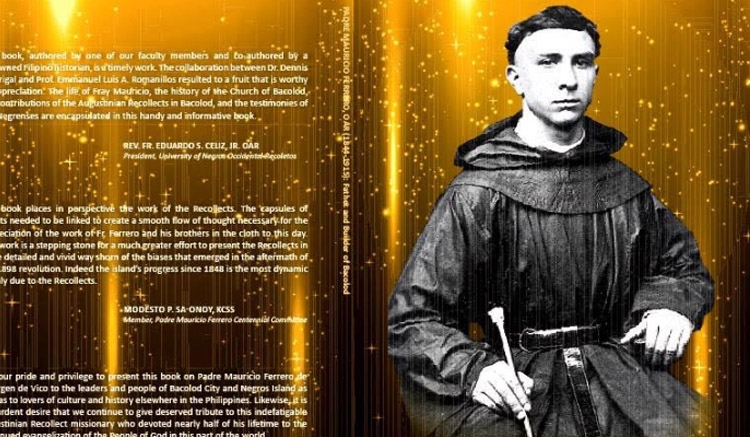 BACOLOD CITY – Augustinian Recollect Prior Provincial Father Dionisio Q. Selma wrote in his message for an earlier book on Padre Mauricio Ferrero: "Anniversaries are an important part of life. They remind us of important events, both personal and cultural. […] Whatever the anniversary, it gives us a chance to look back over the years since the event we're marking, and reflect on how it has shaped us. Remembering the past can be an important part of understanding who we are."
Father Selma further informs us: "In Bacolod City, there are four anniversaries marked in 2015-2017: the Centennial (1915-2015) of Fr. Mauricio Ferrero, OAR; the 145th Anniversary of the Arrival of Fr. Mauricio Ferrero in Bacolod (1871-2016); the 135th Anniversary (1882-2017) of San Sebastian Cathedral; and the 85th Foundation Anniversary (1932-2017) of the Diocese of Bacolod. These are glorious pages in the annals of history of the Diocese and the City of Bacolod as well as of the Augustinian Recollects. […] we must look back on those early Augustinian Recollects who touched the lives of thousands of ancestors, nurturing their Christians beliefs, bringing material progress to the vast Island of Negros as well and bequeathing to us indelible legacies of faith and culture."
The Padre Mauricio Ferrero Centennial was conceived in January of this year. During a celebration at the Provincial Curia, I informed Father Selma that I was preparing a book on Padre Mauricio Ferrero. The provincial was pleasantly surprised. You see, I was the thesis adviser of a student of M.A. in Theology Major in Church History, in Mira-Nila and customarily I assisted my advisees in translating Spanish manuscripts into English. I had the good fortune of discovering Padre Francisco Vega's manuscript about his predecessor's death. He wrote that Padre Mauricio passed away peacefully in Intramuros on 8 December 1915. The official catalogue had indicated 29 January 1916. But this was the day Padre Mauricio's obituary reached the general curia. Father Provincial then approved my book and recommended the Padre Mauricio Ferrero Centennial to Father Prior William Villaflor. Father Abe Latoza heads the Centennial Committee.  And, as it is often said, the rest is history.
This highly informative book was conceived at Yellow Cab in SM Bacolod after the long interview by my co-author Doc Dennis's Calle Ferrero radio programme over DYAF Radyo Veritas. Many other book collaboration projects were hatched.
Now, what does the new book has to offer? Well, for one, there are the enriched, updated chronicles of the Augustinian Recollects in Negros used by Doc Dennis as background of the life, works and ministry of Padre Mauricio Ferrero. Then there is the transcript of the juicy interview broadcast on DYAF-Radyo Veritas on two Saturdays. Added to that is the lecture on Padre Mauricio I delivered at the President's Hall on 27 August 2016. I availed myself of the Cosas notables de Bacolod scanned manuscripts from the Archivo Recoleto in Mira-Nila. The renowned Recollect historian of Negros Father Angel Martínez Cuesta emailed to me over thirty Spanish archival manuscripts he himself had encoded and in mid-June he even sent through Father René Paglinawan more manuscripts from Rome, including letters written to and by Padre Mauricio.
A section of eight pages called Recoletos Trivia has been included for students of Religious Education, History and Tourism and enthusiasts to test their knowledge of Recollect and Negros cultural heritage and history.  
The book is replete with over 100 illustrations, photographs and maps. All are meticulously chosen, unpublished and in amazingly viewable quality and definition, thanks to Doc Dennis.
Furthermore, I included the chronicles of the Padre Mauricio Ferrero Centennial with a persosal interview with Father President Eduardo Celis and words of Bishop Emeritus Vicente Navarra.    
It is then our pride and privilege to present this book on Padre Mauricio Ferrero de la Virgen de Vico to the leaders and people of Bacolod City and Negros Island as well as to lovers of cultural heritage and history in our country. It is our ardent wish that we continue to give deserved tribute to this indefatigable Augustinian Recollect missionary who devoted nearly half of his lifetime to the continued evangelization of the People of God in this part of the world.  
Above all, as again may I quote Prior Provincial Father Selma, "we acknowledge Father Mauricio Ferrero, OAR, builder of that sturdy citadel of Faith so it may endure for years to come, a veritable symbol of the steadfast faith of the People of God. May the Almighty God the Lord of history illumine our path at all times!" Thank you and good day!