Bp. Ángel San Casimiro receives the keys to the City of Alajuela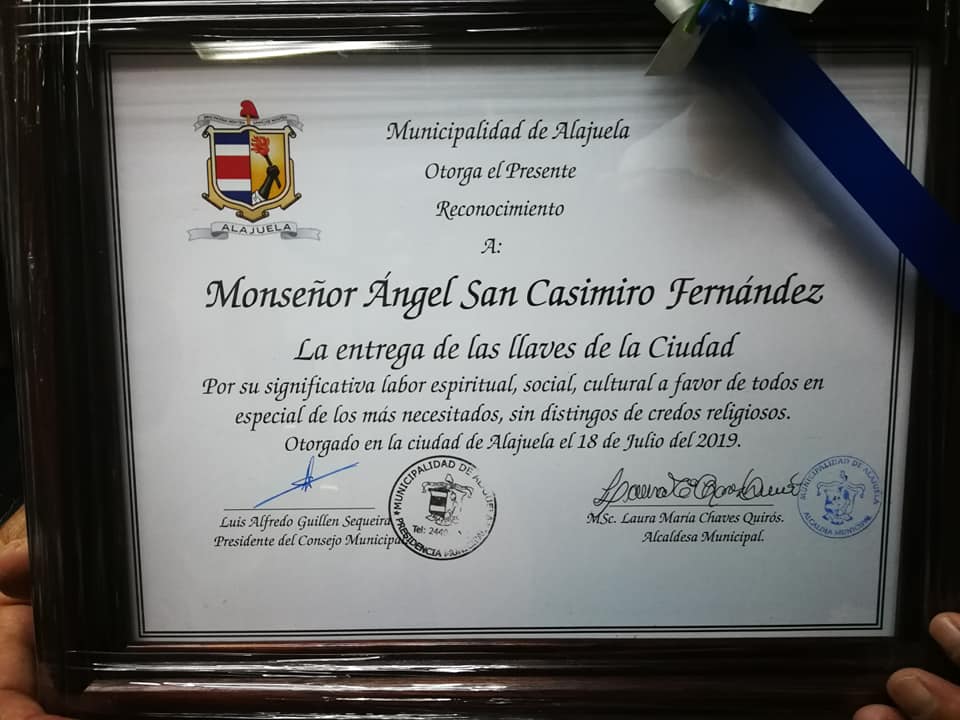 Note: This article was translated from the original Spanish article posted in the official website of the Order of Augustinian Recollects (www.agustinosrecoletos.com)
The Augustinian Recollect Bishop has been distinguished with this recognition after eleven years of pastoral service in the diocese of Alajuela.
COSTA RICA–The Augustinian Recollect Bishop Ángel San Casimiro received the keys of the city of Alajuela (Costa Rica) on Thursday, July 18 in a symbolic way. The municipality of the city recognized in this way the pastoral work that the Bishop-Emeritus performed during the eleven years of pastoral service in the diocese of the capital of the country.
Alajuela gives this recognition for its "significant spiritual, social and cultural work in favor of all, especially the most needy", without distinction of beliefs, as indicated in the diploma given to the Augustinian Recollect religious. The president of the Municipal Council, Luis Alfredo Guillén, and the municipal mayor, Laura María Chaves, granted this distinction.
Bishop Ángel San Casimiro was Bishop of Alajuela from October 2007 until 2018, when his resignation became effective after his 75th birthday. Previously, he held his episcopal ministry in Ciudad Quesada, being the first bishop of this diocese. In an interview on agustinosrecoletos.com after his resignation, he stated, among other things, that "the bishop must accompany the people: by going behind to push them when they need it; going ahead to show them the way or going together to share life with them ».
Born in La Rioja (Spain), he studied humanities in Lodosa (1952-56) and Fuenterrabía (1956-60), and wore the Augustinian Recollect habit in Monteagudo. On September 6, 1961, he pronounced the religious vows and, after the theological term, on October 3, 1965, he was ordained to the priesthood by Bishop Francisco Javier Ochoa.
Bishop Ángel San Casimiro has been treasurer of the Episcopal Conference of Costa Rica and president of its Social Pastoral Commission; In the CELAM (Conference of Bishops of Latin America) he was responsible for the section in charge of dialogue with non-believers and general secretary of SEDAC (Episcopal Secretariat of Central America).