12 housing units for Casiciaco staffers blessed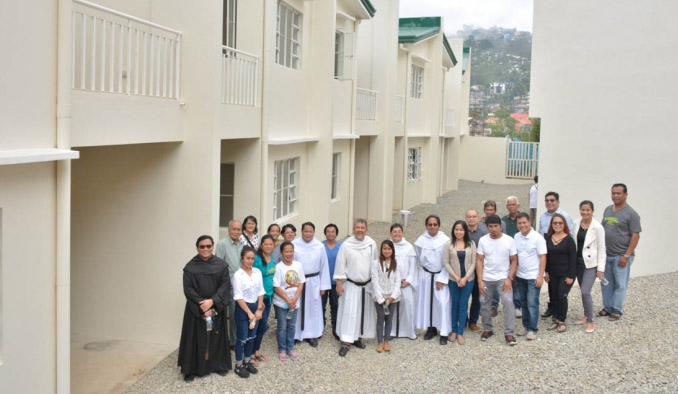 On the occasion of the founding anniversary of the Order, 12 housing units for loyal staffers of Casiciaco Recoletos Seminary were blessed last Dec. 5, 2017.
Rev. Fr. Dionisio Q. Selma, OAR, prior provincial, led the rite of blessing of the 2-storey, 12-unit row house project on Dahlia St., Brgy. San Luis, Baguio City, which is a short walking distance away from the seminary.
"It is the mandate of the last Provincial Chapter to provide housing units for our loyal employees because the Order cares for them and their well-being," said Fr. Bob Cabanag, OAR.
Also present during the ceremony were the seminary fathers led by the rector Fr. Bernard Amparado, OAR.
Fr. Cabanag, who is the seminary prefect of discipline and in charge of the housing project, said each housing unit has an approximate ground area of 40 to 50 square meters, with a mini-lawn, kitchen, 3 bedrooms, a veranda and 2 restrooms.
The 12 staffers who availed of the housing project are the seminary librarians; administrative, kitchen and laundry personnel; drivers and utility workers.
Some of them are currently living in houses located at the far end of the seminary. Fr. Bob said when they shall have relocated to their new homes, the seminary will construct a guesthouse there.
Miss Regine Llamera, a librarian for the past 5 years at the seminary, said she currently lives in an apartment unit located just 5 km away from the seminary. But because of traffic congestion which is slowly becoming felt in Baguio, she finds going to and from the seminary a daily struggle.
"Masaya ako na may sarili na kaming bahay dito sa Baguio," she said. She is originally from Buguias, Benguet, a good 3 hours' ride away from Baguio.
The housing units are constructed on an 800-square-meter property that sits on a hill overlooking the road.