Central Visayas launches International Year of Indigenous Languages celebration at USJ-R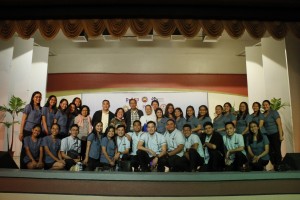 CEBU CITY–Six Cebu-based universities collaborated to launch the regional celebration of the International Year of Indigenous Languages (IYIL) as prescribed by the United Nations.
The celebration is expected to strengthen and reinforce the many standard-setting tools adopted by the international community which include specific provisions to promote and protect indigenous languages.
This after a UNESCO report stated that 40% of the estimated 6,700 languages spoken around the world were in danger of disappearing. The fact that most of these are indigenous languages puts the cultures and knowledge systems to which they belong at risk.
Celebrating IYIL2019 will help promote and protect indigenous languages and improve the lives of those who speak them. It will contribute to achieving the objectives set out in the United Nations Declaration on the Rights of Indigenous Peoples and the 2030 Agenda on Sustainable Development.
The Central Visayas launch took place on March 18 at the Center for Performing Arts of the University of San Jose – Recoletos in partnership with the University of the Philippines-Diliman, Cebu Normal University, Cebu Technological University, University of San Carlos and University of the Philippines-Cebu.
"Language is dynamic because it changes everything", said Dr. Ricardo Nolasco, the well-renowned MTBMLE advocate and UP Diliman linguistics professor.
He was the keynote speaker of the launching event. He added that communication plays an envitable role in any institution because it is a powerful way to attain more effective organization in the community and the country as a whole.
Other speakers were Dr. Genara Pacana of CNU on Research in Indigenous Languages, Dr. Lynnette Camello on Technology in Indigenous Languages, Dr. Cristie Ann Jaca of USC on Pre-Service Teachers and the Indigenous Languages, Dr. Aurelio Vilbar of UP Cebu on Students' Role in Preserving Indigenous Languages, and Dr. Jestoni Babia of USJ-R COE on Community Involvement in Indigenous Languages. USJ-R CAS Department of Languages and Literature were also invited to share briefly their community-based project on MTB-MLE instruction.
The event was graced by Dr. Nolasco and the speakers, Dr. Grecia Bataluna of Cebu City Division, Dr. Nancy Berame of the private sector (NBCC Training Center), Dr. Ethel Abao of CNU CTE, Rev. Fr. Leo G. Alaras, OAR of USJ-R, instructors and students of the Cebu-based universities USJ-R, USC, UC, and UV.
The committee of IYIL Region VII will be announcing the events that will help compose the numerous ways of promoting the indigenous languages in the region through social media.