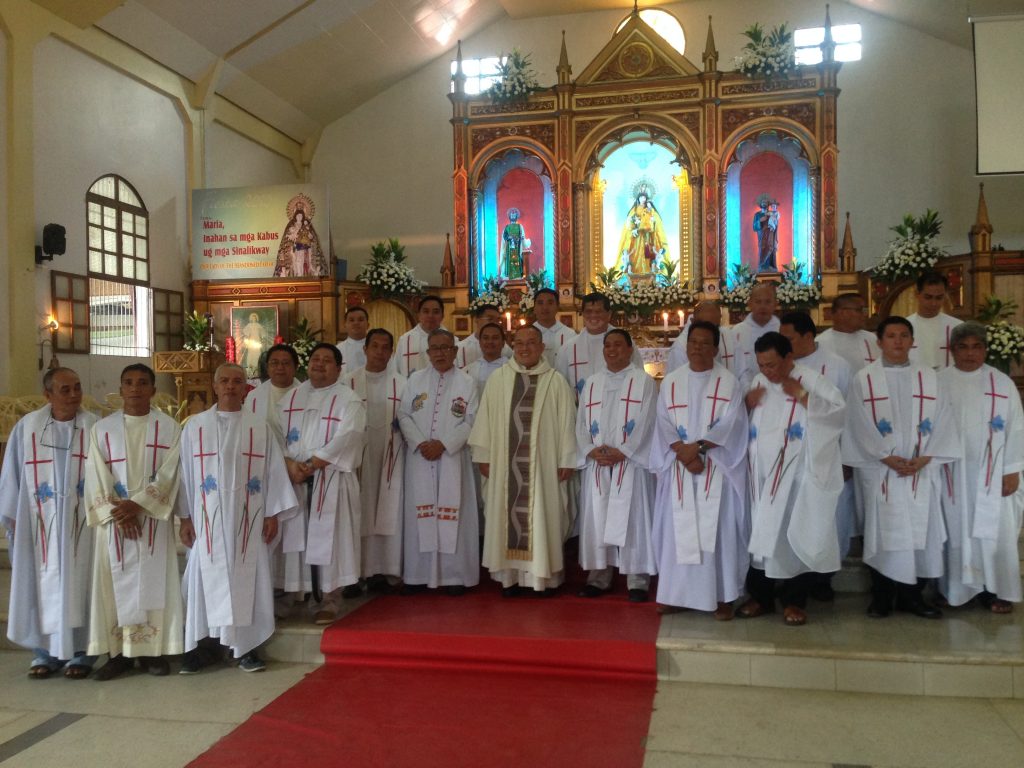 Valencia, Negros Oriental— On October 12,2015 the town celebrated the feast of Our Lady of the Abandoned. Valencianons and pilgrims all over Negros flocked the parish to honor the Lady of Valencia. Msgr. Gamaliel Tulabing, Vicar General of the Diocese of Dumaguete, together with OAR priests and Diocesan clergy, celebrated the Holy Eucharist at 10:00 a.m.
Here at Valencia the month of October is not just a season for rambotan and lansones , but it's a month dedicated to Mary as Our Lady of the Abandoned. The theme for this year's fiesta is "Maria: Inahan sa mga kabus ug mga sinalikway", it was chosen in solidarity with the Church as it celebrates the Year of the Poor. Novena Mass began on October 3 at 5:30 pm, it also launched the "Heart Sharing" program of the parish that will help the poor families of the place. After the mass, it was followed by "Halad Sayaw", a traditional dance offered by Valencianons in honor of  Mary. An opening program was also prepared by the municipality for their patroness that evening.
Days before the fiesta celebration, different events were held at the town plaza. One of the them was the Mass Demonstration Competition, where all the schools of Valencia compete through festival dancing. The declared champion for this year was San Pedro Academy, who wowed the audience with their colorful costumes and dance formations.
The highlight of the fiesta was the concelebrated mass at 10:00 a.m. but people were already coming  to the church as early as 6:00 a.m. to offer a lighted candle to Mary. At 9:00, vehicles cannot pass because of the thickness of the people. Ten o'clock, Msgr. Tulabing, with the OAR and Diocesan priests began the Holy Sacrifice of the Mass. The Vicar in his homily gave emphasis on the duty of every Christian to bear witness to the Gospel in this present time with Mary as our Model of Faith. After the celebration in the Eucharistic table, people went to their homes to celebrate at their dining table. While other pilgrims were given packed lunch by the parish.
This is how Valencianons honor Mary as Our Lady of the Abandoned. A town full of joy and life,  because they have a Mother  who will never abandon them. We can truly say "chada",which means beautiful Valencia.