Commissions work on respective topics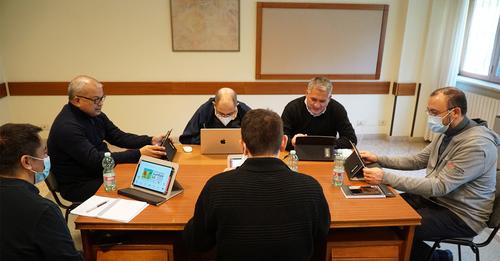 This week, the Chapter commissions work on their areas of concern.
The 56th General Chapter of the Order of Augustinian Recollects, currently taking place in Rome since 1 March, goes into its third week. Having heard the reports on the different areas and discussed them, the capitulars now work in their respective commissions to draft proposals.
The topics assigned to each commission, respectively, are: spirituality; permanent formation and accompaniment; vocations and youth; initial formation; ministerial apostolate educational apostolate; and government, economy, communication and protection of minors. The commission members reflect on their assigned topics, prepare and present proposals taking into consideration the discussion in the chapter hall.
The next few days will see the commissions presenting their proposals for strategic decisions and action plans for approval by the assembly. Once approved, these decisions will form part of the Life and Mission Project of the Order for the next six years.
On Monday, March 14, Bishop Jose C. Rodríguez, Secretary of the Congregation for Institutes of Consecrated Life and Societies of Apostolic Life, presided at the morning Eucharist. In his homily, he called for a "synodal chapter" in which all participants can speak freely and respectfully. "It is time to take our life in our hands and see who we are," he said. He also affirmed that "without fraternal life in community there is no religious life".
On Sunday, a day of rest for the capitulars, the members of the 56th General Chapter celebrated the Sunday Eucharist in the Basilica di Sant'Agostino, where the remains of St. Monica rest. The celebration was presided over by the recently ordained Augustinian Recollect Ken James. In his homily, Javier Monroy invited the faithful to "make the Lenten journey towards Easter". He said that Christians, like the apostles, "do not know where to see Jesus on the road of life". For this reason, he affirmed that what's important in our faith "is the journey, because the goal is the journey itself". At the conclusion of the Mass, those present were able to pray before St. Monica, offering her the ongoing efforts of the Chapter as well as the intentions of the Christian Mothers of St. Monica.