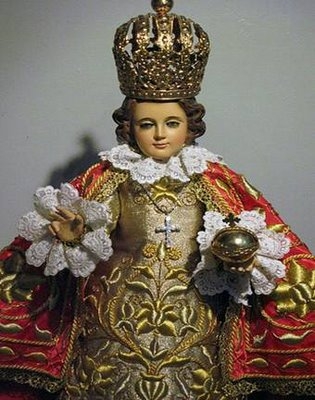 FEAST OF THE STO. NIŇO
One of the most popular devotions in the Philippines is the devotion to Sto. Niño. Practically you can see the image of the Sto. Niño in every corner of the archipelago—from barber shops to billiard halls, beer houses included. In a wine store, the image is placed side by side with a bottle of whiskey….in one store it is placed side by side with the image of Buddha—just in case the Child Jesus fails to answer one's petition, Buddha is there as an alternative provider… and amazingly the images of the Sto. Niño are dressed in different styles, too.
The original image now found in Cebu was brought to the archipelago by Magellan and was given as a gift to the wife of Rajah Humabon. The devotion started over 400 years. It's hard to separate Sto. Niño from the Christianity of Filipinos. But since then, over 400 years ago, our Christian life seemingly remains childish… we have not really grown to be mature Christians—one of the reasons perhaps why devotion to the Sto. Niño is very popular. We want Jesus to stay young forever—cute, harmless and does not make demands.
But then, we must remember that Jesus grew in age, wisdom and stature. He became a mature person. And so we must also grow in our Christian faith – into mature Christians.
In one of the the Gospel passages, the disciples asked the Lord who is the greatest in the Kingdom of God?
In answer, Jesus took a child and tells – unless you turn and become as children, you will not enter into the kingdom of heaven.
With that the Lord is trying to give us qualities which make the child the symbol of those who are citizens of the kingdom:
THE CHILD'S HUMILITY

and SIMPLICITY
a child does not wish to push himself forward; rather he always wants to be at the background.

He does not wish for PROMINENCE – he would rather be left in OBSCURITY. It is only as he grows up in a competitive world that his humility is left and forgotten.
THE CHILD'S DEPENDENCE

–
the state of DEPENDENCE is perfectly natural to a child.

A child never thinks that he can face life by himself. He is perfectly content to be totally dependent on those who LOVE him and CARE for him.
THE CHILD'S TRUST
the child is instinctively dependent and just as instinctively he TRUSTS his parents that all his needs will be met.

A child can never buy his own food, cannot have his own shelter, yet he never doubts that he will be fed and clothed and that there will be shelter and comfort when he comes home.
Thus parents should bring up their children in such a way that they will grow up as God wants them to be. For after all they are only loaned to them by God. Among others, parents should work towards the development of childlike qualities we have mentioned above. A precondition for this is to have these qualities in themselves for "one cannot give what he does not have."
The child's humility is the pattern of the Christians' behavior to his fellow men and the child's DEPENDENCE and TRUST are the pattern of a Christian's attitude towards God.
It is said that at the heavenly gate, there is a sign that reads: "ONLY FOR CHILDREN. ADULTS ARE ADMITTED WHEN ACCOMPANIED BY CHILDREN."
oniot, oar