Fr. Provincial Visits CSNT-R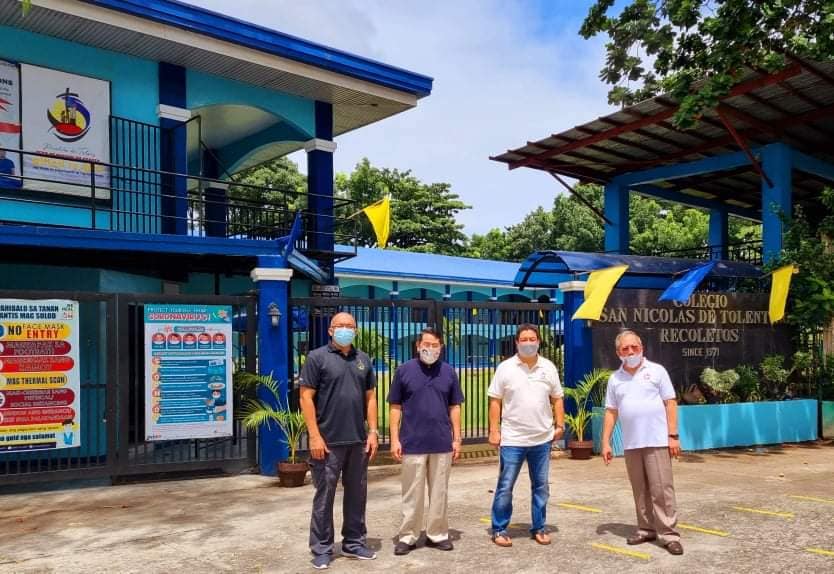 The school community welcomed the Renewal Visit of the Prior Provincial and the Provincial Secretary of the Province of St. Ezekiel Moreno of the Order of the Augustinian Recollects last July 16, 2021. Rev. Fr. Dionisio Q. Selma, OAR, who is also the Chairman of the Board of Trustees of CSNT-R, toured the campus and met with the school personnel in their respective offices. He expressed his gratitude and appreciation to the personnel for their service, commitment and loyalty especially in this challenging time of the pandemic.
It was also during the visit that the Provincial Secretary, Rev. Fr. Jose Ernil F. Almayo, OAR was given the plaque of recognition for his service to the institution as a former School Director/Principal in line with the school's 50th Founding Anniversary celebrations. Anna Mae Gajete
S
M
Tu
W
Th
F
S
1

WORLD DAY OF PRAYER FOR THE CARE OF CREATION

Pope Francis' Message: https://www.vatican.va/content/ francesco/en/messages/pont-messages/2023/documents/20230513- messaggio-giornata-curacreato.html

NOVENA TO ST. NICHOLAS OF TOLENTINO BEGINS

APOSTOLIC VISIT TO MONGOLIA
(August 31-September 3, 2023)

Day 2: Ulaanbaatar
1000       Arrival at Chinggis Khaan International Airport in Ulaanbaatar and official welcome.

BIRTHDAY

Sis. Alicia Bañares, SAR (Tondo Chapter)
Sis. Amellory Jopia, SAR (Urbiztondo Chapter)
Laurice Kathleen Barizo (RAY-Cavite)

DEATH ANNIVERSARY

+Sr. Francisca de Sta. Maria, AR
+Sr. Placida Patrimonio, AR
+Sis. Primitiva Ayuda, SAR (Manila Chapter)
+Sis. Pilar Betinol, SAR (Cebu Chapter)

2

APOSTOLIC VISIT TO MONGOLIA

Day 3: Rome – Ulaanbaatar

0900    Welcome ceremony at Sükhbaatar Square

0930    Courtesy visit with President Ukhnaagiin Khürelsükh at the State Palace

1020     Meeting with authorities, members of the diplomatic corps and local representatives in the Ikh Mongol hall at the palace. Speech by pope.

1100     Meeting with Gombojavyn Zandanshatar, chairman of Mongolia's parliament, the State Great Khural.

1110      Meeting with Prime Minister Luvsannamsrai Oyun- Erdene.

1600     Meeting with bishops, priests, religious, missionaries and pastoral workers at the Cathedral of Sts. Peter and Paul. Speech by pope.

BIRTHDAY

Fray Federico Gregorio
Sis. Maxima Malalay, SAR (Cebu Chapter) Maynard Negre (RAY-Talisay)

DEATH ANNIVERSARY

+Sis. Aurora Cordova, SAR (Laray Chapter)

3

APOSTOLIC VISIT TO MONGOLIA
Day 4: Ulaanbaatar

1000     Ecumenical and interreligious meeting at the Hun Theater. Speech by pope.
1600     Mass at the Steppe Arena. Homily by pope.

OLCP- MIRANILA FIESTA MASS
Time: 11:00 a.m.
Presider & Homilist: Most Rev. Teodoro Bacani, D.D.

BIRTHDAY

Fray James Erold Gatinao
Sr. Annielyn Alejado, AR
Sis. Salvacion Alonzo, SAR (Manila Chapter)
Sis. Venus Corazon Maturan, SAR (Bacolod Chapter)
Bro. Arnel Ortega (Tondo Chapter / Trial)
Jay Warren Oberes (RAY-Balamban)
Regina Kyle Regonas (RAY-Balamban)

ANNIVERSARY OF SIMPLE PROFESSION

(1969-2023)
Fray Hernando Coja

DEATH ANNIVERSARY

+Sr. Ma. Rosario Padilla, AR
+ Sis. Luzonica del Rosario, SAR (Manila Chapter)

4

PRAYER INTENTION: FOR OAR VOCATION

SOLEMNITY OF OUR LADY OF CONSOLATION Be reminded of the plenary indulgence we may obtain today!

APOSTOLIC VISIT TO MONGOLIA
Day 5: Ulaanbaatar, Rome

0930     Meeting with charity workers and the inauguration of the House of Mercy. Speech by pope.
1130     Farewell ceremony at Chinggis Khaan International Airport in Ulaanbaatar.
1200     Departure by plane for Rome.
1720     Arrival at Rome's Fiumicino airport.

OLCP- LARAY FIESTA MASS
Time: 5:00 p.m.
Presider & Homilist: Most Rev. Emilio Bataclan, D.D.

BIRTHDAY

Sis. Mary Grace Morales, SAR (Antipolo Chapter)
Sis. Eufrocina Estanislao, SAR (Antipolo Chapter)
Sis. Marianne Burgos, SAR (San Carlos Chapter)
Sis. Rosario Claver, SAR (Talisay Chapter)
Ms. Brenda Saliendra, Sister General of the OAR

ANNIVERSARY OF PRESBYTERAL ORDINATION

(1993-2023 / 30th)
Fray Emilio Jaruda, Jr.

DEATH ANNIVERSARY

+Sr. Melchora de Sta. Teresita de Jesus, AR
+Sis. Dorotea Magallon, SAR (Cebu Chapter)
+Sis. Nonita Gingoyon, SAR (Cebu Chapter)

5

BIRTHDAY

Fray Sixto Ciriaco Bitangjol
Fray Tomokatsu Yamaguchi
Sis. Marilyn Pariñas, SAR (Provincialate Chapter)
Sis. Luz Virginia Mapalo, SAR (Baguio Chapter)
Camila Doctor (RAY-Urbiztondo)

DEATH ANNIVERSARY

+Sr. Antonia Dinsay, AR
+Sis. Genoveva Deligero, SAR (Cebu Chapter)

6

INSTALLATION OF MOST REV. MOISES M. CUEVAS AS VICAR APOSTOLIC OF CALAPAN (Mindoro Oriental)
[Hence, cession of the appointment of Rev. Fr. Nestor Adalia as Apostolic Administrator of Calapan]

BIRTHDAY

Fray Michael Catama
Fray Rellyric Delos Santos
Fray John Zachary Haguisan
Bro. Jimi Paolo Valeza, SAR (Baguio Chapter)
Sis. Nimfa Ramirez, SAR (Manila Chapter)

7

BIRTHDAY

Fray Regino Bangcaya
Sr. Anita Manigo, AR
Sis. Charito Muñoz, SAR (Manila Chapter)
Sis. Cynthia Lata, SAR (Manila Chapter)
Sis. Rosalina Dumdum, SAR (San Carlos Chapter)
Sis. Osita Atotubo, SAR (Talisay Chapter)
Sis. Estela Pahilanga, SAR (Talisay Chapter)
Sis. Regina Babao, SAR (Cebu Chapter)

8

BIRTHDAY OF MAMA MARY

BIRTHDAY

Fray René Paglinawan
Fray Monday Benjamine Edobor
Sr. Alejandra Bendoval, AR
Sis. Gregoria Torion, SAR (Tondo Chapter)
Sis. Ma. Lota Ignacio, SAR (San Carlos Chapter)

ANNIVERSARY OF SIMPLE & SOLEMN PROFESSION

Sr. Loraine Lechago, OAR

DEATH ANNIVERSARY

+Sis. Lourdes Lolita Caballero, SAR (San Carlos Chapter)
+Sis. Leticia Jacinto, SAR (Manila Chapter)

9

SECRETARIAT ON INITIAL FORMATION MEETING
9:00 a.m. / Recoletos Formation Center

BIRTHDAY

Sr. Arlyn de la Cruz, AR
Br. Ramon Bancal (aspirant)
Sis. Maria Corazon Sigua, SAR (Manila Chapter)
Laurence Canillo (RAY-Balamban)

ANNIVERSARY OF PRESBYTERAL ORDINATION

(1985-2023)
Fray Dionisio Selma

DEATH ANNIVERSARY

+Sis. Gloria Donato, SAR (Cebu Chapter)

10

SOLEMNITY OF ST. NICHOLAS OF TOLENTINE
Be reminded of the plenary indulgence we may obtain today!

53nd FOUNDING ANNIVERSARY OF THE RECOLETOS DE PROVINCIALATE AS A COMMUNITY (Est. 1970)

BEATIFICATION OF THE ULMA FAMILY [Josef & Wiktoria and their seven children, including the unborn]
Place of beatification: Markowa, Poland

FIESTA MASS @ SNT ORATORY– UNO-R BACOLOD

FIESTA MASS @ SNTP – TALISAY CITY, NEGROSOCCIDENTAL
Time: 10:00 a.m.
Presider:  Most Rev. Patricio Buzon, D.D.

FIESTA MASS @ SNTP – QUEZON CITY
Time: 6:00 p.m.
Presider: Most Rev. Honesto Ongtioco, D.D.

FIESTA MASS @ SNDT MISSION CENTER – LOS ARCOS, AGUSAN DEL SUR
Time: 9:00 a.m.
Presider: Msgr. Isaleo Madelo (Vicar General for Pastoral Affairs)

BIRTHDAY

Sr. Eufrocina Rusiana, AR
Sr. Mary Grace Judith Alamares, AR
Bro. Inocencio Sayo, SAR (Miranila Chapter)

ANNIVERSARY OF PRESBYTERAL ORDINATION

Most Rev. Ruperto Santos, D.D. (Bishop of Antipolo)

(1989-2023)
Fray Francisco Antonio
Fray Amadeo Lucero

DEATH ANNIVERSARY

+Sis. Josefina Alegata, SAR (San Carlos Chapter)

11

Conference of Major Superiors in the Philippines– Men Assembly / September 11 – 15, 2023
Venue: St. Ezekiel Moreno Spirituality and Development Center, Brgy. San Jose, Puerto Princesa City, Palawan
Theme: "Enlarge the space of your tent" (Is 54:2)

BOT MEETING – USJ-R MAIN, CEBU
Venue: USJ-R Main, Cebu / 2:00 p.m.

BIRTHDAY

Fray Emilio Edgardo Quilatan
Br. John Marco Daniel (postulant)
Br. Christian Julag-ay (aspirant)
Br. Francis Cortez, SAR (Manila Chapter / diocesan priest)
Sis. Herminigilda Hernandez, SAR (Antipolo Chapter)
Davic James Cabatingan (RAY-Valencia)
Dianne Morales (RAY-Provincialate)

SILVER ANNIVERSARY OF PRESBYTERAL ORDINATION

(1998-2023)
Fray Randolph Castulo Castillo
Fray Charlito Orobia
Fray Amado Emmanuel Bolilia
Fray Jonathan Caballero

DEATH ANNIVERSARY

+Sis. Emilia Cruz, SAR (Cebu Chapter)

12

BOT MEETING – USJ-R BALAMBAN
Venue: USJ-R Main, Cebu / 9:00 AM

BIRTHDAY

Fray Jorr Rabacal
Br. Eivan Earl Martinez (postulant)
Br. Ramon Jayson Valdez (aspirant)
Sis. Esmalita Amigable, SAR (Cebu Chapter)
Gerald Artates (RAY-Provincialate)

PRESBYTERAL ANNIVERSARY

(1992-2023)
Fray Leander Barrot
Fray Paulino Dacanay

13

BIRTHDAY

Sis. Rosario Gaspar, SAR (Provincialate Chapter)
Sis. Aida Lopez, SAR (Antipolo Chapter)
Sis. Pacita Cisneros, SAR (Cebu Chapter)
Robert John Navarro (RAY-Miranila)
Hon. Rufus Rodriguez, Brother General of the Order

ANNIVERSARY OF SIMPLE PROFESSION

(1970-2023)
Fray Dionisio Cachero

ANNIVERSARY OF PRESBYTERAL ORDINATION

(1997-2023)
Fray Jose Ernil Almayo

DEATH ANNIVERSARY

+Fray Emilio Larlar Jr. (2020-2023)
+Sis. Paz Garciano, SAR (Cebu Chapter)

14

BIRTHDAY

Sr. Ma. Lourdes Piccio, AR
Sr. Floramae Lanuza, AR
Sis. Catalina Marzon, SAR (Tondo Chapter)

DEATH ANNIVERSARY

+Sis. Rizalina Poblete, SAR (Cavite Chapter)
+Bro. Paulino de la Cerna, SAR (Cebu Chapter)

15

BIRTHDAY

Fray Anthony Morillo
Fray James Bumangabang
Bro. John Bumangabang, SAR (Baguio Chapter)
Sis. Leonida Tejada, SAR (Provincialate Chapter)
Sis. Patria Laguna, SAR (Talisay Chapter)
Beah Marie Ganarias (RAY-Bacolod)

DEATH ANNIVERSARY

+Sis. Lolita Jara, SAR (Tondo Chapter)
+Sis. Josefina Villa, SAR (Antipolo Chapter)

16

111th ANNIVERSARY (1912-2023) OF RELIGIOSAS FAMILIAS

BIRTHDAY

Fray Joseph Cyprian Panaligan
Fray Robin Ross Plata
Sr. Mary Ann Lumactao, AR
Bro. Nestor Paredes, SAR (Puerto Princesa Chapter)

DEATH ANNIVERSARY

+Sr. Angeles Gabutina, AR
+Sis. Maxima Barrera, SAR (Cebu Chapter)

17

BIRTHDAY

Sis. Ma. Nimfa Garganta, SAR (Manila Chapter)
Sis. Aurora Guilaran, SAR (Manila Chapter)
Sis. Anita Luces, SAR (Tondo Chapter)
Julia Tamsi (RAY-Baguio)
Most Rev. Socrates Mesiona, D.D. (Apost. Vicariate of Puerto Princesa)

DEATH ANNIVERSARY

+Sis. Regina Morales, SAR (Cebu Chapter)

18

BOT MEETING – UNO-R BACOLOD
Venue: UNO-R Bacolod / 2:00 p.m.

BIRTHDAY

Fray Henry Santiago
Br. Sean Cass Alvarez (postulant)
Sr. Ma. Ruth Gulane, AR
Sis. Mary Ann Cabanes, SAR (Baguio Chapter)
Sis. Demetria Bayona, SAR (Talisay Chapter)

DEATH ANNIVERSARY

+Sis. Lourdes Donayre, SAR (Cebu Chapter)

19

PRAYER INTENTION: FOR THE SICK

FEAST OF ST. ALONSO DE OROZCO

5TH ANNIVERSARY (1918-2023) OF THE ARRIVAL OF THE PIONEER RECOLETOS IN INDONESIA

BOT MEETING – CST-R SAN CARLOS
Venue: UNO-R Bacolod / 8:00 a.m.

BOT MEETING – SPA-R CAIDIOCAN
Venue: UNO-R Bacolod / 10:00 a.m.

BOT MEETING – CSP-R VALENCIA
Venue: UNO-R Bacolod /2:00 p.m.

BOT MEETING – CSNT-R TALISAY
Venue: UNO-R Bacolod / 4:00 p.m.

BIRTHDAY

Fray Joseph Philip Trayvilla
Fray Joel Alve
Bro. Leonaldrin Ostia, SAR (Tondo Chapter / Trial)

20

BIRTHDAY

Sr. Ma. Nena Labrague, AR
Sr. Kristine Ignacio, AR
Sis. Corazon Catindig, SAR (Antipolo Chapter)
Sis. Normita Pleno, SAR (Cavite Chapter)
Estella Marie Andador (RAY-Talisay)

21

BIRTHDAY

Fray Alexus Mansueto
Sis. Carmencita Estillore, SAR (Baguio Chapter)
Sis. Estrelleta Alao, SAR (Laray Chapter)
Sis. Normita Pleno, SAR (Cavite Chapter)
Sis. Efigenia Itong, SAR (Manila Chapter)

DEATH ANNIVERSARY

+Sr. Isabel Pantoja, AR
+Sr. Salvacion Olalo, AR
+Sr. Ma. Susana Quiñones, AR
+Sis. Aquilina Gonzales, SAR (Manila Chapter)

22

APOSTOLIC JOURNEY TO MARSEILLE

BIRTHDAY

Sr. Marietta Angelica Gunayan, AR
Sr. Nancy Macaraig, AR
Sr. Sheryl Garcia, AR
Sis. Mauricia Romero, SAR (Cebu Chapter)
Sis. Pilar Gomez, SAR (Cebu Chapter)
Lebron Jay Bantog (RAY-Valencia)

23

BIRTHDAY

Fray Vicente Ramon, Jr.
Sis. Julia Sonsona, SAR (Tondo Chapter)

ANNIVERSAY OF PRESBYTERAL ORDINATION

Most Rev. Roberto Gaa (Diocese of Novaliches)

DEATH ANNIVERSARY

+Sr. Sebastiana Jaropojop, AR
+Sr. Agustina Salcedo, AR
+Sis. Florencia Velarde, SAR (Manila Chapter)
+Sis. Dolores Romarate, SAR (Cebu Chapter)

24

109th WORLD DAY OF MIGRANTS AND REFUGEES

Pope Francis' Message: https://www.vatican.va/content/francesco/en/messages/migration/documents/20230511-world-migrants-day-2023.html

BIRTHDAY

Br. Christian Jay Manalo (aspirant)
Sis. Bernadita Campos, SAR (Tondo Chapter)
Sis. Dinah Espino, SAR (Talisay Chapter)
Sis. Aura Mae Salanap, SAR (Bacolod Chapter)
Sugarrey Rendajae (RAY-Talisay)

ANNIVERSARY OF PRESBYTERAL ORDINATION

(1967-2023)
Fray Emeterio Buñao

25

BIRTHDAY

Sr. Lucita Mingueto, OAR

DEATH ANNIVERSARY

+Sr. Esperanza Heffler, AR

26

DEATH ANNIVERSARY

+Sis. Socorro Ladim, SAR (Antipolo Chapter)
+Sis. Belen Osorio, SAR (Cebu Chapter)

27

44TH WORLD TOURISM DAY

Theme: "Tourism and Green Investment"

Pope Francis' Message: http://www.evangelizatio.va/ content/dam/pcpne/pdf/PastoraledelTurismo/44Messaggio/ Messaggio%20GMT%202023%20-%20Inglese.pdf

BIRTHDAY

Sr. Rafaela Paras, AR
Sr. Damiana Tafalla, AR
Sr. Ma. Melodina Ramirez, AR
Sis. Encarnacion Cinco, SAR (Cebu Chapter)
Sis. Susan Manalon, SAR (Inagawan Chapter)
Sis. Ruth Miralles, SAR (Inagawan Chapter)

DEATH ANNIVERSARY:

+Sr. Genoveva del Santísimo Sacramento, AR

28

PRAYER INTENTION: FOR THE MISSION BLESSED MARTYRS OF JAPAN

1ST FOUNDING ANNIVERSARY OF RECOLETOS DE LOS ARCOS

MEETING OF PROVINCIAL PROCURATORS
Sept. 28-30, 2023 / Rome

BIRTHDAY

Bro. Ruel Alcedo, SAR (San Carlos Chapter)
Sis. Salome Mapili, SAR (Valencia Chapter)

DEATH ANNIVERSARY

+Sr. Iluminada Apurillo, AR
+Sis. Concesa da Silva, SAR (Antipolo Chapter)

29

BIRTHDAY

Fray Roderick Deguit
Br. Joseph Alladen Lagare (aspirant)
Sis. Mercedita Macabihag, SAR (San Carlos Chapter)
Rodelin Oredina (RAY-Talisay)

DEATH ANNIVERSARY

+Sis. Maria Acuña, SAR (Cebu Chapter)
+Sis. Elvira Birondo, SAR (Talisay Chapter)

30

BIRTHDAY

Fray Ferdinand Fornilos
Sis. Teresita Labos, SAR (Cebu Chapter)

ANNIVERSARY OF PRESBYTERAL ORDINATION

(2017-2023)
Fray Invenzor Melgazo
Fray Jayferson Baldelovar
Fray Mark Saludes

DEATH ANNIVERSARY

+Sis. Fabiana Gimongala, SAR (Cebu Chapter)