Fray Mariano Gazpio now a Venerable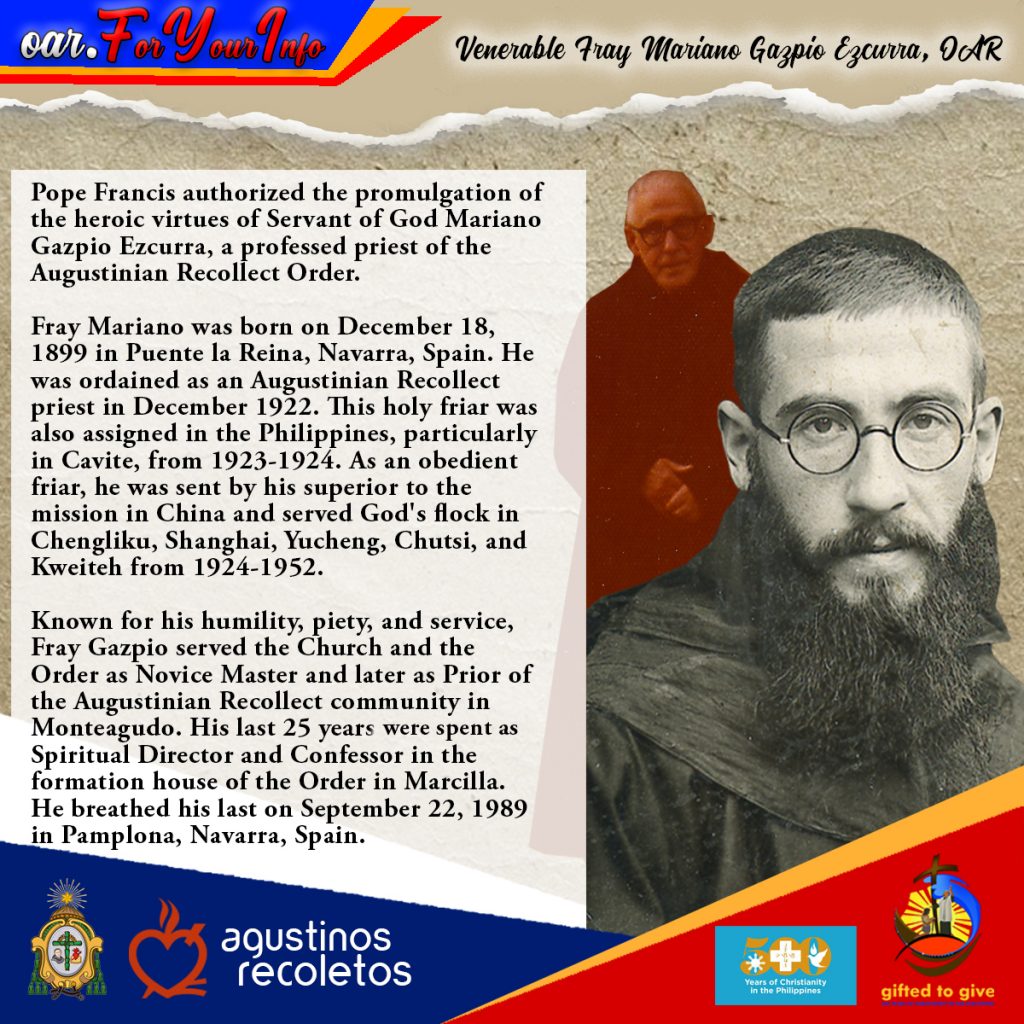 The Augustinian Recollect Family rejoices as Pope Francis authorized the Congregation for the Causes of Saints to promulgate the heroic virtues of Fray Mariano Gazpio, OAR, an Augustinian Recollect friar. This promulgation was authorized by the Pope in an audience with the Prefect of the Congregation for the Causes of Saints, His Eminence Marcello Card. Semeraro, on occasion of the Feast of St. Rita of Cascia on May 22, 2021.
Fray Mariano was born on December 18, 1899 in Puente la Reina, Navarra, Spain. He was ordained as an Augustinian Recollect priest in December 1922. This holy friar was also assigned in the Philippines, particularly in Cavite, from 1923-1924. As an obedient friar, he was sent by his superior to the mission in China and served God's flock in Chengliku, Shanghai, Yucheng, Chutsi, and Kweiteh from 1924-1952.
Known for his humility, piety, and service, Fray Gazpio served the Church and the Order as Novice Master and later as Prior of the Augustinian Recollect community in Monteagudo. His last 25 years were spent as Spiritual Director and Confessor in the formation house of the Order in Marcilla.
He breathed his last on September 22, 1989 in Pamplona, Navarra, Spain.
During the audience with the Pope, the Prefect of the Congregation for Causes of Saints also presented to Pope Francis six other Servants of God to be elevated to the next stage towards sainthood. Together with Fray Mariano Gazpio, the other Servants of God whose heroic virtues and martyrdom were approved are:
Felice Canelli, a diocesan priest who was born in San Severo (Italy) on 14 October 1880 and died there on 23 November 1977.
Bernard of the Mother of Beautiful Love (born Zygmunt Kryszkiewicz), a professed priest of the Congregation of the Passion of Jesus Christ, commonly known as Passionists. He was born in Mława (Poland) on 2 May 1915 and died in Przasnysz (Poland) on 7 July 1945.
Colomba di Gesù Ostia (born Anna Antonietta Mezzacapo), Prioress of the Monastery of Santa Teresa delle Carmelitane Scalze di "Marcianise". She was born in Marcianise (Italy) on June 15, 1914, and died there on August 13, 1969.
Antonia Lesino, of the secular Institute known as the "Little Franciscan Family". She was born in Milan (Italy) on 11 October 1897 and died in Brescia (Italy) on 24 February 1962.
Alessandro Bálint, a lay man and father of a family. He was born in Szeged-Alsóváros (today Hungary) on 1 August 1904 and died in Budapest (Hungary) on 10 May 1980.
The martyrdom of Servant of God Maria Agostina Rivas López, known as Aguchita (born Antonia Luzmila), a nun of the congregation of Our Lady of Charity of the Good Shepherd. She was born in Coracora (Peru) on 13 June 1920. She worked with and advocated on behalf of girls and indigenous people in her poor jungle community in Peru. She was killed on 27 September 1990 in Coracora by a terrorist group in hatred of the Faith. The recognition of her martyrdom clears Sister Aguchita for beatification. (https://www.vaticannews.va/en/pope/news/2021-05/pope-francis-decree-sainthood-causes-virtues-martyrdom-semeraro)