Fray Rafael Cabarles celebrates Golden Jubilee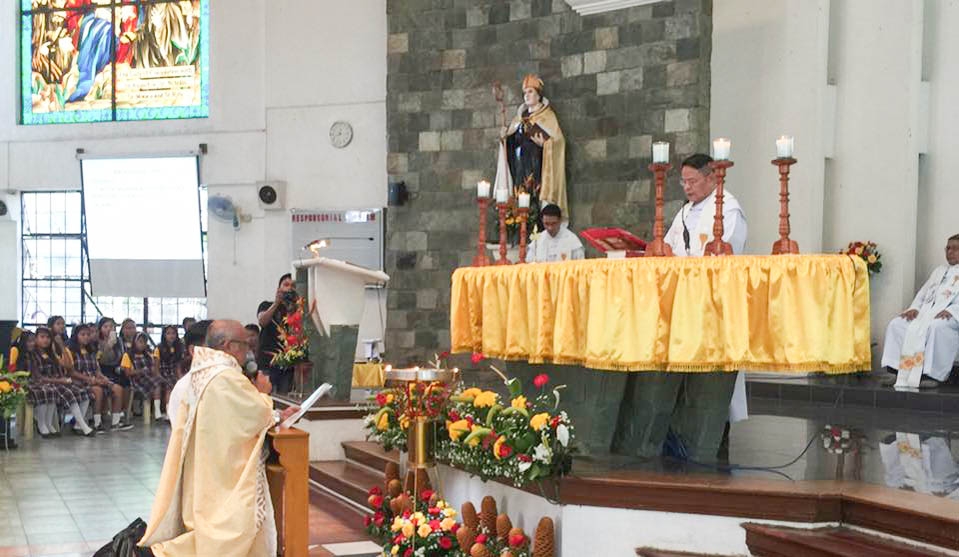 San Carlos City, Negros Occidental— "I will remain faithful till the end of my life," says Fr. Rafael a.k.a. "Caba" Cabarles, the man of the day with flashy vestment, gleaming with a smile on his face for a Golden Jubilee in Religious Profession, renewed his vows before the altar in the presence of the Prior Provincial Fray Dionisio Q. Selma, OAR at the chapel of the Santo Tomas De Villanueva-Recoletos.
Rafael Estandarte Cabarles, is a full-blooded Negrense born on October 24, 1941 in the town of Talisay, the Sugar Capital of Negros Occidental southwest Philippines. He was educated in Dos Hermanas a place next to his hometown.
At the age of twenty six, he made his Simple Profession to the Religious Life in Monteagudo, Navarra, Spain. During the time, Filipino Recollect Seminarians profess the vows and receive ordination in a Hispanic soil for there was no available team of Formators, no established or at least Pontifically affiliated Augustinian Recollect Formation house in the Philippines. Candidates to the priesthood should carry on in their chosen vocation, relying of course on the will of God to "finish the race, and keep their faith," as they become new breed of missionaries and ministers of the Sacraments.
Fr. "Caba" Professed his Solemn vows on October 11, 1970 in northern part of Spain, in a well-known Medieval Vasque Kingdom of Navarra.
"We are first Religious," says Fray Rafael in one of his short lectures.
The following year, on the 19th of March 1971, Solemnity of St. Joseph, Fray Rafael Cabarles received his Diaconal Ordination in Marcilla.
Three months later, by the grace and mercy of the Lord, he was Ordained Priest in the same formation house of the Recollects in Marcilla, Navarra, Spain.
After his Sacerdotal Ordination he returned to the country for his first assignment in Colegio de Santo Tomas de Villanueva (Minor Seminary), San Carlos, Negros Occidental. He was assigned as the Prefect of Discipline for the young seminarians. His former students are now Priors and school administrators namely, Fray Jorge Peligro, Fray William Villaflor, Fray Manuel Lipardo, Fray Eduardo Celiz, among others.
***************
Leadership
High strung, persistent and skilled manager, Fr. Cabarles has been proven to be unrelenting.
In Cebu, the University of San Jose Recoletos, then Colegio de San Jose-Recoletos, he was assigned as President from 1979 to 1987. He was the main proponent, and the success was attributed to him in raising the status of the Colegio into a University. On September 21, 1984, CSJ-R attained university status.
"We come and go," he normally says when a new assignment or patente is received. After his very productive leadership and achievements in Cebu, Fr. Cabarles was sent back to San Carlos on a summer of 1988. There, as he was fascinated with craftsmanship, got interested with history. He started writing. Some of his works published in the magazine. He composed a Poem and Tula in honor of his beloved saint, Ezekiel Moreno.
From San Carlos, he was given the new mission field in Valencia, Negros Oriental from 1994 to 2003. And from 2003 to date, he is in Colegio de Sto. Tomas De Villanueva- Recoletos, San Carlos City, Negros Occidental.
****************
Legacy
This Jubilarian from Talisay is known for his works, his legacy and the Stations of the Cross sculpures. He made one in the mountain of Caidiocan, Valencia, Negros Oriental. Today, that place is a popularly known venue for Lenten sacrifices and meditation. The latest is in the Monteagudo (Hill), San Carlos City. The stiff location and rugged terrain do not only bring out the best scenery, overlooking San Carlos City and Sipaway island but also make the gasping and panting to the last Station a memorable phenomenon. The Monteagudo Hermitage has a Chapel carved on the mountain. This requires an expert to do it. But Fr. Cabarles designed, engineered and completed it, phase by phase, with limited resources on hand. It has a water system, (catch basin) and a function hall. It welcomes everybody who needs a day of recollection. The lush green fruits trees, vegetables, flowers, trees, and herbs with medicinal value which are planted around the area reshape and beautify the landscape. Domesticated fowls are patrolling the area.
****************
Enamored with Hispanic Culture
In the Solemn Liturgy, the choir sung some Spanish songs the Piscador de Hombres (fishers of men). The Collect, Preface and Post Communion Prayer were in Spanish version. Te Deum was also sung which for the Churchmen aside from being mesmerized, it was a pretty Gregorian rendition that went well with the incense, silence and an edifying bliss. To the young people the Latin chants and rhythm could draw their attention accentuating the consciousness to the lost Catholic tradition.
Fr. Cabarles has all of these in his mind and heart. Without a doubt, the Hispanic culture runs through his vein. The choir is under his tutelage. In doing that it means, he knows the Gregorian chant. To keep all that, up to this day, exactly fifty years ago is nothing but exemplary.
********************
In his homily, during the Mass on August 26, 2017, he underscored his struggles as priest and religious; thankful to the divine Providence and guidance of the Lord. His chosen theme The Lord is my Shepherd incapsulates the secret of his perseverance.
Looking at the video presentation, Fr. Rafael's early days seemed very optimistic. His black eyeball is sharp. His thick black hair combed sideways. The exciting and attractive quality of his youth shows reluctance to the word surrender. Now seventy five years old, and skin head, imbued with virtue and sagacity, his milestone achieved; the Augustinian Recollect spirit, his restless heart is still hopeful to new challenges.
Congratulations Fr. Cabarles!
Adelante!