Fray Walthrode Conde is 60 years in the Order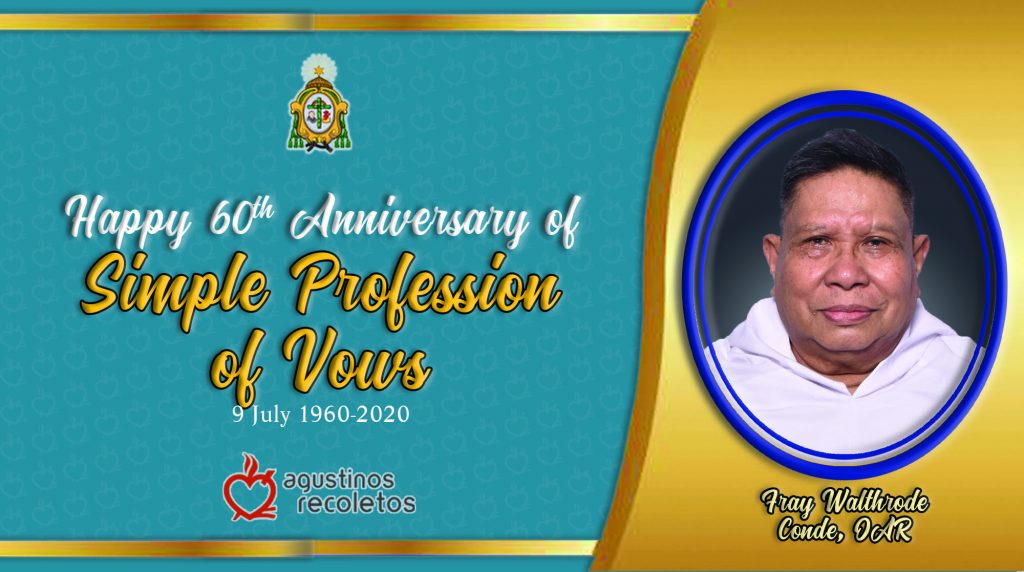 Bacolod City, NEGROS OCCIDENTAL–Fray Walthrode Conde, OAR turns 60 as a Religious of the Order of Augustinian Recollects (OAR) on July 9, 2020.  He is from Kauswagan, Lanao del Norte.  Today, he holds the title as the eldest among the members of the OAR Province of St. Ezekiel Moreno.
He finished his Elementary education at Kauswagan Central Elementary School in 1949 and his secondary education at Iligan City High School in 1955. He earned a degree of Bachelor of Arts in Philosophy at San Jose Seminary in Quezon City in 1959. His theology formation was in Marcilla, Navarra, Spain where he received his academic degree in 1964. In 1977, he completed his Master of Arts in Religious Education at the University of Santo Tomas, Manila. He also took his Master in Public Administration from UNO-R, Bacolod in 1982. University of San Jose –Recoletos (USJ-R) conferred him with the degree of Master in Business Administration in 1996 and Doctor of Human Resource Management in 1998.
Fray Walthrode made his Profession of Simple Vows on July 9, 1960 in Monteagudo, Navarra, Spain and his Solemn Profession on July 7, 1963 in Marcilla, Navarra, Spain.  He was ordained Deacon on March 26, 1964 and on July 19, he was ordained to the Presbyterate. He received both the Sacred Orders in Marcilla, Navarra, Spain.
His religious assignments include Prefect of Discipline and Professor at the Seminario de San Jose in Puerto Princesa, Palawan in 1965;  Assistant Parish Priest in Narra, Palawan in 1966; Acting Parish Priest of Roxas, Palawan in 1967; and Parish Priest of Narra, Palawan  from 1968-1971.
He was assigned to San Sebastian College–Recoletos, Manila as Elementary School Coordinator, Dean of Student Welfare, and Athletic Coordinator from 1971–1977.  He was treasurer of UNO-R in 1977-1982; from 1982–1988, he was Vice President for Administration and Vice President for Academics of USJ-R, Cebu;  from 1988 to 1991, he was President and from 1988 – 1994, he was Prior of San Sebastian College–Recoletos de Cavite;  Vice President–Academics and Administration of USJ-R from 1994- 2003.  He became President of USJ-R in 2000.  Since 2003 up to the present, he has been with the University of Negros Occidental–Recoletos, Bacolod where he has been serving in various capacities: Coordinator of the School of Agriculture, Director of Religious Education, Director of Human Resource Management and Development Office, the latest he hold this quadrennium.
After 60 years in the religious profession under the Order of Augustinian Recollects, Fray Conde still has the heart with the burning flame and pierced by the arrow to continue Christ's mission here on Earth. 
We join Fray Conde in thanking God for the 6 decades of fidelity and loyalty and for choosing him to be an evangelizer of humanity.
Congratulations, Fray Conde!!!