General Chapter highlights: October 2-4, 2016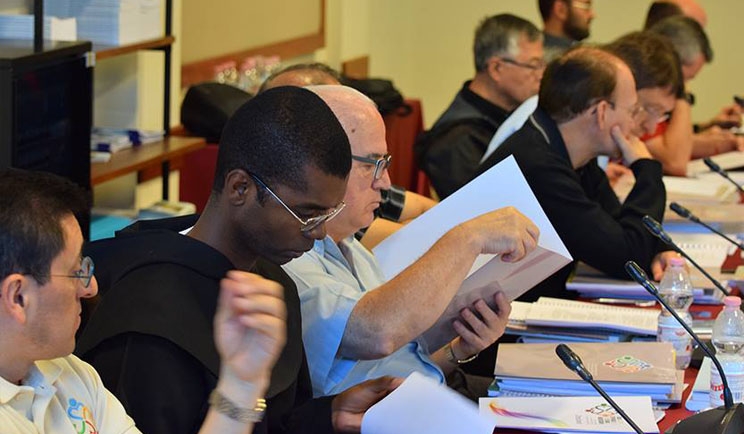 October 2: ARRIVAL AT THE VENUE
All the 40 participants to the LV General Chapter were reportedly present on this day at the venue: Casa Nostra Signora Madre della Misericordia at the Via di Monte Cucco in Rome.
The delegates from the Philippines arrived earlier in Rome, in pairs (Frays Selma and Buhay on September 30, and Frays Larlar and Marcos on October 1). They still had time to bond with oour student-priests at Collegio Sant'Ildefonso in Via Sistina.
October 3: MASS OF THE HOLY SPIRIT. ELECTION OF CHAPTER OFFICERS. INPUT ON REVITALIZATION AND RESTRUCTURING
The votive Mass of the Holy Spirit was presided by Archbp. José Rodríguez Carballo, OFM, Secretary of the Congregation for Institutes of Consecrated Life and Societies of Apostolic Life.
After the mass, all the members of the General Chapter posed for a photo-op. At midmorning, they assembled at the chapel for the holy hour led by Fray Miguel Angel Hernandez.
Towards the end of the morning, the Capitulars consolidated at the Chapter hall for the first morning session with the solemn singing of the Veni Creator. The initial exhortation of the Prior General and President of the Chapter, Fray Miguel Miró, followed; then, the election of key Chapter officers. Through election, the following Capitulars were to carry out their respective tasks: Frays Rafael Mediavilla and Miguel Angel Hernandez as moderators, Fray Javier Tello as Chapter Secretary, Fray Simón Puertas as Councilor, and Frays Angel Martínez, Alfredo Sánchez and Wesley Silva as tellers.
Part of the day's program was the first input given by Fr. Pedro Aguado, Superior General of the Piarists or Scolopi (Order of Poor Clerics Regular of the Mother of God of the Pious Schools) who talked about his experiences of revitalization and restructuring.
October 4: SECOND DAY OF THE CHAPTER
The day began with the Eucharistic celebration in honor of St. Francis of Assisi. Fray Miguel Miró, Chapter President, presided the mass. Together with him were the two elected moderators, Frays Rafael Mediavilla (San Nicolas Province) and Miguel Angel Hernandez (Santo Tomas Province), as altar co-celebrants.
At the Chapter hall, the Capitulars continued to work on the tasks assigned to them.