Ingenium Series II, at the Casiciaco Recoletos Seminary, Baguio City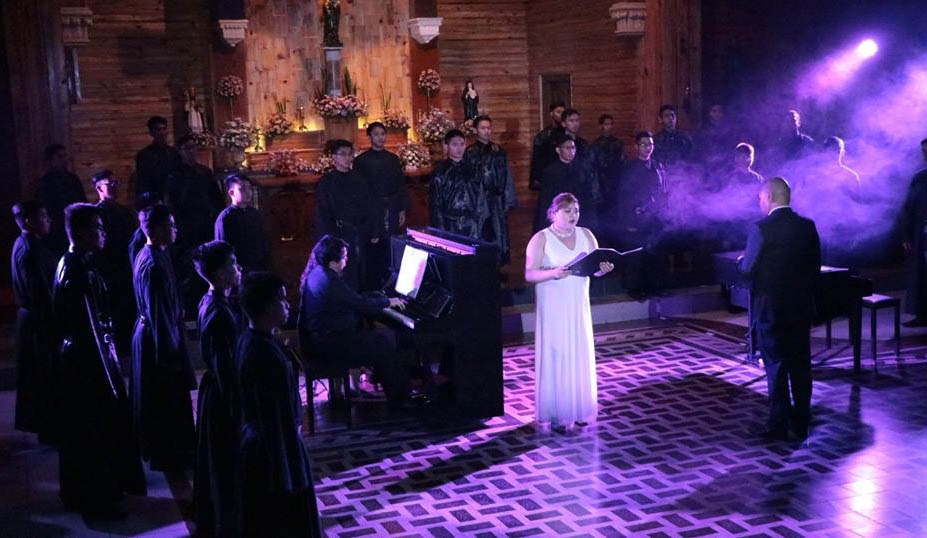 On 27 May 2017, 60 singers from the music classes of the senior high school and college levels of the Casiciaco Recoletos Seminary presented their classroom work in a chorus recital as part of the Ingenium series. They were led by their music teacher, John August Pamintuan.
In it's initial version in 2016, the Ingenium (Latin for talent or genius), showcased the music and physical education classes and also included guest performers from a local university in Baguio. This time, guest performers came to visit from the University of Santo Tomas Conservatory. They are acclaimed pianist Prof. Najib Ismail, and soprano Stephanie Anne Aguilar. Tenor John Glenn Gaerlan, also joined the solo performers. Ismail and Gaerlan, incidentally, are alumni of the Hongkong Academy for Performing Arts.
The seminarians prepared for 12 weeks, rehearsing during their one hour weekly music and chorus classes, and presented the following program in fulfillment of their course requirements:
Edward Elgar: Nimrod from Enigma Variations, adapted by John Cameron
Hector Villalobos: Bachianas Brasileiras Nr. 5 Aria and Cantilena
Richard Strauss: Morgen
Rollo Dilworth: Walk In Jerusalem
Queen: We Will Rock You
Ryan Cayabyab: Iniibig Kita
Aside from chorus singing, the more vocally adept students sang the solo parts of some of the selections. They were Brothers Jose Paolo Garces, Hayse Villamin, Jayson Dellomos, Mark Angelo Diaz, and John Arnold Lozada. Additionally, the guests performers also sang a solo number each, from George Frederick Handel's Samson (Let the Bright Seraphim), and the Messiah (Comfort Ye, Every Valley Shall Be Exalted).
Many members of the audience commented positively on the impeccable blending and the warm, luscious sound of the voices of the seminarians. With more training, the students will be able to present more high level repertoire, and further hone their vocal prowess in the next Ingenium concert series. They are also looking at an invitation to perform in a joint concert with a Catholic School from Kobe, Japan.
When asked regarding his insights on the rehearsals and performance, their music teacher Mr. Pamintuan, said, "The choral sound of the group is greatly enhanced by the community life of the seminarians. Living in harmony promotes concord in the voices and good blending; living in obedience removes the idiosyncrasies and peculiar characteristics of the individual voices, and living in constant prayer promotes a sense of well-being in the over-all quality of the final work."
Not to be outdone, the Religious Formators Fray Bob T. Cabanag, OAR, Fray Bernard C. Amparado, OAR, Fray Jerome B. Virtudazo, OAR, Fray Leonardo P. Pauligue, OAR, Fray Joseph Philip I. Trayvilla, OAR and Bro. Raymund Rueanne G. Alcedo, OAR presented the opening number in four voice parts, Pamintuan's Have Thine Own Way, Lord (text by Adelaide Pollard) and set the mood for a truly prayerful and meditative evening of choral music.