Josenian student wins Best Paper Award in International Conference on Nursing Ed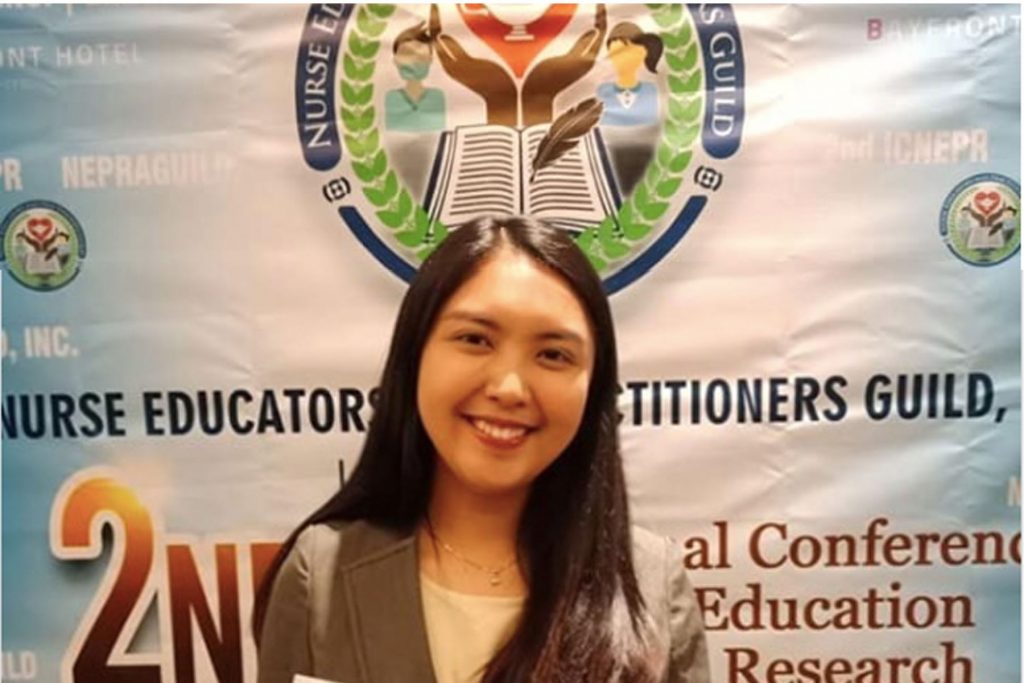 CEBU CITY–Third-year nursing student Mery Katriel Pedroza won the Best Paper in Podium Presentation at the 2nd Biennial International Conference on Nursing Education, Innovation and Research (ICNEIR) on August 3.
She represented USJ-R in the student category. Her study is entitled "The Dynamics of Socio-Economic Dimensions of Violence Against Women: Global View Through Cluster Analysis."
Data from the top ten countries with the highest number of reported incidents of violence against women were observed and analyzed. The results showed that there is a positive correlation between the number of cases and population.
Pedroza's study states that whenever the population is increased, there is a competition of employment and poverty. Added with gender inequality index (wherein the population of men was higher than the women), violence is likely to increase.
Her adviser, Professor Melvin De Castro, said that Pedroza's study title seems irrelevant to nursing at first glance but it truly is. He explained that the topic was relevant to the field of nursing because it touches some aspects of mental health. Since nurses are the front liners in hospitals and communities, nurses should be aware enough on how to communicate and aid their patients who are victims against women and children.
Pedroza's study was first conceptualized during her Nursing Informatics course in summer 2019. She prepared the paper for three weeks along with her co-authors Nashia Apawan, Leizl Mauricio, and Sister Aileen Chuca.
In two weeks, the team was able to interpret the data and developed a theory called the Dynamics of Socio-Economic Dimensions of Violence Against Women: Global View Through Cluster Analysis.
It was the first time for the College of Nursing (CON) to join the ICNEIR. The said event was organized by the Nurse Educators Practitioners Guild (NEPRA) on August 2 at Bayfront Hotel.
De Castro confessed that his advisee don't have a background in research but it was impressive because his student was able to present the study confidently. He felt the fear and anxiety of his student since it was her first time to compete for her paper and representing the university for this big event.
He also expressed that oral defense panel members and advisers should inspire the students more to develop their paper or study. The atmosphere must be more interactive wherein students can learn more and grow rather than a hostile grilling experience.
With the financial help of the Center for Policy, Research and Development Studies (CPRDS), the CON is thankful to have represented USJ-R in research competitions. Their goal is to publish the journal outside the university or country.
CON is looking forward to attending and competing at the 5th International Conference of Nurses (ICONS) 2019.
---
Written By Cyde P. Obrero (AB Liacom Intern)