LECTIO DIVINA: 1st Sunday of Lent, Cycle B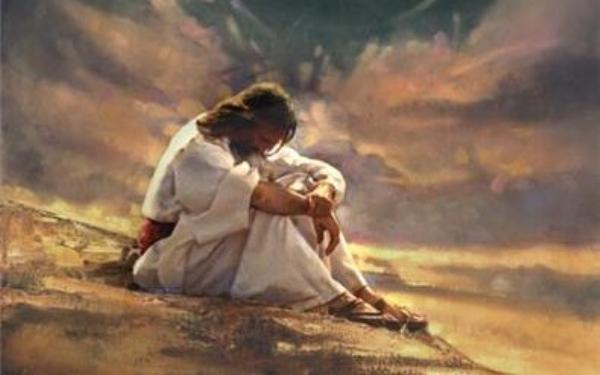 Translated by Fray Dunstan Huberto Decena, OAR
MK. 1:12-15
A. INVOCATION OF THE HOLY SPIRIT
WE INVOKE THE HOLY SPIRIT USING THE WORDS OF ST. AUGUSTINE
Come, Holy Spirit, by whom every devout soul, who believes in Christ, is sanctified to become a citizen of the City of God! (en. Ps. 45:8) Come, Holy Spirit, grant that we receive the motions of God; put in us your flame; enlighten us and raise us up to God (s. 128, 4). Amen.
B. LECTIO
WITH THE HEART WELL DISPOSED, WITH SERENITY, READ SLOWLY THE FOLLOWING WORDS, SAVORING THEM AND ALLOWING YOURSELF TO BE TOUCHED BY THEM.
At once the Spirit drove him out into the desert and he remained in the desert for forty days, tempted by satan. He was among wild beasts, and the angels ministered to him. After John had been arrested, Jesus came to Galilee proclaiming the gospel of God. "This is the time of fulfilment. The Kingdom of God is at hand. Repent, and believe in the gospel."
C. MEDITATIO
LET US MEDITATE NOW WITH THE COMMENTARY OF ST. AUGUSTINE ON THESE WORDS OF THE GOSPEL ACCORDING TO ST. MARK.
"Look now at the King of Martyrs presenting to us examples of how we are to engage in combat and mercifully helping the combatants. Why did he permit himself to be tempted except to teach us how to resist the tempter? If the world promises you carnal pleasure reply to him: "More pleasurable is God." If he promises you honors and worldly dignities, answer him: "The Kingdom of God is more exalted than all of that." If he promises you superfluous and condemnable curiosities, answer him: "Only God's truth makes no mistake." What does the Evangelist say after the Lord underwent this triple temptation, since in everything that gratifies in the world, these three things appear: pleasure, curiosity, and pride? After the devil had exhausted with all temptation; all temptation were related with what gratifies. There still remained another temptation, related to something rough and hard, savage and cruel. This temptation still remained. The evangelist, knowing what had transpired and what still remains, says: 'After the devil had finished with all the temptation, he departed from him until the opportune time. He departed from him as the astute serpent; he must return as the roaring lion. But he will conquer him, because he will trample the lion and the dragon. The devil will return, he will enter into Judas, and transform him into the traitor of the Master. He will also win over the Jews now cruel, no longer flatterers. In possession of their instruments, they will shout in the language of everyone: 'Crucify him! Crucify him!' Why are we surprised that Christ came out conqueror there? He was God the all powerful." (s. 284, 5).
D. ORATIO
WITH THE TEXT, LET US NOW PRAY FROM THE DEPTHS OF OUR HEART. I SUGGEST THE FOLLOWING PHRASES AND QUESTIONS THAT CAN AWAKEN IN YOU DIALOGUE WITH GOD, AND AT THE SAME TIME CAN GIVE RISE TO AFFECTIONS AND SENTIMENTS IN YOUR DIALOGUE WITH GOD. DO NOT MOVE TO THE NEXT PHRASE OR QUESTION IF YOU CAN STILL CONTINUE DIALOGUING WITH GOD IN ONE OF THEM. IT IS NOT A MATTER OF EXHAUSTING THE LIST, BUT OF HELPING YOU TO PRAY WITH SOME POINTS THAT BETTER FIT YOUR PERSONAL EXPERIENCE.
a. "At that time the Spirit drove Jesus out into the desert" (Mk. 1:12).
• Do you allow yourself to be guided the Spirit in your daily life?
•What can I do to listen more clearly to the voice of the Spirit and be guided by him?
b. "Why did he allow himself to be tempted if not to teach me to resist the tempter?" (s. 284, 5).
•How do you deal with temptation in your life?
•What can you learn about yourself and about God in the moment of temptation?
E. CONTEMPLATIO
I PROPOSE TO YOU SOME POINTS FOR AFFECTIVE INTERIOR CONTEMPLATION. ONCE AGAIN, YOU NEED NOT FOLLOW ALL OF IT, RATHER YOU CAN CHOOSE WHAT FITS YOUR PERSONAL EXPERIENCE.
a. Contemplate Christ overcoming the temptations of satan and later living among the beasts in peace. Contemplate and ask for the strength to conquer temptation and to live in peace with everyone.
b.Contemplate with humility your own smallness, but at the same time see the greatness and the strength of God that frees you from all evil. While you contemplate, repeat: "Let me know myself, let me know you" (sol. 2, 1).
F. COMMUNICATIO
THINK OF EVERYTHING THAT YOU CAN SHARE WITH THOSE AROUND YOU ABOUT THE EXPERIENCE YOU HAD WITH GOD, ESPECIALLY CONCERNING THE SECOND COMING OF CHRIST AND THE UNIVERSAL JUDGMENT. THE FOLLOWING POINTS CAN HELP YOU AS GUIDE TO SHARE WITH YOUR COMMUNITY THE EXPERIENCE OF THE LECTIO DIVINA ON THIS TEXT.
• What have I discovered about God and about myself in this moment of prayer?
• How can I apply this text of Scripture at this moment of my life? What light
does it give me? What challenges does it put before me?
• What concrete commitment does this text of Scripture ask of me in my spiritual life, in my community life?
• What has been my predominant sentiment during this moment of prayer?
G. FINAL PRAYER OF ST. AUGUSTINE
Turning towards the Lord: Lord God, Father Almighty, with a pure heart, as far as our littleness permits, allow us to give you our most devoted and sincere thanks, begging with all our strength from your particular goodness, that by your power you may drive away the enemy from all our thoughts and actions; that you may increase our faith, govern our mind, give us spiritual thoughts, and bring us to your happiness, through your Son Jesus Christ, our Lord, who with you lives and reigns, in the unity of the Holy Spirit, God, forever and ever. Amen (en, Ps. 150:8).
LENT IS A 40 DAY SEASON OF PRAYER, FASTING, AND ALMSGIVING THAT BEGINS ON ASH WEDNESDAY AND ENDS AT SUNDOWN ON HOLY THURSDAY. It's a period of preparation to celebrate the Lord's Resurrection at Easter. During Lent, we seek the Lord in prayer by reading Sacred Scripture; we serve by giving alms; and we practice self-control through fasting. We are called not only to abstain from luxuries during Lent, but to a true inner conversion of heart as we seek to follow Christ's will more faithfully. We recall the waters of baptism in which we were also baptized into Christ's death, died to sin and evil, and began new life in Christ.
Many know of the tradition of abstaining from meat on Fridays during Lent, but we are also called to practice self-discipline and fast in other ways throughout the season. Contemplate the meaning and origins of the Lenten fasting tradition in this reflection. In addition, the giving of alms is one way to share God's gifts—not only through the distribution of money, but through the sharing of our time and talents. As St. John Chrysostom reminds us: "NOT TO ENABLE THE POOR TO SHARE IN OUR GOODS IS TO STEAL FROM THEM AND DEPRIVE THEM OF LIFE. THE GOODS WE POSSESS ARE NOT OURS, BUT THEIRS." (Catechism of the Catholic Church, no. 2446).