LECTIO DIVINA: Solemnity of the Most Holy Body and Blood of Christ, Cycle B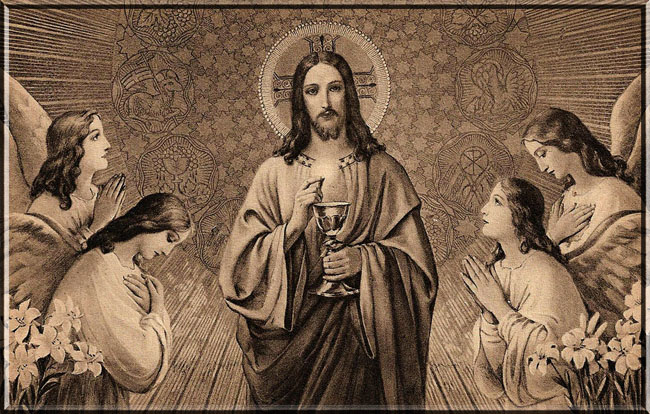 Translated by Fray Dunstan Huberto Decena, OAR
MK 14:12 -16, 22 – 26
A. INVOCATION OF THE HOLY SPIRIT
WE INVOKE THE HOLY SPIRIT USING THE WORDS OF ST. AUGUSTINE
Come, Holy Spirit, by whom every devout soul, who believes in Christ, is sanctified to become a citizen of the City of God! (en. Ps. 45:8) Come, Holy Spirit, grant that we receive the motions of God; put in us your flame; enlighten us and raise us up to God (s. 128, 4). Amen.
B. LECTIO
WITH THE HEART WELL DISPOSED, WITH SERENITY, READ SLOWLY THE FOLLOWING WORDS, SAVORING THEM AND ALLOWING YOURSELF TO BE TOUCHED BY THEM.
On the first day of the Feast of Unleavened Bread, when they sacrificed the Passover lamb, his disciples said to him, "Where do you want us to go and prepare for you to eat the Passover?' He sent two of his disciples and said to them, "Go into the city and a man will meet you carrying a jar of water. Follow him. Wherever he enters, say to the master of the house, 'The Teacher says, "Where is my guest room where I may eat the Passover with my disciples?"
Then he will show you a large upper room furnished and ready.
Make the preparations for us there." The disciples then went off, entered the city, and found it just as he had told them; and they prepared the Passover.
While they were eating, he took bread, said the blessing, broke it, and gave it to them, and said, "Take it; this is my body." Then he took a cup, gave thanks, and gave it to them, and they all drank from it. He said to them "This is my blood of the covenant, which will be shed for many. Amen, I say to you, I shall not drink again the fruit of the vine until the day I drink it new in the kingdom of God." Then after singing a hymn, they went out to the Mount of Olives.+
C. MEDITATIO
LET US MEDITATE NOW WITH THE COMMENTARY OF ST. AUGUSTINE ON THESE WORDS OF THE GOSPEL ACCORDING TO ST. MARK.
Blessed are those who have not seen and yet believe. My brothers, we who are called to the Supper, do not feel deprived by these five pairs. In fact, we have not desired to actually see the physical face of the Lord, we have not yearned to hear with our ears the words proceeding from his bodily mouth, we have not sought in him the ephemeral aroma, when a certain woman poured on him an ointment of great value that filled with fragrance the whole house, but we were not there. See that we did not smell, but we have believed. He gave to his disciples the supper consecrated with his own hands; but we were not reclined at table in that banquet and nonetheless, through faith, we participate daily in the same supper.
And don't hold as something great having participated, without faith, at the supper offered by the hands of the Lord, because the faith at later time was better than the unbelief of the moment. Paul who believed was not there; nevertheless Judas, who betrayed him, was there. Even now at the same supper, how many – even though
they do not see the table of Jesus' time, nor do they perceive with their eyes, nor taste with their palate what the Lord held in his hands – how many even now eat and drink their own condemnation since the supper prepared today is the same as that one!
But how did the Lord present the occasion to speak of this supper? One of those who were at table – since he was at a banquet to which he had been invited – he had said: Blessed is he who eat the bread in the kingdom of God. This man yearned for food that he believed was distant even though the bread himself was at table in
front of him. For who is the bread of the kingdom of God but he who says: I am the living bread who has descended from heaven? Do not prepare your palate but your heart. That is why we recommend that supper: see that we have believed in Christ, we receive with faith. Upon receiving him we know what we think of. We receive something small but our heart is satisfied. Then, it does not nourish what is seen but what is believed (s. 112, 4-5).
D. ORATIO
WITH THE TEXT, LET US NOW PRAY FROM THE DEPTHS OF OUR HEART. I SUGGEST THE FOLLOWING PHRASES AND QUESTIONS THAT CAN AWAKEN IN YOU DIALOGUE WITH GOD, AND AT THE SAME TIME CAN GIVE RISE TO
AFFECTIONS AND SENTIMENTS IN YOUR DIALOGUE WITH GOD. DO NOT MOVE TO THE NEXT PHRASE OR QUESTION IF YOU CAN STILL CONTINUE DIALOGUING WITH GOD IN ONE OF THEM. IT IS NOT A MATTER OF EXHAUSTING THE LIST, BUT OF HELPING YOU TO PRAY WITH SOME POINTS THAT BETTER FIT YOUR PERSONAL EXPERIENCE.
a. "And while they were eating, he took bread, blessed it, broke it and gave it to them and said: "Take it, this is my body" (Mt. 14:22)."
•What does it mean for you that the Eucharist is the Body of Christ?
•How do you live the sacrament od the Eucharist?
b. "Whoever wants to live has where to live, has of what to live. Let him come, let him believe, incorporate himself in order to be vivified" (Io. eu. tr. 26, 13).
•How does the Eucharist give you life?
•What relationship do you find between the Eucharist and the Church, the Body of Church?
c. "Pray with this phrase: "Oh Sacrament of Piety! Oh Sign of unity! Oh bond of Charity"! (Io. eu. tr. 26, 13). Pray with this phrase: "Oh Sacrament of Piety! Oh Sign of unity! Oh bond of Charity"! (Io. eu. tr. 26, 13).
E. CONTEMPLATIO
I PROPOSE TO YOU SOME POINTS FOR AFFECTIVE INTERIOR CONTEMPLATION. ONCE AGAIN, YOU NEED NOT
FOLLOW ALL OF IT, RATHER YOU CAN CHOOSE WHAT FITS YOUR PERSONAL EXPERIENCE.
a. Contemplate Jesus at the Last Supper transforming the bread into his Body and the wine into his Blood. Contemplate how he is who gives you life.
b. Enter into your heart and contemplate how your life is sustained by Christ himself by his Body and Blood. He it is who gives you life. Contemplate how every time you receive the Eucharist this life in you is confirmed and affirmed.
F. COMMUNICATIO
THINK OF EVERYTHING THAT YOU CAN SHARE WITH THOSE AROUND YOU ABOUT THE EXPERIENCE YOU HAD WITH GOD, ESPECIALLY CONCERNING THE SECOND COMING OF CHRIST AND THE UNIVERSAL JUDGMENT. THE FOLLOWING POINTS CAN HELP YOU AS GUIDE TO SHARE WITH YOUR COMMUNITY THE EXPERIENCE OF THE LECTIO DIVINA ON THIS TEXT.
• What have I discovered about God and about myself in this moment of prayer?
• How can I apply this text of Scripture at this moment of my life? What light does it give me? What challenges does it put before me?
• What concrete commitment does this text of Scripture ask of me in my spiritual life, in my community life?
• What has been my dominant sentiment during this moment of prayer?
G. FINAL PRAYER OF ST. AUGUSTINE
Turning towards the Lord: Lord God, Father Almighty, with a pure heart, as far as our littleness permits, allow us to give you our most devoted and sincere thanks, begging with all our strength from your particular goodness, that by
your power you may drive away the enemy from all our thoughts and actions; that you may increase our faith, govern our mind, give us spiritual thoughts, and bring us to your happiness, through your Son Jesus Christ, our Lord, who with you lives and reigns, in the unity of the Holy Spirit, God, forever and ever. Amen (en, Ps. 150:8).
To believe in Him is the same as to eat the living bread. Whoever believes, eats" (Io. eu. tr. 26,1).