LECTIO DIVINA: XVI Sunday in Ordinary Time, Cycle B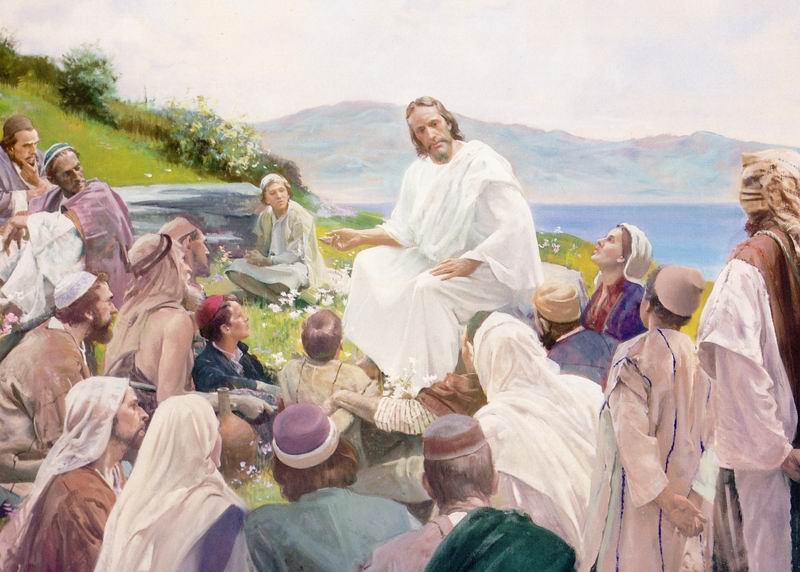 Translated by Fray Dunstan Huberto Decena, OAR
 MK. 6:30-3 
A. INVOCATION OF THE HOLY SPIRIT
WE INVOKE THE HOLY SPIRIT USING THE WORDS OF ST. AUGUSTINE
Come, Holy Spirit, by whom every devout soul, who believes in Christ, is sanctified to become a citizen of the City of God! (en. Ps. 45:8) Come, Holy Spirit, grant that we receive the motions of God; put in us your flame; enlighten us and raise us up to God (s. 128, 4). Amen.
B. LECTIO
WITH THE HEART WELL DISPOSED, WITH SERENITY, READ SLOWLY THE FOLLOWING WORDS, SAVORING THEM AND ALLOWING YOURSELF TO BE TOUCHED BY THEM. 
The Apostles gathered together with Jesus and reported all they had done and taught. He said to them, "Come away by yourselves to a deserted place and rest a while." People were coming and going in great numbers, and they had no opportunity even to eat. So they went off in the boat by themselves to a deserted place. People saw them leaving and many came to know about it. They hastened there on foot from all the towns and arrived at the place before them. When he disembarked and saw the vast crowd his heart was moved with pity for they were like sheep without a shepherd; and he began to teach them many things. 
C. MEDITATIO
LET US MEDITATE NOW WITH THE COMMENTARY OF ST. AUGUSTINE ON THESE WORDS OF THE GOSPEL ACCORDING TO ST. MARK.
St. Augustine focuses principally on the gesture of mercy of Christ. Because of this, even though the earth is full of man's misery, it is also full of the mercy of God: "The earth if full of the mercy of the Lord. And what of the heavens? Listen to what happens with the heavens. They do not need mercy because up there, there is no misery. On earth man's misery abounds, and the mercy of God super-abounds; the earth is full of man's misery, but also it is full of the Lord's mercy. The heavens, then, because they lack all misery and do not need mercy, don't they need the Lord? Need for the Lord, everyone has it: the miserable and the happy. Without him, the unfortunate will not rise up; without him, the happy will not know how to rule the self. Therefore, that you may not keep asking about the heavens, when you hear it said: The earth is full of the mercy of the Lord, see also how the heavens need the Lord: The heavens are consolidated in the Word of the Lord" (en. Ps, 32,2,2,4).
We deal with a mercy that not only is received but that transforms the believer into a merciful person. According to St. Augustine we have gratuitously received the mercy of God in order that we also become merciful persons, sharing in the merciful love that God has poured into our hearts through the Holy Spirit: I will be compassionate on whom I have compassion, and I will be merciful to whom I have mercy. This statement makes clear that in God there is no injustice. Thus he says: I will be compassionate on whom I have compassion. First, when we were yet sinners, God took pity on us and called us. And then, as he says, on whom I have compassion, calling him, and again I will be compassionate to him when I create. How come we say "again", except that the Holy Spirit gives it to someone he creates, and even who asks for it? And once conceded to whom he shows mercy, he will continue offering it to him until he makes him merciful, with which he is capable of doing good for love. Therefore, let no one think of attributing to oneself the works of mercy he accomplishes. It is God who, through the Holy Spirit, has given him the love , without which no one can be merciful. God has not chosen those who do good, but those who have believed, that he himself may make them capable of doing good. Yes, it is ours to believe and to desire, but it is his to grant to those who believe and desire the faculty to do good, through the Holy Spirit. Thanks to him, charity is poured into our hearts: she makes us merciful" (exp. Prop. Rm. 61). 
D. ORATIO
WITH THE TEXT, LET US NOW PRAY FROM THE DEPTHS OF OUR HEART. I SUGGEST THE FOLLOWING PHRASES AND QUESTIONS THAT CAN AWAKEN IN YOU DIALOGUE WITH GOD, AND AT THE SAME TIME CAN GIVE RISE TO AFFECTIONS AND SENTIMENTS IN YOUR DIALOGUE WITH GOD. DO NOT MOVE TO THE NEXT PHRASE OR QUESTION IF YOU CAN STILL CONTINUE DIALOGUING WITH GOD IN ONE OF THEM. IT IS NOT A MATTER OF EXHAUSTING THE LIST, BUT OF HELPING YOU TO PRAY WITH SOME POINTS THAT BETTER FIT YOUR PERSONAL EXPERIENCE.
a. "He told them: 'Come with me to a deserted and tranquil place to rest awhile'" (Mk. 6:31).
•To what tranquil place do you retire "to rest with Christ"? 
•What importance, times and places do you give to prayer in your life? 
b. "It is God who, through the Holy Spirit, has granted you love, without which no one can be merciful" (exp. Prop. Rm. 61).
•In what moments of your life have you experienced the action of the Holy Spirit as love in your heart? 
•The love of God that has been poured into your heart, to what does it move you in your life at the present moments? 
E. CONTEMPLATIO
I PROPOSE TO YOU SOME POINTS FOR AFFECTIVE INTERIOR CONTEMPLATION. ONCE AGAIN, YOU NEED NOT FOLLOW ALL OF IT, RATHER YOU CAN CHOOSE WHAT FITS YOUR PERSONAL EXPERIENCE.
a. Contemplate Christ who patiently and lovingly welcome the multitude and despite being tired he mercifully and lovingly goes ahead to teach them many things. Contemplate his infinite love and his capacity to welcome and be compassionate. Present your feelings before the Lord.
b. Contemplate how Christ has patience and mercy with you despite your infidelities and failures. Contemplate his infinite patience and love towards you. Make a contemplation of gratitude, let it move you to conversion, let it give you fortitude to surpass your limitations. Do all of it while contemplating the merciful face of Christ.
F. COMMUNICATIO
THINK OF EVERYTHING THAT YOU CAN SHARE WITH THOSE AROUND YOU ABOUT THE EXPERIENCE YOU HAD WITH GOD, ESPECIALLY CONCERNING THE SECOND COMING OF CHRIST AND THE UNIVERSAL JUDGMENT. THE FOLLOWING POINTS CAN HELP YOU AS GUIDE TO SHARE WITH YOUR COMMUNITY THE EXPERIENCE OF THE LECTIO DIVINA ON THIS TEXT.
• What have I discovered about God and about myself in this moment of prayer? 
• How can I apply this text of Scripture at this moment of my life? What light does it give me? What challenges does it put before me? 
• What concrete commitment does this text of Scripture ask of me in my spiritual life, in my community life? 
• What has been my dominant sentiment during this moment of prayer? 
G. FINAL PRAYER OF ST. AUGUSTINE
Turning towards the Lord: Lord God, Father Almighty, with a pure heart, as far as our littleness permits, allow us to give you our most devoted and sincere thanks, begging with all our strength from your particular goodness, that by your power you may drive away the enemy from all our thoughts and actions; that you may increase our faith, govern our mind, give us spiritual thoughts, and bring us to your happiness, through your Son Jesus Christ, our Lord, who with you lives and reigns, in the unity of the Holy Spirit, God, forever and ever. Amen (en, Ps. 150:8).
"How near is the mercy of God to one who confesses his sins! God if not far from the contrite of heart" (s. 112A, 5).