New Carmelite Priest pays homage to his Recoletos roots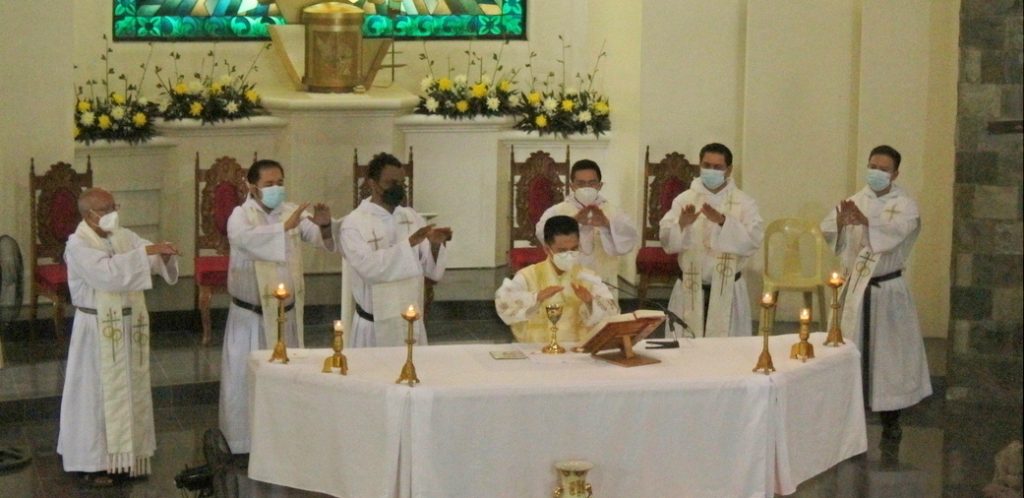 San Carlos City, NEGROS OCCIDENTAL–Ordained as one of the "pandemic priests" last February 2, 2021 in San Francisco, Agusan del Sur, Rev. Fr. Aniceto Rodriguez, O.Carm., came home to Colegio de Sto. Tomas-Recoletos to celebrate his Thanksgiving Mass with the Recoletos de San Carlos Community.
A Recollect by Heart
"Even though I am a Carmelite, the Augustinian spirituality is still burning in me," Fr. Rodriguez said during his short speech to the Thomasian community last April 8, 2021 at the Sto. Tomas de Villanueva Chapel.
The new Carmelite priest is a member of CST-R Batch 2001. He also taught Chemistry and Christian Living Education here before proceeding to practice as a licensed pharmacist at a private hospital.
Fr. Rodriguez joyfully shared that the Augustinian Recollects and the Carmelites have a common place in his heart and the hearts of Filipinos because both Religious Orders are instrumental in the propagation of the brown Scapular of the Our Lady of Mt. Carmel in the Philippines.
He also admitted that his greatest fear was "not being able to recognize the Risen Christ among the least in the community." However, because of his Augustinian Recollect formation, he was able to recognize Christ as Love or Caritas. It was this same Love that has guided him to the path to Carmel.
The Long Road to Carmel
Fr. Rodriguez came late to respond to his vocation and entered the San Alberto Formation Center in Talamban, Cebu City in May 2012. He was already 28 years old then. In an interview with the Thomasian Communications Network (TCN), he narrated how in the quiet of the pharmacy at a private hospital he clicked on a pop-up advertisement to join the Carmelites. Then he found himself sending an e-mail not knowing it was the address of the Order of Carmelites in Rome. The Order guided him to their nearest center where Fr. Rodriguez began his formation through extensive immersion work with sugarland workers or sakadas and fisherfolks in Escalante City, Negros Occidental and in Ormoc City. He added that he owes his journey to Rev. Fr. Pedro Manilag, O.Carm., who did not give up on convincing him to join the Carmelites despite the crisis in his family.
Fr. Rodriguez spent his novitiate year at the Spring of Carmel Novitiate House in Tandang Sora, Quezon City. He professed his Simple Vows in 2014 at the same novitiate house. On July 27, 2020, he officially became a full-pledged Carmelite after his Solemn Profession of Vows at the Immaculate Conception Cathedral, Quezon City.
Because of his background in pharmacy, he chose to study the spiritual direction of people living with HIV (PLHIV). His thesis later became the basis for establishing the Gabay sa Pulang Laso, Inc. (GPLI)—a SEC-registered Caloocan City-based non-profit communitarian organization that provides psychosocial support and spiritual guidance to PLHIV regardless of their faith. GPLI started with only 50 members who are mostly based in Metro Manila. Members now enjoy free medical-dental services at the Tala Leprosarium Hospital in Caloocan. The organization has its own shelter for PLHIV who had been rejected by their families. It also has livelihood programs for members who were denied access to employment.
Moving On to the Carmelite Mission
Fr. Rodriguez is due to return to Agusan del Sur after a brief time with his family. His first assignment is as the Campus Minister of the Mt. Carmel College of San Francisco. He will also be seminary formator and assistant postulancy director for the Carmelite college which caters to lumad students or indigenous people.
From His Recollect Family
During his homily for Fr. Rodriguez, Fray Rafael Cabarles, OAR, who is now 49 years as a Recollect priest, shared his Seven Secrets. The elder priest counselled the younger one to "be faithful to Jesus Christ; to Mother Mary, the mother of all priests; to Mother Church; to our vocation; to our prayer life (contemplative); to the Holy Sacrifice of the Mass; and to a simple lifestyle."
Fray Vicente Ramon, Jr., OAR, acknowledged Fr. Rodriguez's priesthood as "a gift to us Recollects and even to the City of San Carlos." Fray Ramon was CST-R director and principal when the newly ordained priest was still teaching.
Fray Joel Alve, OAR, Fray Renier Alviola, OAR, Fray Monday Benjamine Edobor, OAR, and Fray Jorr Rabacal, OAR, also concelebrated. Fr. Rodriguez's former co-teachers at CST-R and the Rodriguez family were also in attendance.