Obituary: Fray Casiano Cosmilla, OAR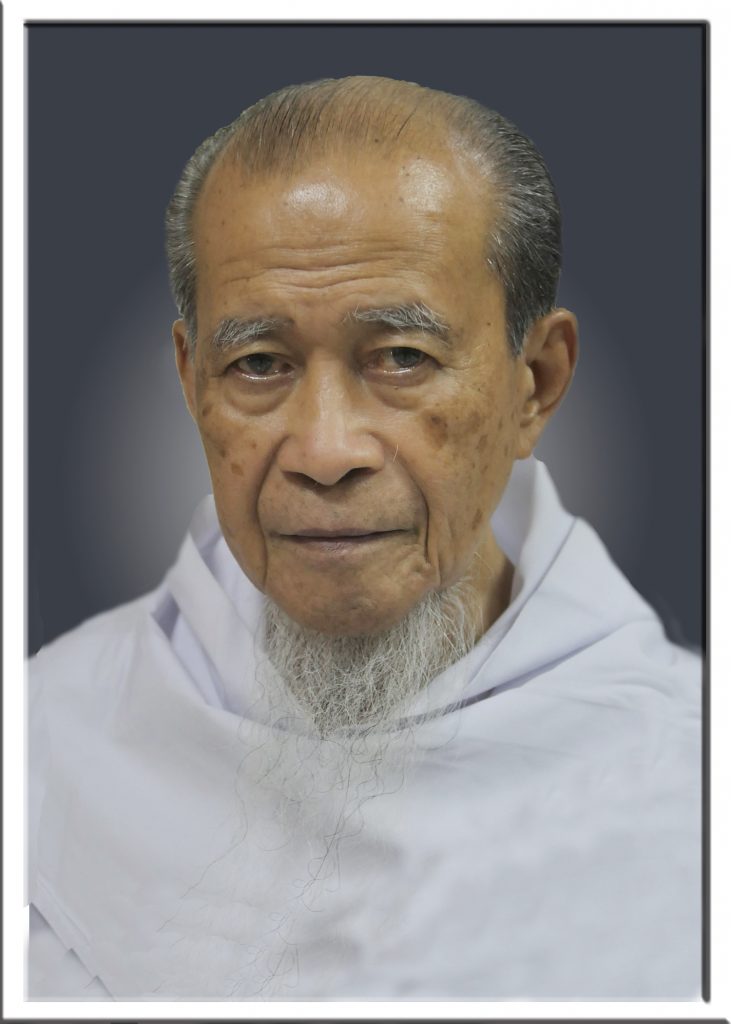 TO ALL THE MEMBERS OF THE AUGUSTINIAN RECOLLECT FAMILY
It is my sad duty to relay to you this notice that, at 7:10 a.m. of January 5, 2020, FRAY CASIANO AMBULO COSMILLA, OAR, passed away at the age of 82 at the Adventist Hospital in Puerto Princesa City, Palawan due to septic shock and community-acquired pneumonia. He has also been suffering from chronic kidney disease and chronic congestive heart failure.
"Father Kizzy," as he is fondly called by his confreres and friends, was born on August 13, 1937 in Pandan, Antique. In 1954, he finished his Basic Education in his hometown. He was already a college student in 1955 when he, together with other 10 candidates, entered the Colegio Apostólico [Minor Seminary] de Sto. Tomas de Villanueva in San Carlos City, Negros Occidental. The succeeding two years (1956-58) of minor seminary formation program was spent at San Jose Seminary in Quezon City where he would later complete his three-year philosophical studies (1958-61). Then, in 1961, he entered the novitiate in Monteagudo, Navarra, Spain where he made his simple profession of vows on July 6, 1962. From 1962 to 1966, he immersed himself in theological studies at the Recoletos Theologate in Marcilla (Navarra, Spain) where he pronounced his solemn profession on July 6, 1965 and, four months after, on November 21, he was ordained a deacon. On July 17, 1966, also in Marcilla, he received his presbyteral ordination at the hands of Most Rev. Arturo Quintanilla.
Having spent more than 57 years as religious, and more than 53 years as a priest, Father Kizzy, also known as "Father Gwapo" to many, for tagging himself, in jest, as "Patron ng mga gwapo" ("Patron Saint of the good-looking"), has been in pastoral assignments practically the rest of his life after his priestly ordination. From 1966 to 1968, he was the Assistant Sacristan – one whose basic duty was to help the Rector – of the San Sebastian Basilica in Manila. The next 19 uninterrupted years (1968-87) was dedicated to a fruitful parish ministry in what was then Apostolic Vicariate of Palawan. He was based at the Immaculate Conception Cathedral-Parish in Puerto Princesa as its Assistant Parish Priest or Parochial Vicar (1968-70) and, later, as its Parish Priest (1970-87).
Towards the end of 1987, he was transferred to the Recollect community of Talisay City, Negros Occidental. For about two months, until January 31, 1988, he was the acting Parochial Vicar of the San Nicolas de Tolentino Parish. From February 1 of that same year up to 1994 – a span of two triennia – he was appointed Parish Priest of the said parish and Local Prior of the community. For some months in 1991, he took charge of the office of the School Director of the erstwhile University of Negros Occidental-Recoletos – Talisay (now: Colegio San Nicolas de Tolentino-Recoletos) which was part of the community's apostolate. But for him, one of the most memorable events while in Negros was when he was among the three friars chosen to represent the then Vicariate of the Philippines and China to witness the beatification rites of Blessed Martín de San Nicolás and Melchor de San Agustín in Rome on April 23, 1989.
As an upshot of the June 1994 Provincial Chapter of the then Province of San Nicolas de Tolentino to which the former Vicariate of the Philippines and China belonged, he was transferred to another pastoral environment: as the parish priest of the Our Lady of Peace and Good Voyage Parish in Tondo, Manila where he was also appointed as the local prior of the Recollect community.
After that triennium, in 1997, he was named local prior of the Recoletos de Laray community in Talisay City, Cebu and, at the same time, parish priest of the Our Lady of Consolation Parish-Recoletos. Ever consistent with his pastoral management style of bringing the Church to the people, here he also multiplied the number of chapels and continued giving "Samaria Cursillo"-type of classes on Catholic Faith to some groups. Father Kizzy stayed here in Cebu until early 2000 when the transition to the new administration was ushered in by the very first Provincial Chapter of the newly-established Province of St. Ezekiel Moreno.
With his new patente dated February 1, 2000, and six more thereafter, each every three years – which assigned him "to reside and work in the Recollect Community of San Sebastian College-Recoletos, Manila," his home for almost 20 years until his demise – Father Kizzy would be carrying out relatively lighter tasks. For nine years (2000-2009), he was the Parochial Vicar of the San Sebastian Parish; a third local councilor for a term (2012-2015); and Assisting Priest and Confessor of the AR Sisters since 2018. He was also appointed since 2007 as the Extraordinary Confessor of the seminarians of Casiciaco Recoletos Seminary in Baguio City, and Extraordinary Confessor & Spiritual Director of the three Recoletos seminaries in Luzon since 2015. His natural wit, wisdom and fatherly presence have helped our formands in their vocation discernment process.
Remarkably, it was also here in San Sebastian where his personal milestones took place: his 75th birthday and his golden anniversary as religious in 2012, during which he never missed to include the feast day of St. Augustine, "my personal patron" (since his religious name was actually Fray Casiano A. Cosmilla de San Agustín), and his golden anniversary as a priest in 2016.
Although his return to San Sebastian Manila where his religious assignment began more than five decades ago means that Father Kizzy has come full circle, he actually wished to die and be buried in Palawan. In an interesting twist of events, his wish was partly granted. Having secured a clearance from his physician to travel to Cebu to participate in the ARSE (Augustinian Recollect Spiritual Exercises) of the third batch in Cebu City on November 11-15, 2019, he was able to use the same document to be able to fly to Palawan in November 26 and to concelebrate in the Holy Mass for the 6th Bugsayan Festival on November 30 at Puerto Princesa City Coliseum, with the outgoing apostolic nuncio to the Philippines, Archbishop Gabrielle Caccia, as the presider; to meet and bond with some old friends; and to see, for one last time as we note it now, those places that reminded him of his pastoral past. In mid-December, he was confined at the Adventist Hospital until he breathed his last on January 5, 2020, solemn feast of the Epiphany. He received the last sacraments.
Father Kizzy excelled in generosity and solicitude especially towards those in need regardless of their economic status. And whenever he would be on the receiving end of other people's kindness, he never failed to say or send his profuse thanks. He also showed special concern for the employees or lay personnel particularly when they are sick or celebrating their birthday, for instance.
In the Recollect communities he was assigned, he did not hesitate to speak his mind even if some of the brothers found his opinions unconventional. Although he could be a nonconformist at times in his view of things, by thinking outside the box, by posting in his door some personally-crafted quotes suggestive of some current events in the Church or the Order, and by seeing the hilarious side of religious-priestly life, he would try his best, even if it meant putting things in writing – with his distinctive cursive handwriting fonts – to patch things up with a brother, or the community, or the proper authority concerned. And when tasks called for a teamwork, he was available to offer help.
We pray then for our brother, Father Kizzy, that God who is rich in mercy welcome him in His Kingdom where, with the three wise men, he will adore the Lord eternally.
In St. Ezekiel Moreno,
Fray Dionisio Q. Selma, OAR
Prior Provincial
Fray Jose Ernil Almayo, OAR
Provincial Secretary