Obituary +Fray Ceferino Roberto Calderon Añez, OAR (February 3, 1948 – July 10, 2023)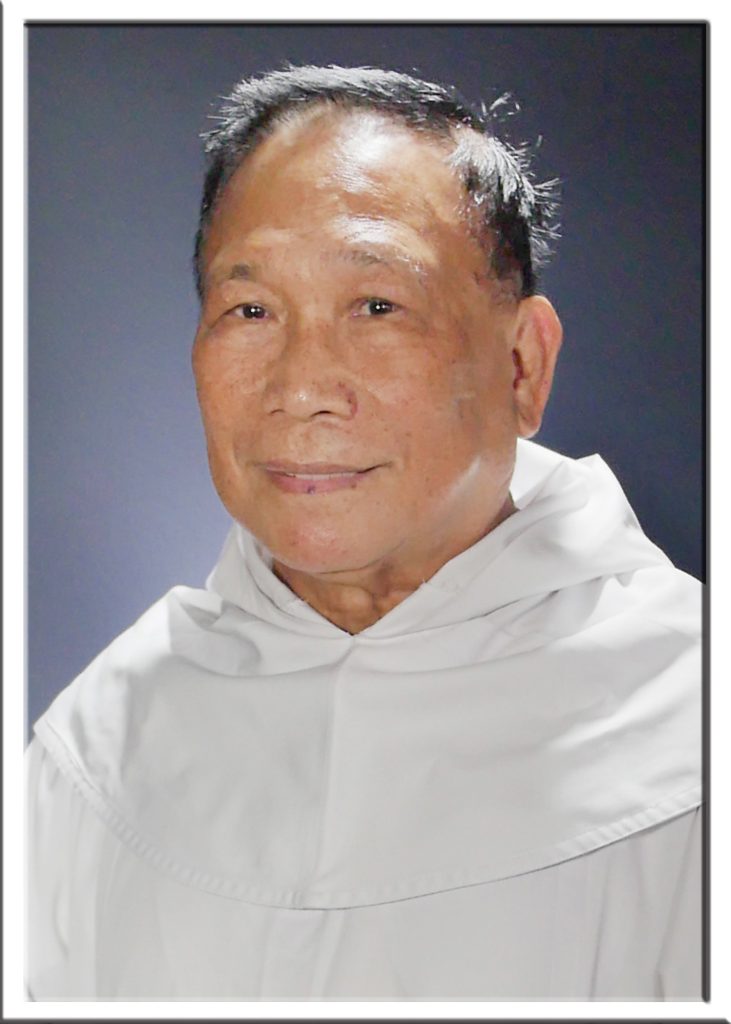 Prot. SEM 049/23
July 11, 2023
TO ALL THE RELIGIOUS AND MEMBERS OF THE AUGUSTINIAN RECOLLECT FAMILY
"But how should we Christians respond to the question of death? We respond with faith in God, with a gaze of firm hope founded on the death and resurrection of Jesus Christ."
– Pope Benedict XVI
Dear brothers and sisters:
It is my sad duty to notify you of the passing of our brother, FRAY CEFERINO ROBERTO CALDERON AÑEZ, OAR, 75, at 10:30 in the morning of July 10, 2023, a day short of his 47th presbyteral anniversary. He died of metastatic prostate cancer at the St. Ezekiel Moreno Provincial Center, Quezon City. He has received the last sacraments including the apostolic pardon.
"Father Efren" (or "Apo," an Ilocano word used to respectfully address the elders, and which his confreres in the Provincial Curia would endearingly call him) was born on February 3, 1948 in Bauang, La Union. He finished his elementary at Bauang Community School in 1961, and his high school at the Sacred Heart School in 1965 – both in his hometown in La Union. He entered Seminario Mayor-Recoletos (now: Casiciaco Recoletos Seminary) in Baguio City where he obtained his baccalaureate degree in Classical Philosophy in 1971.
He belonged to the second group of novices – eight of them – to enter the novitiate housed at Seminario Mayor Recoletos where they donned the Recollect habit on June 14, 1971. It was also in this seminary where half of his group, including him, pronounced their simple profession of vows exactly on the same date of the following year. On October 19, 1975, he and three others made their solemn profession of vows at the chapel of the Recollect Theology Seminary in Marcilla, Navarra, Spain, where they would also later receive their ordinations. On November 9, 1975, Most Rev. Justo Goizueta, OAR, bishop of Madera, Mexico, conferred on him the Order of Deacons. Then, on July
11, 1976, Most Rev. José Méndez, archbishop of Pamplona (Spain), ordained him to the sacred priesthood.
The post-ordination religious-priestly journey of Father Efren may be divided into three periods. The first period covers the first six years of his assignment, from 1976 to 1982. His first patente directed him to live and work at Seminario Mayor Recoletos as a member of the formation team, Dean of Studies, and teacher in some subjects, from 1976-1980. While here in Baguio, he earned his M.A. in English, major in Literature, at St. Louis University, in 1980. Then, he worked at San Sebastian College-Recoletos, Manila, from 1980 to November of 1982, as property custodian and High School principal. Had he accepted the transfer of assignment given him by the then vicar
provincial, Fray German Chicote, OAR, on November 18, 1982, he would have been at the University of San Jose-Recoletos in Cebu City. But he did not, because he had already planned to leave the Order.
This ushers us to the second period of around 24 years, from 1982 to 2006. Based on our records and Father Efren's personal recount of what he considered as the "lacunae of my life," referring to his life outside the cloister, he left the Order in late 1982. He served as a guest priest in the Diocese of San Fernando (La Union) from February 1984. But his stay and work here were formalized only on June 1, 1985 when he was given a two-year probationary period prior to a possible incardination in the diocese. Two months after, in August, he left the country to escape the death threats he received for reporting a crime he had known of.
(We would like to note that in 1984 and 1985, the Prior Provincial, Fray Antonio Calvo, OAR, wrote to Father Efren inviting him to return to the Order, and, at any rate, asking him to formalize in writing his decision whether or not to ask for laicization. But the way things unfolded, the time was not yet ripe.)
From July 1986, Father Efren worked in the Diocese of Copenhagen, Denmark, with the hope of being incardinated there. At different times, he said he was assigned either as a parish priest, or parish administrator, or chaplain in different parishes. But his "difficulty of integrating [himself] in the Danish culture was the reason" of his return to the Philippines in 1993.
That same year, when he decided to return to the Diocese of San Fernando (La Union), he was accepted again by Bishop Salvador Lazo, his relative. However, when the bishop retired in May
1993, he applied to other dioceses. Only the Diocese of Iba (Zambales) accepted him. He worked
there as a guest priest from 1995 until the middle of 2003, thanks to the benevolent bishop, Most Rev. Deogracias Iñiguez. For seven years, he was assigned either as an assistant parish priest or parish administrator in the parishes of Olongapo City, San Marcelino, San Narciso, Sta. Cruz, Iba, Masinloc, Candelaria, and Castillejos. But when the bishop was transferred in June 2003, Father Efren also left the diocese and went abroad. Later, he tried to return to the Diocese of San Fernando but he said his celebret was revoked by the "new bishop" who arrived in 2005.
Unfortunate this might have been, but somehow it signaled a new transition to a much better phase of Father Efren's life. As one quote puts it, "When one door closes, another opens." Thus set in the third period, covering the last 18 years of his life, from 2005 until his death.
On May 3, 2005, when the then Prior Provincial, Fray Lauro Larlar personally met Father Efren, his classmate, in Bauang, things began to concretely take shape. It became clearer when in his letter of July 6, 2006, Father Efren accepted the invitation of his superiors as "God's will" and looking back to his years outside the cloister as "my own imperfect way to serve [the Lord] as best as I could." On August 5, 2006, Father Efren read the letter he received from his major superiors expressing their collective fraternal hospitality: "Welcome home! We thank the Lord because you have responded to the call."
From 2006 to 2009, Father Efren was assigned at St. Ezekiel Moreno Provincial Center, Quezon City as a resident friar. His main concern during his first two years was on his re-orientation and re-integration program. In the last year of the triennium, he was appointed spiritual director of the Secular Augustinian Recollects – Provincialate Chapter. In 2009, he was appointed local prior of the newly-established Recollect community in Casian Island and parish priest of San Isidro Labrador Parish, also in Casian (Taytay, Palawan). In 2010, he was called back to the Provincialate House in Quezon City.
Then, in 2012, he was assigned at Our Lady of Mt. Carmel Parish in Inagawan, Puerto Princesa City (Palawan) as a resident religious-priest. In 2014, he was appointed Administrator of San Rafael Parish in Plaridel, Aborlan (Palawan) while continuing to be a member of the community in Inagawan. Later that year, when he was diagnosed with serious illness in a hospital in Quezon City, he decided to no longer return to Palawan.
Thus, from 2015 up to his death, a total of eight years, he was at the St. Ezekiel Moreno Provincial
Center, so that he could be near a hospital for his cancer treatment. He was the house liturgist from
2015-2022, when he was still stronger. But at the onset of this current triennium, his health deteriorated so fast that, during his recent hospital confinement, it was only for palliative care. His
last four days of battle was spent with tranquility and spiritual preparation, accompanied by the prayers and visits of some brothers and acquaintances, in this very house that welcomed him many
years back.
Fray Efren's colorful life story, despite its shades and shadows, and ups and downs, will always remind us of God's enduring love for his chosen people. His lived experience of struggles as a religious and priest illustrates not only the extent of human heart's restlessness in its quest for what can truly satisfy it – nay, for who can really satisfy it, but also the mysterious workings of God's amazing grace. Among these workings that characterize his later years is his special devotion to Jesus, the wounded Healer, and to St. Ezekiel Moreno. This made him more generous to share his gift of healing especially to the sick, cognizant, at the same time, that he cannot even heal himself. May the triune God, who alone can grant total healing, together with his angels and saints, welcome our brother, Father Efren, to his eternal abode.