OLCP receives new CARAS members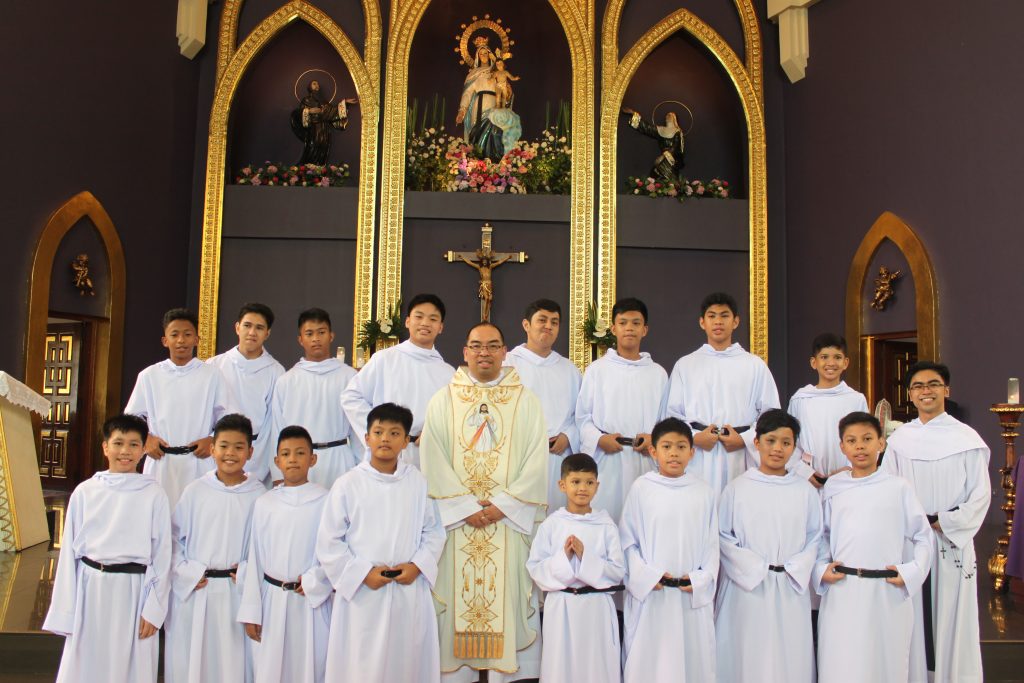 Mira-Nila Homes, QUEZON CITY – "Today we will witness the investiture of young men. They will commit themselves to God as part of Confraternity of Augustinian Recollect Altar Servers (CARAS)," said Fray Gideon Antolin U. Lagrimas, OAR, Parish Priest Our Lady of Consolation Parish, in his homily.
Fifteen young men coming from villages, subdivisions and area chapels under the jurisdiction of OLCP were invested and commissioned as members of the Confraternity on the Solemnity of Christ the King last November 24, 2019. They were as follows:
1. Akia Lyle R. Andres
2. John Iverson Arandia
3. Tristan Cliford C. Aujero
4. Geones Aldrin C. Beran
5. Mark Jayson A. Cabana
6. Christian Emmanuel C. Dancel
7. Jayson L. Datul
8. Joaquin Miguel F. De Jesus
9. Julius Maximus F. De Jesus
10. Marcus Jericho F. De Jesus
11. Kalvin Cesar M. Estrera
12. Ken Chrysper A. Pasilan
13. David Rhys N. Price
14. Matthew N. Price
            15. Samuel Genn M. Tango III
  16. Francis Rupert J. Sarno
Before they were officially accepted to the ministry, they went to series of formation as part of the preparation. They were introduced to the rudiments of the Liturgy, Holy Eucharist, and of assisting the priest in the Altar. Part of their formation was the fundamentals of Augustinian Recollect Spirituality with emphasis on brotherhood (community life), love for the Eucharist and prayer, and commitment to service (apostolate).
During the Rites of Investiture, the parents and relatives were present to witness this meaningful event and were asked to put on to their sons the white vestment and cincture as a sign of their support in fulling their son's ministry.
Dra. Meryl F. De Jesus, mother of the three newly invested Altar Servers expressed:"We are blessed and grateful that our sons have this opportunity to serve here in our Parish."
Part of their formation and service as members of the confraternity is to give them the opportunity to experience the Augustinian Recollect way of life, and eventually, to enter the seminary and be an Augustinian Recollect religious. At present, there are a good number of Philosophy and Senior High School seminarians who were once members of the Confraternity of Augustinian Recollect Altar Servers.