Papal Nuncio: "St. Ezekiel Moreno is still much loved in the Philippines"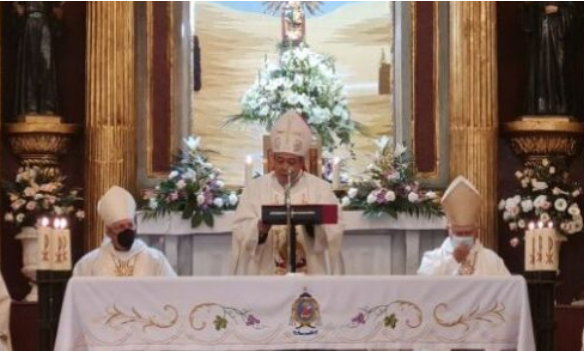 (This article was translated from the original Spanish article posted in the official website of the Order of Augustinian Recollects www.agustinosrecoletos.com)
Monteagudo, NAVARRA–The nuncio of His Holiness in Spain, Bernardito Auza, presided over the solemn Eucharist on the feast of San Ezequiel Moreno in Monteagudo.
The feast of St. Ezequiel Moreno was celebrated in a special way in Monteagudo, where the remains of the Augustinian Recollect saint rests. The nuncio of His Holiness in Spain, Most Rev. Bernardito Auza, DD, presided over the solemn Eucharist on August 19 at the novitiate convent of the Augustinian Recollects. There, on August 19, 1906, the bishop of Pasto and an Augustinian Recollect missionary died.
The nuncio recalled the figure of St. Ezequiel Moreno, who assured that he is "very dear to my country, the Philippines." He especially highlighted St. Ezekiel's missionary zeal and his great initiatives in the evangelizing mission, both in the Philippines and in Colombia "as big as his heart." He also highlighted his dedication to the Church especially to the most in need, more specifically during his time as bishop in Colombia. Finally, he recalled how, already ill, the saintly bishop decided to return to Monteagudo, "to die under the mantle of the Virgen del Camino," which is venerated in the convent and to which St. Ezequiel had enormous devotion. Bishop Auza also had a few words of gratitude to the Augustinian Recollects for their enormous missionary work in countries entrusted to them.
At the beginning of the Mass, Bishop Hernández Sola, OAR, DD, Bishop of Tarazona, explained the importance that the Philippines had for Saint Ezequiel, whom he described as a "true and great missionary" in the Asian country. "His pastoral zeal in Mindoro, Palawan, Manila," he said, "was overflowing during the 15 years that he missioned in those islands," and recalled that "this year we celebrate the 500 years of the arrival of Christianity in that dear and beloved country, where the Augustinian Recollects wrote the most beautiful history of the harvest. It is just opportune to remember the figure of this distinguished missionary ".
For his part, the Prior General of the Augustinian Recollects, Fray Miguel Miró, OAR, thanked the nuncio for his visit on this special day for the Order and highlighted the close and long-standing relationship of the Augustinian Recollect religious with the Philippines and the mission.