PH Recoletos schools benchmark on USJ-R guidance counselling program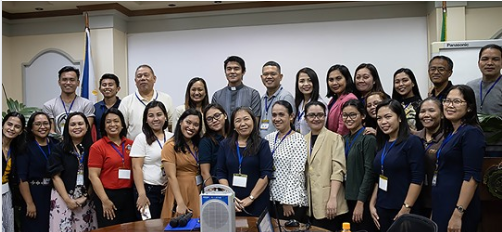 CEBU CITY–Guidance personnel from four sister schools in the Philippines of the University of San Jose-Recoletos (USJ-R) underwent a two-day upskilling program on December 5 and 6, 2019.
This activity aims to help the guidance personnel get a better grasp of their work, especially those who are new in the position. On the first day, USJ-R invited Dr. Michelle Cellona as a resource speaker to talk about mental health issues usually encountered by students and tips on how to address them. On the second day, the participants discussed some future plans.
The schools which participated were San Sebastian College- Recoletos (Manila), Colegio San Nicolas de Tolentino-Recoletos(Talisay City, Negros Occidental), Colegio de Santo Tomas- Recoletos (San Carlos City, Negros Occidental), and San Pedro Academy- Recoletos (Valencia, Negros Oriental). The personnel from USJ-R Basak, Balamban, and main campus also participated.
According to Nelbha Iglesia, Director of the Student Development and Placement Center (SDPC), the personnel working for the respective guidance offices are the caregivers to the students' mental health and they cannot give what they don't have. So, it should start at their cores— the person who gives that.
She added that the event was one way of linking other sister schools from all over the Philippines so the guidance professionals can benchmark on each other's best practices. To actualize this, each participating school showcased their services and programs. Furthermore, concerns were discussed to come up with feasible solutions.
"Eventually this will lead to the union among counselors from OAR schools and Father (Alaras) wanted to have a program for that," Iglesia said.
Moreover, the activity aims to enrich the spiritual, professional, personal development, and social by helping each other especially those in smaller institutions.
She continued that USJ-R through the SDPC wants to host a program wherein all guidance counselors from Recoletos schools in the Philippines will participate. It could be a five-day program that can be started with a recollection and the rest are activities related to their profession. The goal of this plan is to unite Recoletos schools.
To realize this, the University will still have to submit it a proposal to the Recoletos Educational Association of the Philippines (REAP) for approval.
---
Written by Marjorie Laborte (LIACOM intern)