Prior Provincial receives 3 Recollect friars for Solemn Profession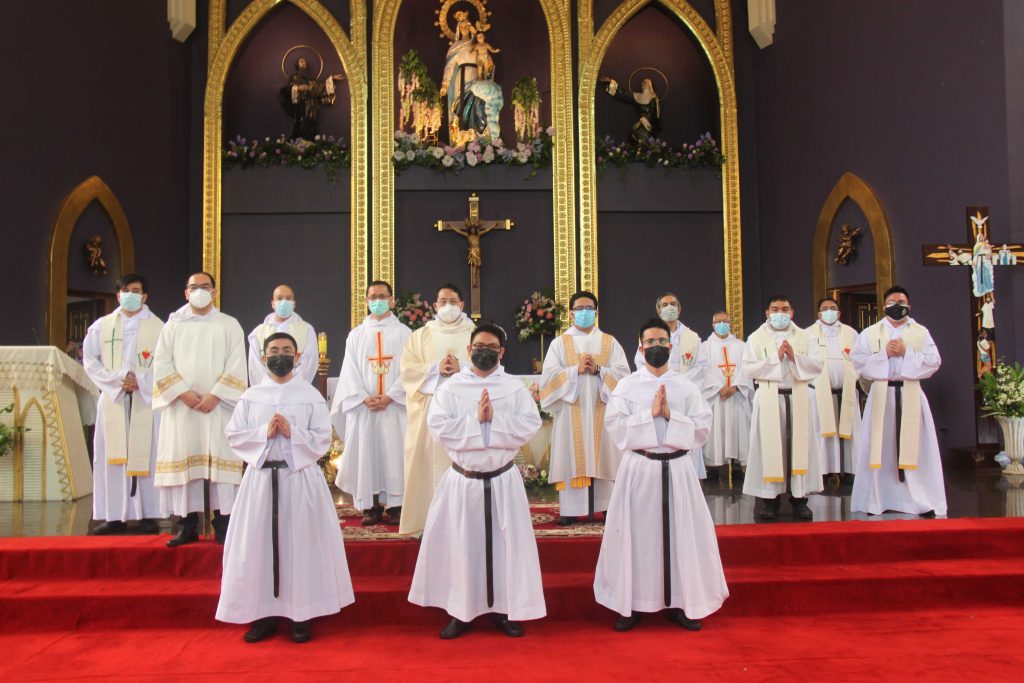 Mira Nila Homes, QUEZON CITY – Three Augustinian Recollect friars said their definitive 'yes' to God as they Solemnly Professed the Evangelical Counsels last Saturday, September 11, 2021 at Our Lady of Consolation Parish. They were Fray Julius James T. Tinapao, OAR, Fray Ricky John A. Austria, OAR, and Fray James Erold P. Gatinao, OAR, who also be incorporated perpetually as members of the Order of Augustinian Recollects.
Rev. Fr. Dionisio Q. Selma, OAR, Prior Provincial of St. Ezekiel Moreno Province, presided the Holy Sacrifice of the Mass and the Rite of the Admittance to the Solemn Profession. Together with him were Fr. Lauro V. Larlar, OAR, Prior of Recoletos Formation Center, Fr. Kenneth Joseph Onda, OAR, Master of the Professed, and some Augustinian Recollect Priests from different communities.
Since there is still the threat of the different variants of COVID-19, restrictions were imposed to follow the IATF safety protocol. The celebration was only limited to the Religious and Priests of the Order while parents and relatives still caught up via Facebook live stream aired by the Recoletos Communications Media Team.
The homily of Fr. Selma addressed the professandi about that readings they have chosen could serve as their guide to live and persevere in their final 'yes' to God and a reminder for those religious who were already solemnly professed the vows. "What are these in the word of God that guides you? The importance of a companion of a spiritual director who can aid us to what is the plan of God and what is the call of God, where and who called us like Eli, the one Samuel approached… the importance therefore of being guided," said the prior provincial.
He also cited on the focus of the Order which is accompaniment that can be our companion in our journey and the significance of being accompanied in the spiritual journey. Lastly, he emphasized the importance of prayer, receiving the Eucharist daily, and Marian devotions in religious life.
Before the final blessing, Fray Ricky John Austria, OAR, delivered his message of gratitude on behalf of the newly professed. Prior to their solemn profession of vows, last September 9, 2021, the community of Recoletos Formation Center witnessed the Rite of Renunciation of the three candidates held at St. Thomas of Villanova Chapel. Fr. Lauro Larlar, OAR, officiated the Rite of Renunciation and Fr. Kenneth Joseph Onda, OAR, who acted as witness.