Prior Provincial's Renewal Visit in Negros Island capped in Valencia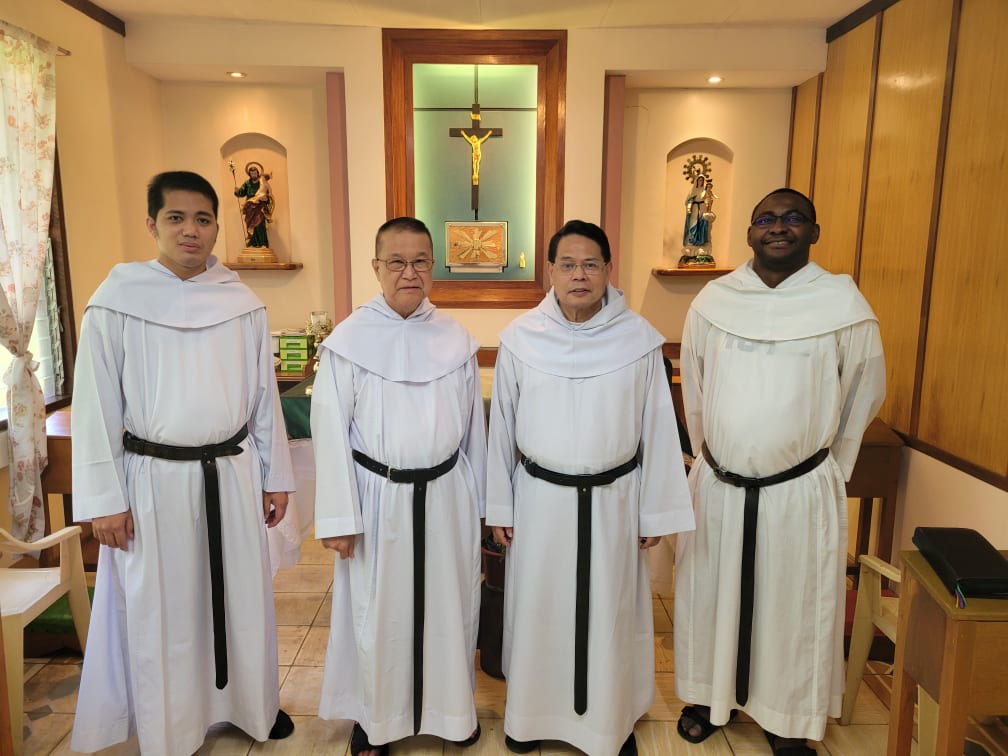 Valencia, NEGROS ORIENTAL—The Prior Provincial, Fray Dionisio Selma, OAR, capped his visit of renewal in the Negros Island last July 23 and 24, 2021 at the Recoletos de Valencia community. Accompanied by the Provincial Secretary, Fray Ernil Almayo, OAR, the Provincial said his visit is aimed at "recalling the basic elements of our life" in order to "revitalize and reawaken the basic elements of [our] vocation."
The Recoletos de Valencia community is composed of the following: Fray Enrico Peter Silab, OAR (Prior and Parish Priest), Fray Maximillian Omem, OAR (Procurator and Assistant Parish Priest), and Fray Jessriel Marcha, OAR (School Director and Principal of San Pedro Academy).
Fray Selma encouraged the three-member community to appreciate the gift which "we are fortunate to receive to be an Augustinian Recollect." It was, in effect, a reminder about the universal call to holiness. Quoting Pope Francis' Gaudete et exsultate, he acknowledged the modern errors—contemporary gnosticism and pelagianism—that "try to block the call of Jesus to holiness". He then reiterated the need to combat these errors while faithfully living the consecrated life.
Appraising the community whose two members are young and newly-ordained religious, he posed the following questions for self-reflection: "How did we embrace this [religious] life? What was our motivation? How do we embrace this life, exercising our apostolate? How are you in relation to your apostolate?" In view of the recent personnel movements in the Province affecting this Visayan community, he directed everyone to "be open to the Holy Spirit… in view of the common good."
Before ending his visit, Fray Selma reminded the community of the proper use of the social media, exhorting the members to be very discerning before posting anything in the internet. Moreover, he reminded the community of Pope John Paul II's apostolic letter Sacramentorum sanctitatis tutela where norms on grave delicts are promulgated. This is in relation to the current Pontiff's campaign for the protection of minors and vulnerable adults. He also spoke about the necessity for each religious to have his last will and testament, in order to avoid future legal conflict in matters related to medical procedures and other important things.
The visit of renewal in the Recoletos de Valencia community ended with the Midday prayer on July 24, 2021.