Province receives six novices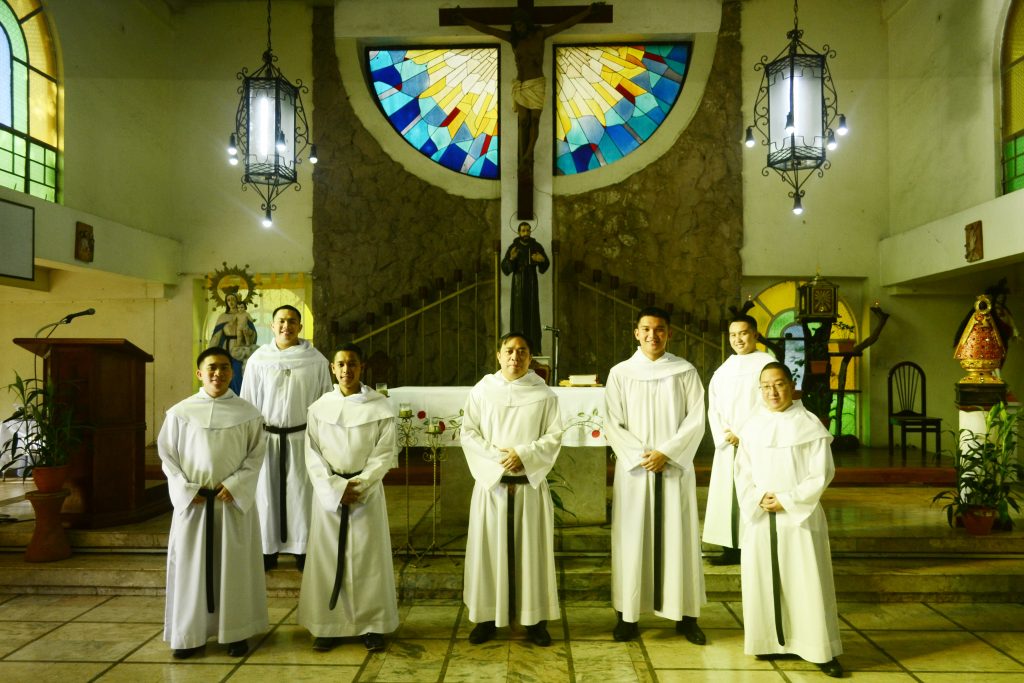 Antipolo City, RIZAL—You are isolated, but not detached from the world.
This was the message of the local Prior of St. Ezekiel Moreno Novitiate-Recoletos (SeMoNo-Re) in this city to the six members of Batch Martyrs who were formally received into the Novitiate Formation Year during the Mass earlier today, July 16, 2020.
"The novitiate is the stage where you dedicate yourself to prolonged time of prayer and contemplation, so that you may encounter God and learn whether or not you are for this way of life," said Fray Paulino Dacanay, OAR in his homily.
"And yet," the prior continued, "I want you to remember that we are connected with one another, that we have one soul in Christ. And so we continually pray for one another, especially our brothers and sisters afflicted by Covid-19."
The six new novices for this formation year are Fray John Arnold P. Lozada (Zamboanga City); Fray Seiji L. Ishii (Baguio City); Fray Roldan T. Benemerito (Badian, Cebu); Fray Mark Angelo C. Diaz (Puerto Princesa City); Fray Lloyd Jorem E. Terania (Bayawan City, Negros Oriental); and Fray James Francis M. Bago (Banga, South Cotabato).
They are joined by Fray Chrislean Rey R. Pamilaga, a holdover from the previous batch, giving the Province seven novices in all.
"You are now in the initial stage of religious life," Fr. Dacanay said. "I hope you will learn to love the Order."
Our Lady of Carmel
Fray Benemerito, in an interview the night before, said he feels the "weight of the moment".
"I understand that we will be isolated from the world for a year to find ourselves in the hands of God. And yet it has not yet really sunk in. It is hard to find words to describe what I feel. It's just that the weight of the moment can be very overwhelming," he said.
As the rite falls on the feast of the Our Lady of Mount Carmel, Fray Dacanay reminded the novices that going to Jesus through Mary is always the wise way.
"Our Lady will always be with us in our encounters with the Lord," he said. "The gentle voice of Christ will always be heard through her."
According to the Plan of Formation of the Order, the novitiate is the stage of formation which provides proximate preparation of the aspirant for the religious life of the Order. Its two-fold purpose is for the formand to grow in the knowledge of his vocation, and to be able to identify with the specific life of the Community (Plan of Formation 242). For this formation year, SeMoNoRe has seven Novices and five Pre-Novices. Fr. Dacanay will be aided in the formation program by Fr. Emeterio Buñao, OAR (Spiritual Director); Fr. Roland Cepe, OAR (Master of Novices); Fr. James Castelo, OAR (Pre-Novice Director); Fr. Charlie Orobia, OAR (Procurator); and Fr. Joel Villaruel, OAR.