RBGS Conducts its first Leadership Training series at the RESOURCE- Handumanan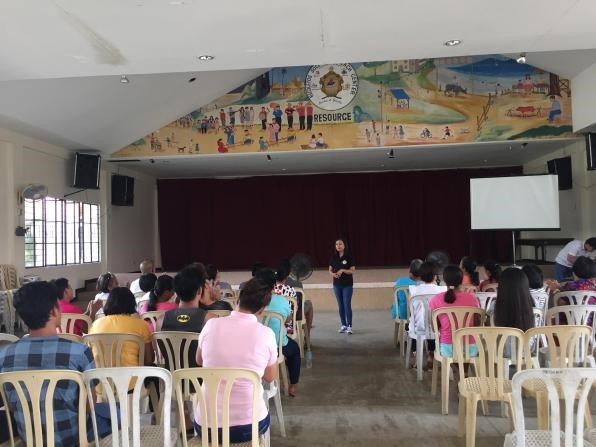 Faced with varietals of past and concurrent social issues and social realities within the country and abroad, these problems have influenced many individuals in the society. Striving to solve these social issues, holistic awareness and proactive response from the society were essential factors to effectively identify, plan, organize and mobilize collective approaches to address these social ills and discuss their relevance to individual's life. Adherence to resolve socials issues, potential leaders emerge during the process. Leaders that will raise awareness and spark social consciousness among each other.
The UNO-R Recoletos de Bacolod Graduate School (RBGS) Student Council (AY 2019- 2020) has organized an Outreach Activity entitled Leadership Training towards Awareness and Response to Social Issues last September 8, 2019 at 2PM in Recoletos Social Outreach Center (RESOURCE) Purok St. Ezekiel Moreno, Brgy. Handuman, Bacolod City. This activity was the first leadership training series crafted by the council. This aims to inspire community actions and responses to different social issues through leadership formation as the foundation. Attended by 31 participants from the RESOURCE community, it was comprised of 7 males and 24 females in various age groups.
Opening preliminaries and welcome message were given by Mr. Sunday Vince Latergo, PhD-EM student and Council President of RBGS. Miss Corazon Vecino, PhD-EM student facilitated the Group Task Activities and participants were arranged into three groups. Through a colourful art workshop, they drew their reflections about the reality of a sick community and shared their outputs in the plenary. In response to their first activity, another group task was given to them. They performed a role play using some political titles as leaders. They initiated action plans, activities and programs that they have felt and perceived necessary that will resolve those social issues their group had identified. Both the group task activities were processed and synthesized by Miss Vecino.
Ms. Sharon Tusalem, MPAG alumna and the main resource person, discussed Teenage Pregnancy. The high prevalence and alarming incidence of early pregnancy among 9-18 years old teenage girls has raise awareness among parents in RESOURCE Community. Ms. Tusalem presented general information and number of incidence rates globally and within the Province of Negros Occidental. Parents and teenage participants were enlightened during the session. Highlighting parental accountability, responsible adolescent and spirituality were the main keypoints of the resource person. Sharing and discussion of feelings, observations, learning and application of the topic from the participants were facilitated by Ms. Tusalem. "Nabatyagan ko gid sa tagipuso-on ko ang importansya sang maayo kag responsable nga pag-ubay sang mga ginikanan sa pagpadako sang mga kabataan nga may kahadlok sa Ginoo," said Almira, 19, student participant. The graduate school students were accompanied by Dr. Richelle H. Verdeprado, Program Head of the Social Work and the RBGS Outreach coordinator. The activity was ended by giving of certificates to the resource persons and to the participants. As the increasing social issues affected the individual's quality of life, demands for social actions and solutions already developed at the basic foundation of the society, the family. Parents as leaders and in charge of their family must enhance their parental effectiveness in critical thinking and decision making in solving and discussing social issues. Training and capability building activities were mainstreamed by the RBGS Student Council to raise awareness in order to be sensitive and responsive to the social issues and needs of the family, community and society today and for the future.
This article is written by Mr. Andro E. Camposagrado, a student of UNO-R RBGS.