REAP upgrades new educational normal, creates REAP FORTE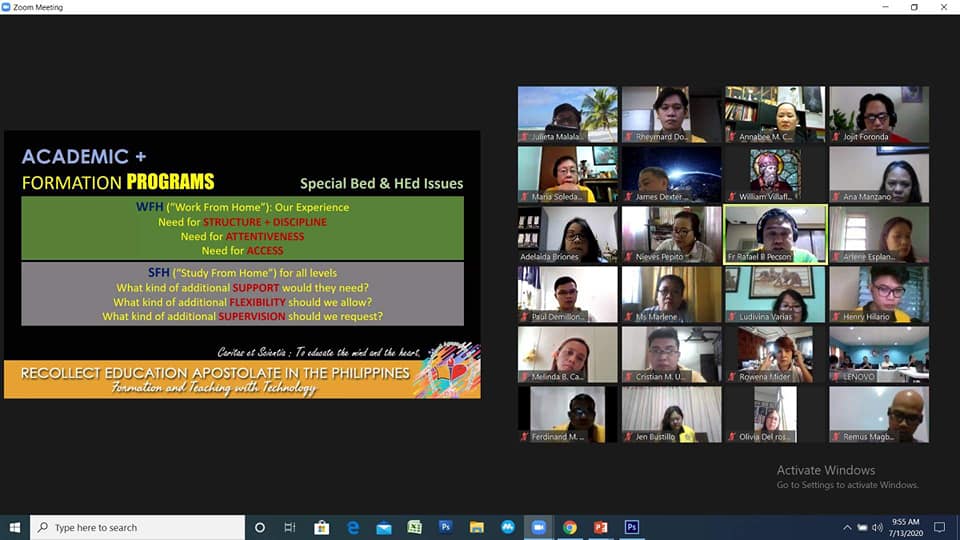 San Carlos City, NEGROS OCCIDENTAL–With the goal to upgrade the new educational normal spawned by Covid-19 pandemic, Recoletos Educational Apostolate in the Philippines introduced REAP Forte (Formation and Teaching) Program in a series of web seminar (webinar) involving Recollect administrators and teachers across the country. The series began last July 13 and will end on July 17, 2020.
Virtual Sharing
Fray Rafael Pecson, OAR, REAP Vice-President for Academics, was the moderator during the virtual meet-up for Basic Educators and Higher Educators last Monday, July 13. Recollect administrators and teachers shared and discussed best practices and preparations that schools are currently doing to transition into distance education.
Several Recollect schools are currently giving administrative support to teachers by distributing laptop units and other gadgets and improving in-campus internet bandwidth so they can implement the online learning modality. Teachers were also sent to various virtual trainings to equip them with new strategies and techniques for implementing new modes of learning.
At Colegio de Sto. Tomas-Recoletos, 26 laptop units were distributed to 22 teachers and four staff last July 15, 2020.
Transitions to the New Normal in Education
REAP Forte on Distance Education and Online Learning focused on "shifts in online learning" that emphasized the implementation of modules instead of weekly sessions. Teachers were oriented on the new focus of developing competences among students instead of merely passing on knowledge, skills and attitudes. This development has to take place within a "flexible learning time" instead of the traditional contact time that involved a rigid classroom-subject area schedule.
However, teachers were also reminded that they are still obliged to create a learning schedule for students so that learning from home though flexible can have a framework that can be easily followed.
REAP Forte set the guidelines for delivering the synchronous modality where no live online lecture should take place. Instead, a discussion or sharing of learning should take place after students are given videos, articles and notes. This concept is moving towards "self-regulatory students" who can manage their own learning time and set the pace of their activities and outputs.
Module Zero will be implemented among Recollect schools. Module Zero includes a primer for implementing distance education, orientation for parents and guardians, and modified set of student regulations.
A Forum on Augustinian Identity and Formation culminated in the first week of the REAP Forte series on July 17, 2020.
The Thomasian Way At least 45 Thomasian teachers were participating in the webinar and virtual discussions. Meanwhile, CST-R continues to prepare and set new systems for distance education to cater to the youth of Northern Negros, some of whom do not have access to the internet.