Recoletos and Recoletas celebrate together Christ's birthday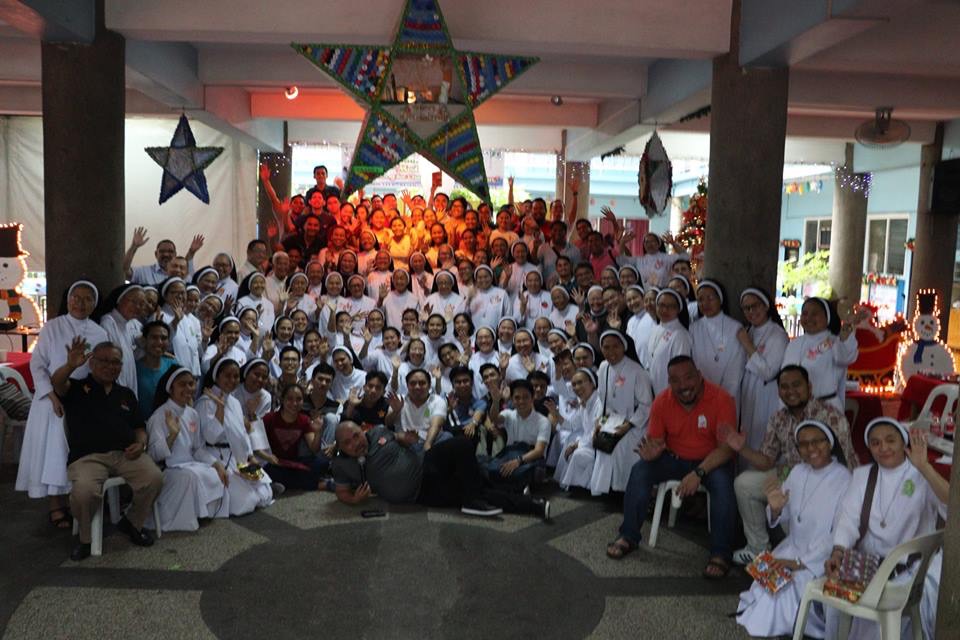 MANILA—As the whole Christian world celebrated the birthday of our Lord Jesus Christ, the Augustinian Recollect religious, priests, sisters, and formands were gathered at St. Rita College, Manila for the annual OAR-AR Christmas Gathering. The Congregation of the Augustinian Recollect Sisters, headed by their Superior General, Mo. Lucena Antipala, AR, hosted this yearly assembly of Recollects in Luzon. Augustinian Recollects from Baguio, Metro Manila, Antipolo City, Cavite, Quezon Province and Batangas joined this event.
The program proper began with the welcome remarks from Mo. Lucena Antipala, AR.In her welcome message, Mo. Lucy shared with them the focal point of the celebration of the Year of the Youth. She reminded everyone that "we should always welcome the youth in the Church, in our educational centers, and in our home." She also recognized the presence of the young formands from the OAR and AR formation houses and said that "they are the future of our Order and of our Congregation."
Fray Dionisio Selma, OAR, Prior Provincial of the Province of St. Ezekiel Moreno, gave an inspirational message to those present. He gave emphasis on the birth of Jesus Christ as the reason for this annual gathering. As one Augustinian Recollect family, Fray Diony said that "we should give thanks to the Lord for all the graces and blessings we received in the past years."
The day was filled with joy as parlor games and presentations from the AR Sisters and OAR formands and religious that added delight in the celebration. A non-stop ensemble of songs and dances from the sisters and brothers plus the dynamic combination of Fray Glynn Ortega, OAR, and Sr. Jeanne Partosa, AR, who took the role as Masters of Ceremony, made the day more joyful.
Fray Dionisio Cachero, OAR, who is currently assigned in the United States of America, also graced the event. Also, Fray Reynaldo Jaranilla, OAR, did not miss the program even if he is in Colombia. He was able to watch the presentations and games thru videocall.
The day closed with a message from Sr. Flora Silvero, AR, Local Superior of the AR Motherhouse, and a community singing led by the Augustinian Recollect Sisters from the Motherhouse and some Recollect priests.