Recoletos de Talisay welcomes Father General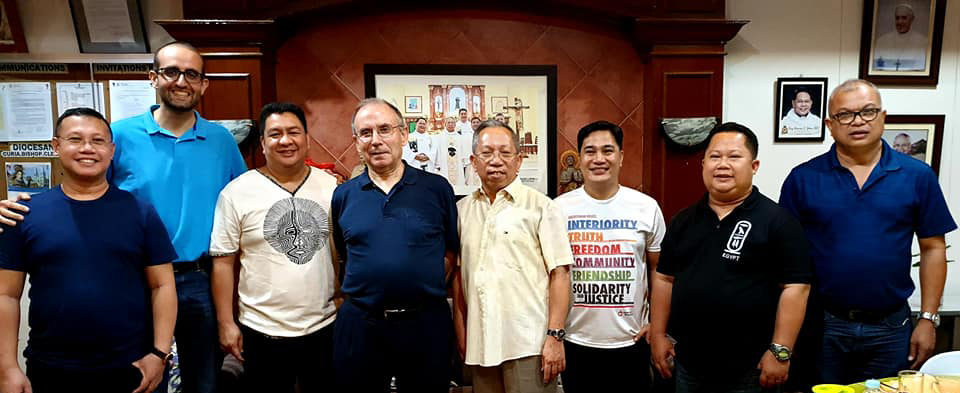 Talisay City, NEGROS OCCIDENTAL – Completing his visita de renovación to the six OAR communities in Negros Island, Fray Miguel Miró made his last stop at Recoletos de Talisay in the afternoon of February 27, where he met the five brothers working in both the pastoral and the school apostolate.
Two days earlier, on February 25, foreseeing the limited time he would have during the renewal visit proper, Father General had joined the group of the Secretariat of Apostolate led by Fray Raul Buhay when they shuttled to Talisay to see the place made famous by Fray Fernando Cuenca, the longest-serving parish priest here. The visitors toured around the San Nicolas de Tolentino Parish church, San Vicente Ferrer Shrine, and Colegio San Nicolas de Tolentino-Recoletos (CSNT-R) campus.
Recoletos de Talisay community is composed of Fray Leonardo Pauligue (Prior & School Treasurer); Fray Joel Villaruel (School Chaplain & Property Custodian); Fray Anthony Morillo (School Director/ Principal & House Librarian); Fray Niño Cesar Ruiz (Parish Priest, Shrine Rector, CSEC-R Anchor, House Liturgist, & Local Procurator); Fray Randolph Castulo Castillo, Jr. (Parochial Vicar, House Chronicler, Chapter Secretary, and Local Vocation Promoter).
Shortly after his arrival, Father General together with Fray Buhay as the interpreter met the Secular Augustinian Recollect Fraternity (SARF) – Talisay Chapter. As usual, he reminded them about their Rule of Life, and their obligations to live out the Augustinian Recollect charism and spirituality. According to Sis. Rosario Mamon, the eldest member of this Chapter, they were also made to understand about their special role as "creators of communion" even in their secular state of life.
The community conference with the OAR Fathers followed, at around four in the afternoon. The same themes discussed in other communities were also relayed to them. Afterwards, every friar had the opportunity to individually dialogue with Father General.
At past 6 PM, the Spanish visitor also met the RAY (Recollect Augustinian Youth) members. Only a few came since others had classes still. Nevertheless, they reported to Father General some updates regarding their activities, actually the same updates they made before Bishop Patricio Buzon of Bacolod during his pastoral visit to the parish.
With reports from Fray Randy Castillo, OAR