Recoletos takes over family-owned school in Alfonso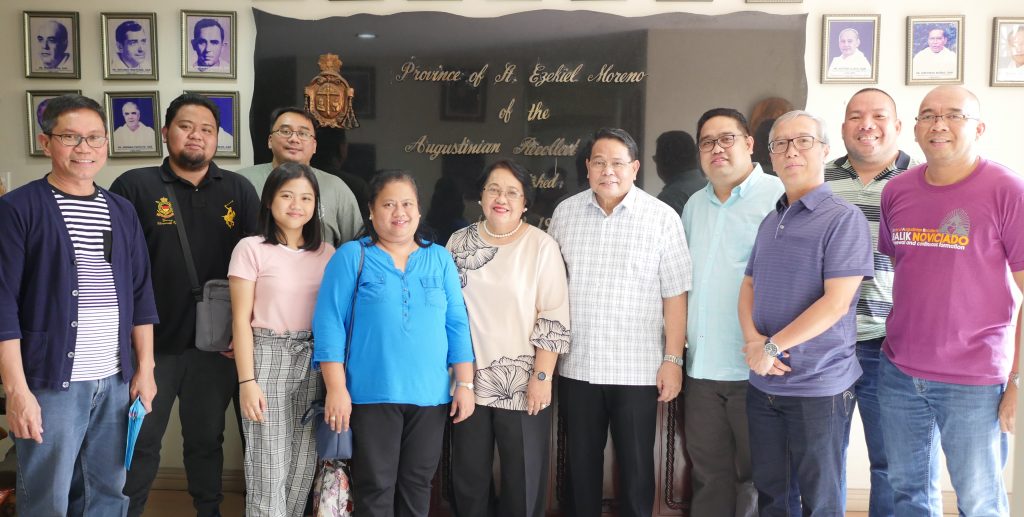 Provincial Curia, QUEZON CITY – "OK lang po, for so long as it is Recoletos."
Those were the words of Mrs. Adelaida R. Leyran, matriarch of the family that owned the 73-year old Sacred Heart School of Cavite (SHSC) in Alfonso, Cavite, during the signing of the Memorandum of Agreement at the Provincialate Office on July 11, 2019. She was expressing her gratitude to the Recoletos for having accepted the offer to own and administer the school.
Mrs. Leyran was the Second Party in the MOA made and entered by and between her and Fray Dionisio Selma, Prior Provincial and Board of Trustees Chairman of the San Sebastian College-Recoletos de Cavite, as the First Party.
Founded in 1946 and located around 20 km from Tagaytay City (or around 50 km from Cavite City), the SHSC was originally named Cavite Highland Institute. Later it was changed to Sacred Heart School, then to Sacred Heart School of Cavite. And just like other institutions, the school also experienced a lot of highs and lows.
In one of those crucial moments of the school's history, the late Mr. Jaime Leyran, the patriarch, had intimated to his family that, in case of further difficulty in the school administration, the property should be given to a religious group that would be committed to continue its vision-mission.
Being an alumnus of the High School Department of San Sebastian College-Recoletos in Manila, Mr. Leyran had recommended that it first be offered to the Recoletos Fathers.
During the MOA signing, Mrs. Leyran said with a sad note: "The school has been my home for more than 50 years. It's been my life."
Father Provincial assured her: "Anyway, Ma'am, you will be with us as a family. Kasi ang karisma po namin is family."
In accordance with the MOA, the name of the school shall not completely be changed within the four-year period from the signing of the MOA. But according to Fray Rafael Pecson, SSC-R de Cavite President, adding "Recoletos" to the school's current name is permitted.
With the opening of the new School Year 2019-2020, the SHSC-Recoletos which is a stand-alone Basic Education institution has just seen an increase in its enrolment.
Handled "in solidum" by the Recoletos de Cavite community, the school is currently administered by the following appointed religious: Fray Pecson as the School Director, Fray Dexter Palagtiosa as Campus Minister, and Fray Raymund Alcedo as the School Treasurer.