Recollect healing priest: "Jesus does the healing, not me"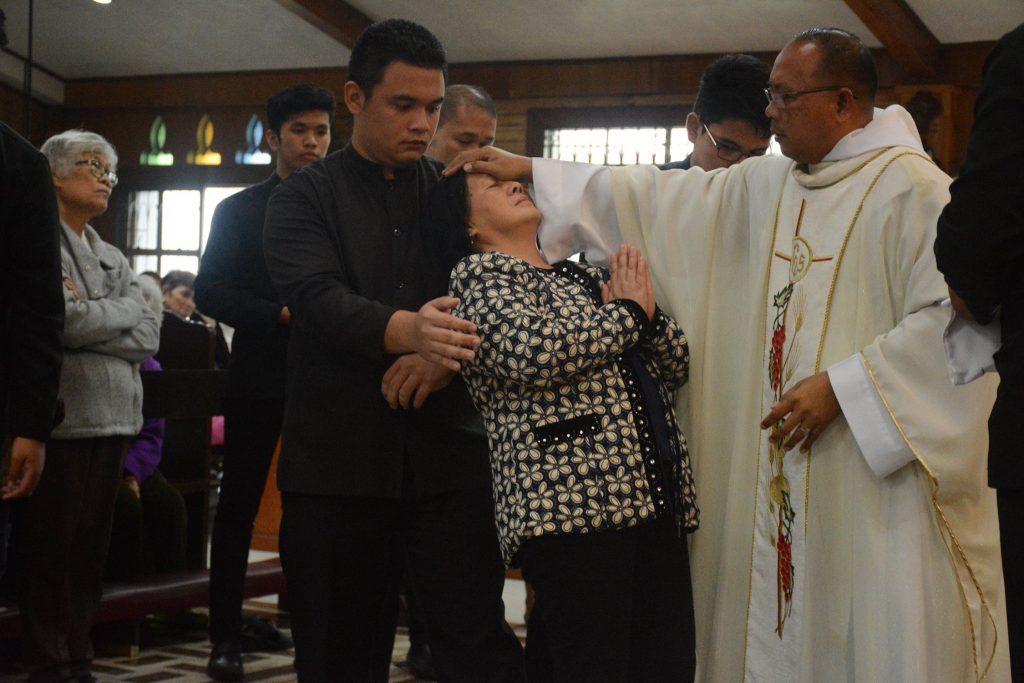 BAGUIO CITY–A Recollect priest who is gifted with the grace of healing visited the Recoletos de Baguio community and officiated a healing mass last August 19, 2019.
Fr. Nelson Plohimon, OAR, who is currently assigned as parochial vicar of the Our Lady of Mount Carmel Parish-Recoletos in Cebu City, laid his hands on massgoers after the mass, some of whom felt they lost for some moments consciousness and balance as they were helped by seminarians to lie on the chapel floor.
"Hindi po ako nakapagpapagaling," Fr. Plohimon insisted. "Ako ay nagdadasal lamang para sa inyong kagalingan, but it is Jesus who does the healing."
The healing mass was celebrated in honor of the feast of St. Ezekiel Moreno, an Augustinian Recollect bishop who once was missionary to the Philippines and who is declared by the Church as patron of cancer patients.
Fr. Ralph Laureen Ciceron, OAR, Prefect of Discipline of college seminarians, said that during healing masses, some people who are properly disposed to receive the grace of God is "slain by the Spirit". In situations like this, he added, people lose their sense of space and time and so they unconsciously fall to the ground.
Fr. Plohimon, in his homily, said that it was only in 2016 that he discovered that he has the gift of healing. Assigned in Palawan, he was "instrumental" in the healing of two critically ill patients after praying over them — one was suffering from breast cancer while the other was critically treated at the ICU.
"We have the power to conquer the enemy because we are children of God," he said. "Sickness of body and spirit is the effect of sin. So it is important that we remove anger and hatred in our hearts, forgive those who wronged us, and ask forgiveness from those we have offended so that the healing of the Spirit may enter our lives."
After the mass, seminarians visited the sick in Baguio's four leading hospitals. They prayed for the sick and entertained them with song and dance routines as they assured the sick of God's loving providence.
The seminarians also brought with them miniature statues of St. Ezekiel Moreno in order to give the patients both a source of hope and inspiration in their time of medical, emotional and spiritual need.