RECOLLECTION August 2019: COMMUNION OF BROTHERS (Jn. 13: 34-35)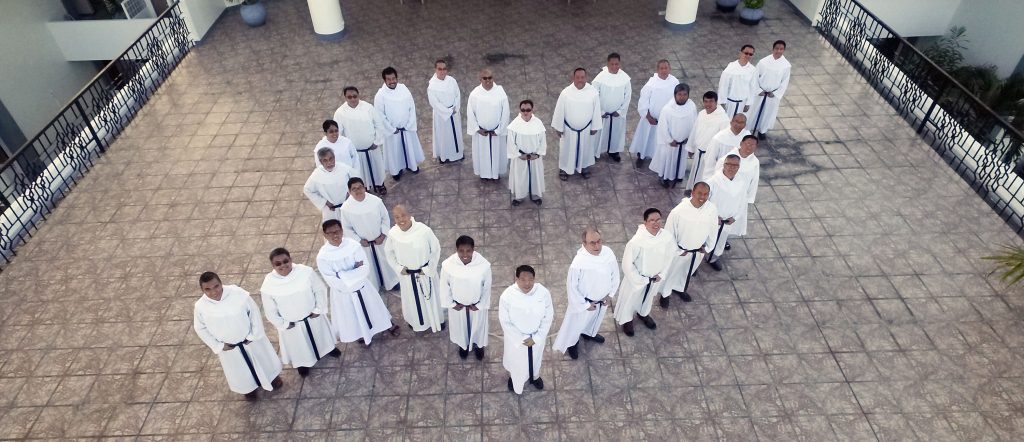 Translated by Fray Hubert Dunstan Decena, OAR
During the Last Supper, Christ gave his disciples the new commandment to love one another: "I give you a new commandment: that you love one another; as I have loved you, you also must love one another" (Jn. 13:34).And he established love not only as a law to belong to the kingdom, but also as a distinctive mark and character of his disciples.
The text we meditate on in this occasion is very short, but at the same time the most binding. What matters within the community is to love. But not just to love in any way, rather with a very elevated parameter: to love as Christ himself has loved us.
In community life, fraternal love is not just any kind of love, but it is the love of the "new commandment" by which we must love our brothers in the community, "as Christ has loved us", that is, totally, freely, and joyfully; no more no less.
I prepare my heart.
The heart is the seat of my best faculties as a human being: intelligence
that is self-conscious and inquisitive, of affective sensibility or capacity for disinterested love, of creative and responsible freedom. Thus, it is important that I prepare it adequately. This means that I need to activate my richest capacities.
I prepare my heart that it may intelligently become conscious of what is happening now at this moment, that is, that I am here and now in this place to experience an encounter with God.
I prepare my heart that in the tranquility of these hours it may be sensitive to, and receptive of, the love of God.
I Prepare my heart to respond to the Words and motions that God has for me this day. I place my heart before the heart of God with fascinated attention. I ask the Holy Spirit for his light and fortitude to hold an affective dialogue with God, my Lord.
Come, Holy Spirit, by whom every devout soul, who believes in Christ, is sanctified to become a citizen of the City of God! (en. Ps. 45,8) Come, Holy Spirit, grant that we receive the motions of God, put in us your flame, enlighten us and raise us up to God (s. 128, 4).
I open my heart.
With heart well disposed, with serenity, I read slowly the following words, savoring them and allowing myself to be touched by them.
34 "I give you a new commandment: love one another. As I have loved you, so you also should love one another.
35 This is how all will know that you are my disciples, if you have love for one another."
I return to my heart.
Biblical keys.
The 13th chapter of John's Gospel narrates the Last Supper of Jesus with his disciples and presents various scenes: the washing of the feet; the Farewell Discourse that includes the New Commandment and the prediction of Judas' betrayal, and ending with Peter's denial.
The Farewell Discourse is also literarily known as "The Testament of Jesus" so that the reader may understand that it is the most important teaching of the Master found in vv. 31-35.
Our reflection will center on the last two verses:
The solemn proclamation of what is going to be declared: "I give you a new commandment". New because it is an integral part of the new covenant which, unlike the old covenant that contained Ten Commandments, it contains only the commandment of brotherly love as the fundamental clause.
The mutual love –"as I have loved you, so also you should love one another," must be a replica of Christ's love up to the sacrifice of self (v.34). And it will be the distinctive character of the Christian: "This is how all will know that you are my disciples."
Another writing of John, the first letter, develops and amplifies the new commandment. The new commandment as formulated here is the constitutive foundation of the Christian community and it can be said that it is the center of the whole New Testament.
Augustinian Keys.
A Gift and a Challenge.
To be capable of living the new commandment of love, not only is a gift from God, but also a challenge. It is a new commandment because it implies that in ourselves we must die to our old man; that is, it implies living a process of conversion in order to put on the new man, putting aside the antiquity of our sins and passions, and allowing the power of love to renew our most intimate self, gaining back the joy, the illusion and the hope. Thus indicates St. Augustine in his treatise on the Gospel according to St. John:
Why, then, does the Lord call new what is clearly so old? Or is it a new commandment precisely because, having snatched away the old man, he clothes us with new man? In fact, he renews the hearer, o rather the obedient, not all sincere love, but only that, about which the Lord, to distinguish it from carnal love, has added: "As I have loved you" (Io. eu. tr. 65, 1).
And the great challenge of the new commandment is that the love with which one must love the brothers is not just any kind of love. Augustine realizes that the Gospel does not speak to us of the love with which those who live in the world love each other for the world, moved by all kinds of passions. The Bishop of Hippo invites us to love one another as members of Christ, as brothers and heirs of the Kingdom of Heaven; because, in forming only one Body, we live of only one identical love, the love of God.
"I give you a new commandment: that you love one another." Not as the corrupt love each other, not as humans love other humans, but as they love each other because they are all gods and sons of the Most High, in such a way that the Only Son hold them as brothers. They love one another with that sincere love with which he himself has loved them (Io. eu. tr. 65, 1).
And it is the love of Christ that gives life to brotherly love to put to death in us he love for the world, so that we can live the love of God, and from God and in God we may learn to love our brothers. Hence St. Augustine, when commenting on the Gospel passage of the new commandment of love, quotes the text from the Song of Songs 8:6: "love is as strong as death." Consequently, if love is as strong as death, the love of Christ, as the new commandment lived in the community, should put to death in us the love for the world to live in the love of God:
Better said, that same love is our death to the world and our life with God; since, if there death when the soul leaves the body, why can there be not death when our love goes out of the world? Thus Love is as strong as death (Ct. 8:6). What is stronger than that by whichthe world is conquered? (Io. eu. tr. 65, 1)
The Prime matter of the community: human beings.
Since this new commandment of love is what should animate our community life, there are concrete elements by which said fraternal charity is manifested. And in this St. Augustine reminds us of one basic element. We love God but we do it with a human heart and we who form part of the community, conscious of this new commandment of love, do not stop being human. The prime matter of which our communities are made of are human beings, of pilgrims to the City of God. And as human beings, on living out fraternal charity, we cannot forget nor be careless of anthropological elements that form the basis of our community.
St. Augustine does not forget this. Hence, he reminds us in the Confessions how a community should be when fraternal love reigns in it. Charity becomes an invisible force that animates the life of the community, and which strengthens the human elements. A true religious community cannot remain only in the anthropological elements nor can it exist without them. The key is in knowing to elevate towards God and animate from charity the anthropological elements, so that the community becomes truly the Body of Christ, where there is nothing but only one soul and one heart directed towards God.
There were other things that very strongly captivated my soul … like engaging in conversation, laughing, gladly serving each other, reading together pleasant books, exchanging jokes, and entertaining ourselves in group; arguing sometimes, but without animadversion, as one disagrees with self; … teaching one another something; sighing for those absent and joyfully welcoming those who arrive. With these and other similar things, our souls easily fell in love and from many were being made into only one (conf. 4, 13).
Even though it is certain that this text is found inserted in the moment wherein St. Augustine describes the community that he was forming with Manicheans, the idealization and the narrative design of the Confessions perfectly permits us to apply this text to our communities, as a "communitarian examen of conscience" In this examen, we who form part of a determined community can analyze if we live these realities or rather we need to make effort to make them real.
The document Fraternal Life in Community (Congregavit nos in Unum) offers us twelve very concrete characteristics that are parallel to those that St. Augustine presents to us, and which can be good materials, so that we can reflect on the fraternal charity around these elements simple, daily, and apparently insipid and trivial, but on which depend many things:
To support the communion of souls and hearts of those who have been called to live together in one community, it is useful to call the attention to the need to cultivate the qualities required in every human relationship: education, amiability, sincerity, self-control, finesse, sense of humor, and the spirit of participation.
The documents of the Magisterium in these last years are rich in suggestions and indications useful for community living like: joyful simplicity, sincerity and mutual trust, the capacity for dialogue, sincere adherence to a beneficial communitarian discipline (VFC 27).
To live the commandment of love in the community implies to love as Christ has loved us. This love should not remain is theory, but must go down to everyday life and must become into a love of "feeling at home," following the example and the style of Christ, learning to give one's life for the brothers in the small details of everyday life.
Question for Communitarian Dialogue.
The new commandment of love implies an interior renewal. What does it mean to me to live the newness of Christ's love in my community?
The Augustinian ideal is to have only one soul only one heart directed towards God. How can the anthropological elements help us?
The document Fraternal Love in Community indicates twelve elements indispensable for the life of every community. Which of these are the most important for me? Why?
I lift up my soul.
We thank God for the graces, the strength and the enlightenment he has granted us during this day of recollection. For this the following words of St. Augustine can help us:
Love is the only one that does not oppress my brother's happiness, nor feels envy. Love alone does not feel conceited for its own happiness, nor does it become haughty. Love alone does not prick the bad conscience because it does no evil. It is trusting amidst insults; it does good in the midst of hatred; it is placid in the midst of anger; it is innocent in the midst of the snares; … it breathes in the truth. What is stronger than love, not to throw back injuries but to heal them? What is more faithful than love, not for vanity, but for all eternity? In fact, it tolerates everything in the present life, because it believes everything that pertains to the future life, and it bears everything that happens here, because it hopes for everything there that has been promised (s. 350,3).
Whoever loves God cannot despise the one who commands to love one's neighbor, and whoever loves the neighbor godly and spiritually, what does he love in him but God himself? (Io. eu. tr. 65, 2).