Recollects in Sistina Celebrate Year of Holiness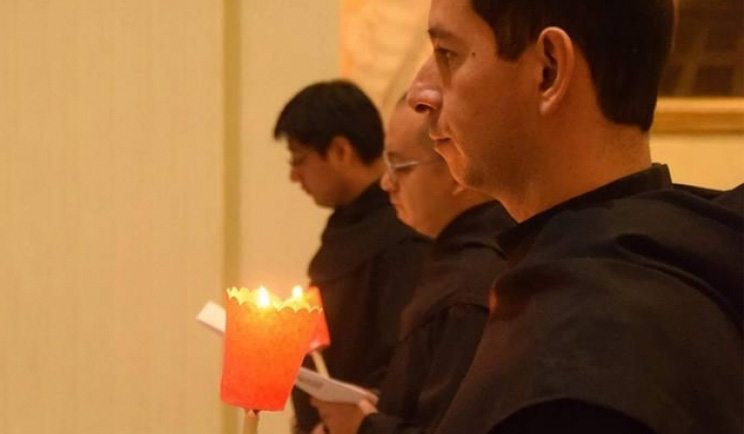 ROME – "Be holy for I am holy" (Lev 11:44) echoes to the ears down to the hearts of everyone who participated in the opening rite and vigil of the Recollects' Year of Holiness last Saturday evening, March 4, 2017.
Indeed, everyone is called to holiness, or "called to be saints," thus the theme of this celebration.  Almost three years ago, in the Philippines, Catholic Bishops Conference of the Phil. (CBCP), for the country's nine-year preparation for the year 2021's 500th year anniversary of Christianity's arrival in her shores, named 2014 as the Year of the Laity and used the similar theme: "Called to be saints…sent forth as heroes." In the Order, with the many graceful occasions to thank God for this year of 2017: September 28 – the 150th anniversary of the beatification of the Recollect martyrs  of Japan, Blessed Francisco de Jesus and Blessed Vicente de San Antonio, three religious brothers and catechists; March 16 – the 75th death anniversary of the Recollect Servant of God Bishop Ignacio Martinez (Ignacio of the Blessed Sacrament), the former Apostolic Administrator of Labrea, (Amazon) Brazil; April 2 – 50th death anniversary of Blessed Maria de San Jose, foundress of the AR Sisters of the Heart of Jesus; October 20 – feast day and the 30th anniversary of the canonization of Sta. Magdalena de Nagasaki, the AR tertiary and the patroness of the SAR; October 11 – the 25th year anniversary of the canonization of St. Ezekiel Moreno whose feast day falls every 19th of August; and hopefully, also this year, the positio of the Servant of God Fr. Jenaro Fernandez will be presented to the Congregation for the Causes of the Saints, it is a fitting moment to intensity such call to holiness!
    Vice Prior of the House, Fray Juan Pablo Martinez, OAR led the liturgical rite and participated in by the members of the community, some religious sisters, and lay persons. Intercessory prayers were said in English, Italian, Portuguese, and Italian.
    This second semester of the academic year 2016-2017, there are twelve members in the community: one Spaniard, four Colombians, two Mexicans, four Filipinos, and one Brazilian. Collegio di Sant'Ildefonso e San Tommaso da Villanova is located in Via Sistina 11, Rome.